We've updated our Privacy Policy.
By continuing to use this site, you are agreeing to the new Privacy Policy.
In certain situations, it's hard to differentiate between the feelings of guilt and loyalty. But John Tavares cannot let guilt influence him one bit while making the biggest decision of his professional life in the next few months. Just because the Islanders have bent over backwards to try to accommodate their captain and keep him...
Chris Botta joined Tim and Evanka to talk about John Tavares potentially re-upping with the New York Islanders, and touched on Garth Snow's very tenuous position as GM.
A rampant need for more scoring recently makes the idea of bringing John Tavares to Raleigh to join the Carolina Hurricanes next season very intriguing. The free agency rumors of prized off-season target and New York Islanders superstar center John Tavares are soon to explode. He'd...
LIKE WHAT YOU SEE?
GET THE DAILY NEWSLETTER:
The belief goes that if a team is not in a playoff spot by Christmas, they better start panicking. For the Islanders, it went in the opposite direction. The team was in a wildcard spot on Christmas day, as they had been almost the entire season up until the latter half of January. They have since slowly slipped out of contention for the playoffs, and at this point are looking at...
By offensive metrics, the Islanders should be a playoff team, if not a legitimate Stanley Cup contender led by captain John Tavares. A historically putrid defense is the reason 2017-18 went to waste.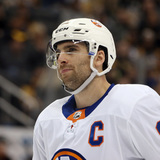 A "sign-and-trade" scenario, in which a player signs with his current team or another only for the purposes of being traded to a different team, is uncommon in the NHL. It most frequently seen in the NBA, where such deals often offer the teams making the deal some salary cap loophole or benefit. The straightforward NHL hard cap doesn't require such moves very often; in fact no sign...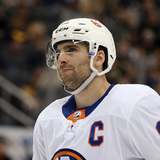 Just over three weeks ago, the New York Islanders were clinging to a wildcard berth and now with an eight-game losing streak on hand, New York is looking up from a distance as they find themselves eight points back of a playoff spot, almost guaranteeing another disappointing year in New York. After being eliminated from the playoffs on the final game of the year last season, that...
Something must be said for their commitment and optimism, for these Maple Leafs fans have adorned official Toronto jerseys with the name of John Tavares, who they hope will somehow be acquired by their team.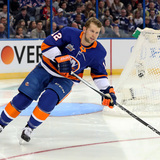 The New York Islanders have some of the biggest names scheduled for free agency this summer, but now you might be able to take one off that list. Bob McKenzie of TSN reports that the team is close to an extension with Josh Bailey that would pay him around $5M per season for the next five or six years.Bailey was ranked #6 in our midseason free agent power rankings, and has done nothing...
Despite remaining unsigned now into February, John Tavares will not be traded this season regardless of what happens for the New York Islanders. That's what GM Garth Snow told Pierre LeBrun, who reported on TSN's Insider Trading that they'll use all the time they have before the end of the season to try and get Tavares signed long-term.The 27-year old will be the biggest story in...
MORE STORIES >>
Islanders News

Delivered to your inbox

You'll also receive Yardbarker's daily Top 10, featuring the best sports stories from around the web. Customize your newsletter to get articles on your favorite sports and teams. And the best part? It's free!