We've updated our Privacy Policy.
By continuing to use this site, you are agreeing to the new Privacy Policy.
Featuring Carley Johnston, Ken Kal, Justin Abdelkader, Martin Frk, Jeff Blashill, Gus Nyquist, and Frans Nielsen at Little Caesars Arena on 3/20/18
Henrik Zetterberg, Nick Jensen, Jared Coreau, Justin Abdelkader, and Jeff Blashill speak with the media following Sunday's 5-1 loss to the Avalanche in Colorado
Henrik Zetterberg, Anthony Mantha, Luke Witkowski, Justin Abdelkader, and Jeff Blashill speak with the media following Friday's 4-2 loss to the Ducks in Anaheim.
LIKE WHAT YOU SEE?
GET THE DAILY NEWSLETTER:
Featuring Carley Johnston, Ken Kal, Jeff Blashill, Evgeny Svechnikov, Jimmy Howard, Gus Nyquist, and Justin Abdelkader at Little Caesars Arena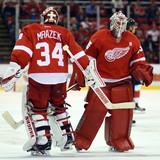 While many have expected the Red Wings will try to move goaltender Petr Mrazek before the trade deadline, MLive's Ansar Khan reports that Detroit will look to move netminder Jimmy Howard.  The 33-year-old is having a down year compared to his stellar 2016-17 campaign and has posted a 2.82 GAA and a .911 SV% in 38 games this season. However, what makes him a tougher candidate to deal...
The Detroit Red Wings wrapped up their season roughly two weeks ago, when they lost to the Tampa Bay Lightning in Game 7 of their first round playoff series, 2-0. For Detroit, their latest playoff berth marked the 24th straight season in which the Stanley Cup Playoffs included the Red Wings, the longest active postseason streak by any team in the four major North American sports...
The Detroit Red Wings (40-23-12) are playing with fire and if they aren't careful they are going to get burned out of the playoffs. This week the Red Wings claimed three out of eight points available to them, while their Atlantic division rivals Boston Bruins embraced the opportunity to close down the gap on the Wings by getting five out of six points. Luckily, the Ottawa Senators...
The Detroit Red Wings (39-21-11) are scrambling to hold onto third place in the Atlantic Division. Justin Abdelkader gave them a little more breathing room Sunday afternoon by banging home an overtime rebound goal to push the Red Wings past the St. Louis Blues, 2-1. The Wings desperately needed these two points with the Boston Bruins and Ottawa Senators chasing them down and after...
Let the finger pointing begin. The Detroit Red Wings (37-18-11) have lost three out of its last four games. For any other NHL team this would be a minor hiccup, but things tend to get blown out of proportion when it concerns the Red Wings and a slump like this coming in mid-March. To be fair, this is arguably the worst the Wings have looked since they dropped six straight games back...
It wasn't all good for the Red Wings today during their 5-3 win over the Canucks. During the second period, forward Justin Abdelkader suffered a should injury after a big hit from Vancouver's Luca Sbis. Babcock said Abdelkader hurt his shoulder. Not significant. Day to day. — Ansar Khan (@AnsarKhanMLive) November 30, 2014 The play itself is hard to see in the video below but you...
MORE STORIES >>
Red Wings News

Delivered to your inbox

You'll also receive Yardbarker's daily Top 10, featuring the best sports stories from around the web. Customize your newsletter to get articles on your favorite sports and teams. And the best part? It's free!