Union and Blue would like to wish CBJ defenseman Scott Harrington a happy 24th birthday! Scott Harrington was born on this day 24 years ago in Kingston, Ontario. Harrington is a young yet talented blue liner for the Blue Jackets, formerly of the Pittsburgh Penguins and Toronto Maple...
Welcome to Buckeye State Hockey's inaugural Columbus Blue Jackets "Top 25 Under 25." Ten Buckeye State Hockey staffers have gone through every under-25 player in the Blue Jackets organization, at every level of hockey, and formulated their own rankings. We've compiled the results and then deliberated the findings, coming to an agreed upon conclusion of how the young players stack...
For the first time we're doing a Top 25 Under 25 series at The Cannon, and we start our countdown with defenseman Scott Harrington. In a summer where the Jackets' prime objective was to shed the roster of players, Scott Harrington was one of the few that was brought in to the organization, in a trade with Toronto for Kerby Rychel. Fans were underwhelmed by the trade, thinking...
After the 2016 NHL Draft ended, news broke that the Blue Jackets had acquired Scott Harrington from the Maple Leafs along with a conditional pick. The newest Blue Jacket is a Kingston, Ontario, native and was a second-round draft pick of the Pengu...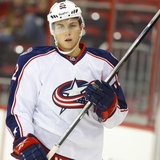 The Toronto Maple Leafs have acquired 21-year-old former 1st round draft pick (19th overall) Kerby Rychel from the Columbus Blue Jackets in exchange for Scott Harrington and a conditional draft pick. That condition is a 5th round draft pick should the Blue Jackets put Harrington on waivers and he gets claimed, according to Bob McKenzie. A move with Rychel isn't unexpected. In January...
COLUMBUS, OHIO - The Columbus Blue Jackets have acquired defenseman Scott Harrington and a conditional pick in the 2017 NHL Draft from the Toronto Maple Leafs in exchange for left wing Kerby Rychel, club General Manager Jarmo Kekalainen announced ...
MORE STORIES >>
Maple Leafs News

Delivered to your inbox

You'll also receive Yardbarker's daily Top 10, featuring the best sports stories from around the web. Customize your newsletter to get articles on your favorite sports and teams. And the best part? It's free!