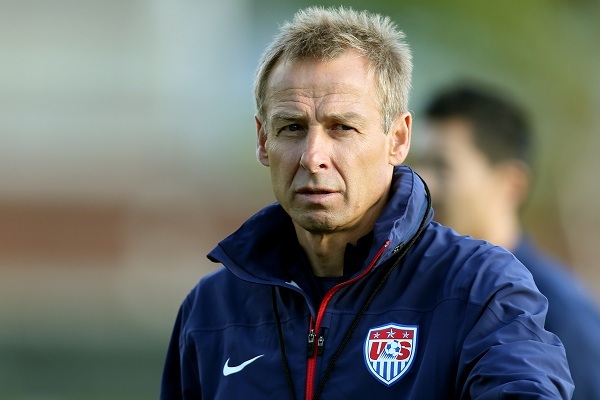 Recent disappointing showings by the USMNT have lead to heavy, not-always warranted criticism of the coach.
Mike Lawrie/Getty Images
By Shaun Ranft
My one desperate plea to any United States men's national team supporter who take friendlies to heart: Please don't. As a follow-up: Really, just don't. You need to give it a rest.
In the wake of another "disappointing" USMNT friendly result—the most recent coming last Tuesday—analysis on the matter has been scorching. Even if it's been the same old drivel we've seen since Jürgen Klinsmann was appointed back in 2011, that hasn't stopped people. It didn't take drawing a friendly against Switzerland to set people off; they've gone bananas since the shine of the 2014 World Cup wore off.
From people like MLS Commissioner Don Garber labeling Klinsmann's comments about US players moving back to the MLS as "wrong," "detrimental," and even "personally infuriating" months ago, to this suggestion that Klinsmann should be sacked if the nation fails to win the Gold Cup seems to be the popular belief among fans and writers alike who don't realize how not good the USMNT really is.
As for Garber and owners within MLS growing frustrated with the coach's comments, let me spell it out for you. There's a reason players like David Beckham, Thierry Henry, Robbie Keane, David Villa—all of whom were once part of Europe's elite—chose to END their careers there, and it's not because the competition is superior.
Michael Bradley made a move from Roma—a top Italian side—to the MLS' Toronto FC. Klinsmann wasn't pleased, and why would he be? The reaction to Garber's anger was straightforward: "There's nothing I can do about it. I made it clear with Clint's move back and Michael's move back that it's going to be very difficult to keep the same level that they experienced at the places where they were. It's just reality. It's just being honest."
"Clint" of course refers to Clint Dempsey, who after spending seven years between Fulham and Tottenham in England moved back to the US. Dempsey however, is 32 years old and doesn't need to worry much about development. He'll be 36 when the 2018 World Cup rolls around so you can't even bank on him being around for it, especially if Klinsmann is still in charge and continuing his youth revolution that we've seen unfold over the past few years.
Bradley is 27. A move like that strikes me as, well, detrimental. Look at a player like DeAndre Yedlin, who at 21 years old impressed in limited action for the US in Brazil, then finalized a move over the summer to join Tottenham. He's still very raw, is probably more serviceable as a winger rather than a defender in the long run, and may end up falling flat on his face, but the point is he is taking a chance while Bradley is sprinting backwards. Why shouldn't Klinsmann be critical of that?
MLS has its moments, is slowly and steadily progressing, but is miles behind. That is, contrary to anything you choose to believe, the reality. While international competition may be the biggest stage, friendlies between nations are not how one should go about judging a coach's ability. The only thing you should take away from a friendly is what the manager was attempting to do, what worked, and what didn't.
The only thing you should take away from a friendly is what the manager was attempting to do, what worked, and what didn't.
Three of their last four friendlies have been against Chile, Denmark, and Switzerland—all superior soccer nations—and each has taken place outside of the United States. Gone are the days of Bruce Arena and Bob Bradley routinely scheduling friendlies within the US against countries like Macedonia, Kuwait, Iran, Tunisia, China, El Salvador, New Zealand, Latvia, Guatemala, Haiti, and so on.
Secondly, he's been experimenting heavily since Brazil because that is precisely what friendlies are for. It's a good measuring stick of where you are, where you're going, and what still needs to be done. Jesse Marsch, former USMNT assistant and current New York Red Bulls manager, doesn't quite grasp that. "I appreciate that they've tried to look at a lot of new players but I'm not sure what the identity is of what they're trying to build there," he said. "It looks to me too much like a bunch of guys kind of thrown together on the field."
Why does it look like that? Because to the letter, that's exactly what the coach is doing: throwing together newcomers and unproven talent. He has been relentless in his pursuit of dual nationals since taking over. He lured Julian Green (Germany), as well as Aron Jóhannsson (Iceland) and Fabian Johnson (Germany) to play for the stars and stripes. While Green and Johnson may have never suited up for the current world champions (had they chosen them), each had played with their youth sides throughout their development.
Next on the list were Gedion Zelalem (Germany), as well as Tesho Akindele (Canada) and Julio Morales (Mexico). Overhauling the youth system is precisely what Klinsmann did for Germany—granted, he had a lot more potential to choose from—but coach Joachim Löw finally cashed in on that system in 2014.
Klinsmann's detractors fail to realize a lot about his coaching tenure outside of the US: finishing third place with Germany in 2006 came on the heels of a disastrous Euro in 2004 under Rudi Völler, as they failed to even make it out of the group. The 2–0 defeat to Italy came in the closing moments of extra time but that third place finish was seen as a moment of triumph. Parades and celebrations were had, and he was presented with the Bundesverdienstkreuz—the Order of Merit of the Federal Republic of Germany.
Rather than being laughed out of his own country or being downright terrible as some would like you to believe, he was offered an extension to continue with the national team but ultimately declined. The choice was his own, not his country's. He was the German Coach of the Year in 2006. Yes, truly terrible and laughable.
Then there's the case of his stint at Bayern Munich that people love to use against him. The facts: his reign lasted just 10 months, but he got his side to the Champions League quarterfinals and was only three points off first in league play with five matches to go. But he hit a rough stretch and they got an itchy trigger finger. It happens all of the time in soccer. Recent reports suggest that "one little mistake" by both Klinsmann and the club was the ultimate reason for his termination.
Here's the big picture: The USMNT still has a long, long way to go before they will ever be considered a power in this sport.
That mistake was his inability to let go off assistant Martin Vasquez. And yet he brought Vasquez along when he was given the USMNT job, but let him go just weeks before the World Cup. According to this report, Klinsmann's job was in question partly because of Vasquez's inability to be a top tactician.
Fast forward to Brazil, when the US had to face off against a group of Germany, Portugal, and Ghana. No easy task considering Ghana had knocked the US out of consecutive World Cups, Portugal had Cristiano Ronaldo, and Germany was, well … Germany. Klinsmann's side beat Ghana in the first match, including a goal in the first 30 seconds. They caught a late goal in the last actual patch of open play against Portugal en route to a 2–2 draw, then fell 1–0 to the eventual champions. Still, they made it out of the group.
Before I close on that, let me denounce the "lucky to get out of the group" narrative. And no, this article is not the only one of that opinion. A goal in the opening 30 seconds against a nation that had eliminated them twice previously was not luck, but rather a statement. When people point to the rest of the group (like Portugal and Ghana) having external and internal issues, that's life. Shtick happens each and every World Cup.
Portugal imploded against Germany while the Americans managed each match quite well considering the level of opposition. Klinsmann deserves plenty of credit for doing that with what he had, and what he still has going forward. Sure, they topped a group that included England in 2010. But, fun fact: England hasn't been to a World Cup or European final since 1966. Their international record is less than ideal since, and they haven't been the powerhouse that many would suggest.
Yet the "first or last" mentality in this country has severely fogged the bigger picture. Several paint the picture of Klinsmann as a failure of a coach to his own nation and Bayern, yet those accounts above significantly hinder such claims. The same crowd still can't get over who was left off the 2014 roster and think that all of this experimentation is frivolous.
Here's the big picture: The USMNT still has a long, long way to go before they will ever be considered a power in this sport. You may not like it, but that is the reality. Success doesn't happen overnight. A will to win can only carry you so far when the talent pool of your squad is average at best. Case in point: when Klinsmann switched up his tactics against Belgium after the group stage, they were overrun. Still, they managed to cling to a 2–1 defeat, but moral victories or any sign of progress despite losing shall be damned, right?
If former players and current pundits like Eric Wynalda want to bash Klinsmann's tactics as "almost un-American" then let me ask: In this instance, what is American? Is it going all out from the opening whistle only to concede early and never get back into the match? That's how the majority of meaningful international matches have unfolded pre-Klinsmann. If it's the Gold Cup you seek, they had no problem winning it under him in 2013 and I doubt they will in 2015.
They will struggle for a little while longer, though. The national team doesn't have an identity yet because it simply isn't very good. If you want to judge the German in charge at the moment, you'd be wise to wait until after the 2018 World Cup. Even still, don't expect the talent pool to grow exponentially. If he's gone before that happens, then don't expect this country to progress or excel on the international level anytime soon. At the moment he's challenging them, and that's plenty more than can be said of past managers.
MORE FROM YARDBARKER
Soccer News

Delivered to your inbox

You'll also receive Yardbarker's daily Top 10, featuring the best sports stories from around the web. Customize your newsletter to get articles on your favorite sports and teams. And the best part? It's free!