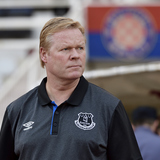 The Everton-Manchester City match from last Monday inevitably brought to light the relationship between managers Ronald Koeman and Pep Guardiola from their time as Barcelona roommates in the early 90s. Koeman, eight years older than Guardiola, was the mentor of the Spanish midfielder on a side that won a total of eleven trophies in six seasons. Although it's been almost 30 years...
Xabi Alonso is good at soccer. He is very good at soccer, in fact, and he can do amazing soccer things while lounging.Xabi sitting down and perfectly juggling a soccer ball isn't much of a surprise. After all, he has never been the most mobile of players. His game generally consists of standing in place and hitting 40-yard passes that are inch-perfect. So sitting and controlling...
MADRID -- A Spanish state prosecutor has asked a judge to open an investigation into alleged tax evasion by Spain midfielder Xabi Alonso.Prosecutor Jose Javier Polo tells The Associated Press he asked a judge to investigate Alonso after his office found "evidence" pointing to Alonso having defrauded Spain's tax office of 3 million euros ($3.3 million) from 2009-11.It will now be...
FRANKFURT, Germany --Xabi Alonso scored a spectacular goal for Bayern Munich to beat Darmstadt 1-0 and earn a place in the German Cup quarterfinals on Tuesday.Alonso controlled a corner with his right foot and fired a drop kick into the upper corner for the only goal closing on halftime. Bayern labored to overcome a well-organized Darmstadt, and did not create many chances against...
Real Madrid midfielder Xabi Alonso has signed a two-year contract extension that will keep him at the Spanish club until 2016. The Spain international had delayed re-signing with Madrid with his contract up in June and reported interest from English club Chelsea and Juventus in Italy. Alonso won one Spanish league title with Madrid, which did not release the financial terms of...
Real Madrid says midfielder Xabi Alonso has a burst left eardrum and that his availability will depend on the speed of his recovery. The club says the injury is the result of a knock received during Sunday's 3-2 win at Valencia. The 32-year-old Alonso was sidelined several months from the end of last season until the start of this campaign with injuries. The Spanish league is...
Is Xabi Alonso renewal closer? For Real Madrid and Xabi Alonso, August 21 was not a good day. He broke the fifth metatarsal in his right foot , Real Madrid had to learn to live without him. Illarramendi and Casemiro Signed as the stars of the preseason, the renewal of Xabi was too far away. His position seemed covered then; the positions were distant, and no one seemed to want to...
Real Madrid midfielder Xabi Alonso expects to return to the field soon as his recovery from foot surgery nears its end. The Spain international has yet to play this season after undergoing surgery on a broken bone in his right foot. Alonso says he's started to kick the ball around but there are still a few things to test before full training at Madrid can begin. The former Liverpool...
Real Madrid says Spain midfielder Xabi Alonso has broken a bone in his right foot. The Spanish club did not indicate how long it expects Alonso to be sidelined. Alonso underwent surgery in the offseason on his back and missed Madrid's preseason and its Spanish league opener last Sunday. Alonso's physical problems also ruled him out of the Confederations Cup. Spain faces a World...
MORE STORIES >>
Soccer News

Delivered to your inbox

You'll also receive Yardbarker's daily Top 10, featuring the best sports stories from around the web. Customize your newsletter to get articles on your favorite sports and teams. And the best part? It's free!