Found August 13, 2012 on Start 'N' Park Blog:
PLAYERS:
Marcos Ambrose
,
Bobby Labonte
,
Kyle Busch
,
Brad Keselowski
,
Brian Vickers
,
David Ragan
,
Boris Said
,
Jamie McMurray
,
Kurt Busch
,
Joey Logano
,
Carl Edwards
,
Denny Hamlin
,
Kasey Kahne
,
Jeff Gordon
,
Greg Biffle
,
Clint Bowyer
,
Ryan Newman
,
Matt Kenseth
,
Regan Smith
,
Paul Menard
,
Kevin Harvick
,
Aric Almirola
,
David Gilliland
,
Landon Cassill
,
Travis Kvapil
,
Stephen Leicht
,
Joe Nemechek
,
Jeff Burton
,
Juan Montoya
,
Dave Blaney
,
Michael McDowell
,
Josh Wise
,
Martin Truex, Jr.
,
Dale Earnhardt Jr.
One of the best races we have ever witnessed sent Marcos Ambrose to victory lane for the second year in a row at Watkins Glen. Going into the final lap Ambrose was third and he crossed the finish line first. Many factors affected the end of the race but oil was the biggest one. After Bobby Labonte blew his engine with two to go, he laid oil all over the track and the leaders would need to go through it to make it to the finish. NASCAR officials weren't aware of the amount oil on the racing surface so they did not throw a yellow flag. Since NASCAR didn't throw the yellow-flag, Kyle Busch wasn't able to go to victory lane. Busch was the leader taking the white flag and when he went down into turn one, he slipped in the oil laid down by the No.47 car. Then Busch continued to slip in the oil and eventually got turned by Brad Keselowski. After that incident, Keselowski was leading followed by Ambrose. Both cars continued to slip around and eventually Ambrose got past Keselowski for the victory. Both Ambrose and Keselowski commented after the race about the last lap by both saying "That's the way racing should be." This race was by far the best one of the season and we saw some of the best racing ever today. The oil factor on the last lap proved once again that these NASCAR drivers are the best race car drivers in the world. The race started out exciting when Kyle Busch challenged pole sitter Juan Pablo Montoya for the lead and Busch went on to lead lap one. Also on lap one, we saw Brian Vickers head to the garage with engine issues and he did not return to the race. On lap nine, we saw our first spin of the day when David Ragan got into Boris Said and Said spun around. Remember back to last year when it was Said getting into David Ragan on the last lap, sending Ragan hard into the barrier and starting a big crash in turn two. When Ragan hit Said in today's race, it could have been some payback. The first caution of the day came out on lap 26 when Jamie McMurray cut down a tire while entering the backstretch and hit the wall hard. Under the caution, Kurt Busch had an issue with his tire and when he entered turn six, Busch spun around and his tire popped off. Busch then went to the garage. Many of the leading cars made pit stops under that caution. Trouble for wild card contender Joey Logano began on lap thirty when Logano went behind the wall, he eventually did make it back on track though. On lap 32, pole-sitter Juan Pablo Montoya went behind the wall with some sort of engine issue. On lap 39, Marcos Ambrose took the lead for the first time from Brad Keselowski. Keselowski would eventually retake the lead on lap 47 when Ambrose made his pit stop. Just after halfway; Keselowski was the leader followed by Kyle Busch, Martin Truex Jr, Carl Edwards and Tony Stewart. The next yellow flag flew on lap 58 when Denny Hamlin blew his engine. This is the third straight race at Watkins Glen where Hamlin has failed to finish and the sixth straight road course race where Hamlin has had issues. After the race, Hamlin fell back to tenth in points and is only 40 points ahead of eleventh place Kasey Kahne. Trouble for Jason Leffler struck on lap 65 when he blew his engine on the backstretch. The final yellow-flag of the day flew with 20 laps to go when Tony Stewart spun out and hit the wall while running in second. Stewart got loose all by himself exiting the final turn of the course and hit the inside wall just before pit road. Point's leader Dale Earnhardt Jr had issues with seven laps to go when he spun out in turn five. Earnhardt Jr lost a ton of positions and no caution flag flew. That incident lost Earnhardt Jr the points lead but going into Michigan next weekend, Earnhardt Jr could easily get it back. Bobby Labonte in the No.47 started leaking oil on the track with two laps to go, NASCAR saw the oil but they didn't think it was enough to throw a caution so they let the leaders race back to the finish. Taking the white flag was leader Kyle Busch followed by Keselowski and Ambrose. Busch started to slip around heading down hill into turn one and that allowed Keselowski to catch him. By the time they were in turn two Keselowski was there and going up the esses Keselowski got into Busch spinning him out. Keselowski did apologize to Kyle Busch over twitter following the race. That wreck cost Busch a race everyone thought he had won. Busch did manage to get going again and finish in the seventh position. After Busch was out of the way, Keselowski was the leader followed by Ambrose who was close in tow. Going into the inner loop, both Keselowski and Ambrose started to slip in the oil and both ran off course in the inner loop but managed to stay close to each other entering turn five. Keselowski made a big slip in the oil exiting turn five and he got loose enough where Ambrose could pass him for the lead. Ambrose managed to clear him and they went off into turn six. In turn six, Ambrose got loose and slid off into the run-off area and Keselowski closed the gap. They were side by side going into turn seven but Keselowski slipped on the exit of the corner and Ambrose powered to the lead and crossed the finish line first. The wrecking wasn't done though, last week's winner Jeff Gordon slipped in the oil and spun around in turn seven and he hit the inside wall before pit road. Gordon did re-fire and ended up with a 21st place finish and Gordon is no longer in the second wild card spot. Many fans say that was the craziest last lap we've seen in years and I can't argue. Ambrose pulled into victory lane for the second straight year at the Glen and he celebrated just as much. A huge point's shakeup occurred following today's race and Earnhardt Jr is no longer atop the point's standings. Jimmie Johnson now leads the points; he is up on second place Greg Biffle by one point.  Kenseth is third down by two points to Johnson and Earnhardt, Jr. is fourth. A second place finish by Keselowski earned him a new point's position of fifth. Clint Bowyer jumped up to seventh in the points and Denny Hamlin took a plunge down to tenth. Kasey Kahne moved up to eleventh in points and he still holds the first wild card position. Ryan Newman is the new man in the second wild card position. Kyle Busch is only six points behind Newman though. Gordon has fallen to fifteenth in the standings and will likely need a win to move up. Logano will need a win or two to make the chase now as well. With the win, Ambrose is now in wild card contention and will likely need another win to have a shot at making the chase. For not being a road course expert, Sam Hornish Jr had a great run and finished fifth. Brad Keselowski came up short all weekend at Watkins Glen by finishing second in both races at the Glen this weekend. A wild one at the Glen gave Ambrose his second career win and some hope at making it into the chase. The wild card drama will continue next week at Michigan, tune in to see who can capture victory. Results via Nascar.com FIN ST CAR DRIVER MAKE SPONSOR PTS/BNS LAPS STATUS 1 5 9 Marcos Ambrose Ford Stanley 47/1 90 Running 2 4 2 Brad Keselowski Dodge Miller Lite 43/1 90 Running 3 3 48 Jimmie Johnson Chevrolet Lowe's Cortez Silver 41/0 90 Running 4 8 15 Clint Bowyer Toyota 5-hour Energy 40/0 90 Running 5 17 22 Sam Hornish Jr. Dodge Shell / Pennzoil 0 90 Running 6 15 16 Greg Biffle Ford 3M 38/0 90 Running 7 2 18 Kyle Busch Toyota M&M's 39/2 90 Running 8 24 17 Matt Kenseth Ford Ford EcoBoost 36/0 90 Running 9 13 78 Regan Smith Chevrolet Furniture Row / Farm American 35/0 90 Running 10 9 56 Martin Truex Jr. Toyota NAPA Auto Parts 34/0 90 Running 11 6 39 Ryan Newman Chevrolet U.S. Army 33/0 90 Running 12 22 27 Paul Menard Chevrolet Menards / Rheem 32/0 90 Running 13 20 5 Kasey Kahne Chevrolet Farmers Insurance 31/0 90 Running 14 18 99 Carl Edwards Ford Fastenal 31/1 90 Running 15 19 29 Kevin Harvick Chevrolet Budweiser 29/0 90 Running 16 30 13 Casey Mears Ford GEICO 28/0 90 Running 17 21 195 Scott Speed Ford TWD 27/0 90 Running 18 29 43 Aric Almirola Ford Smithfield 26/0 90 Running 19 7 14 Tony Stewart Chevrolet Office Depot / Mobil 1 25/0 90 Running 20 34 38 David Gilliland Ford ModSpace 24/0 90 Running 21 12 24 Jeff Gordon Chevrolet Drive to End Hunger 23/0 90 Running 22 32 34 David Ragan Ford Scorpion Coatings / Al's Liners 22/0 90 Running 23 35 83 Landon Cassill Toyota Burger King / Dr Pepper 21/0 90 Running 24 42 93 Travis Kvapil Toyota Burger King / Dr Pepper 20/0 90 Running 25 25 32 Boris Said Ford HendrickCars.com 19/0 90 Running 26 39 33 Stephen Leicht * Chevrolet Little Joes A
utos.com 18/0 90 Running 27 26 47 Bobby Labonte Toyota Miller Welders / Freightliner 17/0 90 Running 28 16 88 Dale Earnhardt Jr. Chevrolet National Guard / Diet Mountain Dew 16/0 89 Running 29 36 87 Joe Nemechek Toyota Genny Light / AM-FM Energy 0 88 Running 30 28 31 Jeff Burton Chevrolet Caterpillar 14/0 84 Running 31 27 51 Kurt Busch Chevrolet Phoenix Construction Services 13/0 81 Running 32 14 20 Joey Logano Toyota The Home Depot 12/0 71 Running 33 1 42 Juan Montoya Chevrolet Target 12/1 63 Accident 34 23 11 Denny Hamlin Toyota FedEx Freight 10/0 57 Engine 35 41 249 Jason Leffler Toyota America Israel Racing 0 42 Engine 36 31 36 Dave Blaney Chevrolet Tommy Baldwin Racing 8/0 41 Susp. 37 11 98 Michael McDowell Ford TRAQM.com 7/0 30 Rear Gear 38 38 26 Josh Wise * Ford MDS Transport 6/0 25 Electrical 39 10 1 Jamie McMurray Chevrolet McDonald's 5/0 24 Accident 40 37 10 J.J. Yeley Chevrolet Tommy Baldwin Racing 4/0 15 Brakes 41 40 119 Chris Cook Toyota Plinker Tactical 3/0 5 Brakes 42 43 30 Patrick Long Toyota Inception Motorsports 2/0 2 Brakes 43 33 55 Brian Vickers Toyota My Classic Garage 1/0 0 Engine  
Original Story:
http://startnparkblog.com/?p=9794&utm...
THE BACKYARD
BEST OF MAXIM
RELATED ARTICLES
We saw an incredible road-course race Sunday at Watkins Glen. You would have to look long and hard to find a finish like that on a road course. For that matter, other than maybe Daytona and Talladega -- where we know that just because you are leading the white-flag lap you probably wouldn't be the winner of the event -- you won't see a finish like we did Sunday very often...
In the final laps at Sunday's NASCAR Sprint Cup Series race at Watkins Glen, Marcos Ambrose's chances for the checkered flag looked slim.  After passing Brad Keselowski to move into second and staying neck-and-neck with the leader Kyle Busch, Keselowski got by Ambrose. At this time, Bobby LaBonte's engine sprung an oil leak, spewing the slippery black gold all over...
Defending Watkins Glen race-winner Marcos Ambrose entered the Sprint Cup Series' Finger Lakes 355 as the odds-on favorite to win. And Ambrose, who...
WATKINS GLEN, N.Y.  – Brad Keselowski, driver of the Penske Racing No. 2 Miller Lite Dodge Charger in the NASCAR Sprint Cup Series (NSCS), finished second in the Finger Lakes 355 at the Glen at Watkins Glen International (WGI) on Sunday afternoon. In what proved to be almost a carbon copy of last year's event at WGI, Keselowski, Kyle Busch and Marcos Ambrose battled for the...
THE MODERATOR:  We'll get started with our winner's press conference.  We welcome Marcos Ambrose who won today's race.  Second victory here at Watkins Glen and second career NASCAR Sprint Cup Series victory.  With this win today, Marcos is now eligible for his second straight NASCAR Sprint Cup Series All-Star Race.  This is his first victory of 2012. Talk a little bit...
  Add another driver to the mix for the second Wild Card berth, the final Chase position available. With his second career win at Watkins Glen, Marcos Ambrose inserted himself into the Wild Card mix. Though he's yet to win at the Sprint Cup level on an oval track, which is a necessity if Ambrose hopes to make the Chase, anything is possible. There are now six drivers who...
The celebration in victory lane after the crazy win my Marcos Ambrose at Watkins Glen Here is a pdf I put together of all the post-race quotes I could come up with from Watkins Glen including Marcos Ambrose, Brad Keselowski, Jeff Gordon and Dale Earnhardt Jr. 2012-nascar-watkins-glen-post-race-quotes
Yesterday's wild finish at Watkins Glen was the best final lap of a Sprint Cup race this season. The white flag lap featured a controversial decision by NASCAR, a wrecked leader, and a paint swapping battle for the checkered flag seldom seen in the Sprint Cup all-about-sponsorship-and-points world.  The #47 of Bobby Labonte had put oil down, making for a slick track. NASCAR...
NASCAR had one of the most exciting final laps in its history yesterday at Watkins Glen.  The last lap brought back memories of Petty v Pearson at the 1976 Daytona 500 and Kurt Busch's classic Darlington duel with Ricky Craven in 2003.  Kyle Busch took the white flag first, but careened off the track in the first turn.  Busch was then spun by Brad Keselowski in Turn 2 (who...
WATKINS GLEN, N.Y.  - Sam Hornish, Jr., driver of the Penske Racing No. 12 PPG Automotive Refinish Dodge Challenger in the NASCAR Nationwide Series, earned his third consecutive top-three finish as he brought home a third-place finish – after starting from the pole – in The Zippo 200 at The Glen. Hornish started from the pole position after he lapped the historic 2.45-mile road...
All Sports News

Delivered to your inbox

You'll also receive Yardbarker's daily Top 10, featuring the best sports stories from around the web. Customize your newsletter to get articles on your favorite sports and teams. And the best part? It's free!
THE HOT 10: Who's Trending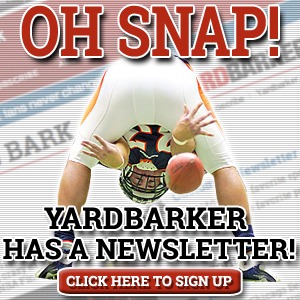 Latest Rumors
Best of Yardbarker

Today's Best Stuff

For Bloggers

Join the Yardbarker Network for more promotion, traffic, and money.

Company Info

Help

What is Yardbarker?

Yardbarker is the largest network of sports blogs and pro athlete blogs on the web. This site is the hub of the Yardbarker Network, where our editors and algorithms curate the best sports content from our network and beyond.