Found March 29, 2012 on Fox Sports West:
LOS ANGELES When Mike Brown was named head coach of the Lakers last year, many were wondering if he has what it takes to run the most high-profile team in the NBAmaybe in professional sports. And could he deal with the mercurial temperament of Kobe Bryant, who clashed with Phil Jackson even as they won five championships together. Comments by Shaquille O'Neal in his recent autobiographySHAQ UNCUT-MY STORYcould lead one to believe that Brown was timid when it came to dealing with a superstar player. O'Neal played for Brown in Cleveland during the 2009-10 season, and didn't paint a flattering picture of the head coach: "Our coach, Mike Brown, was a nice guy, but he had to live on edge because nobody was supposed to be confrontational with LeBron. Nobody wanted him to leave Cleveland, so he was allowed to do whatever he wanted to do. "I remember one day in a film session LeBron didn't get back on defense after a missed shot. Mike Brown didn't say anything about it. He went to the next clip and it was Mo Williams not getting back and Mike was saying, 'Yo, Mo, we can't have that. You've got to hustle a little more.' So Delonte West is sitting there and he's seen enough and he stands up and says, 'Hold up, now. You can't be pussyfooting around like that. Everyone has to be accountable for what they do, not just some of us. 'Mike Brown said, 'I know, Delonte. I know.' Mike knew Delonte was right. "I'm not sure if Kobe is going to listen to Mike Brown. LeBron never really did. Here's what we do know: Kobe will definitely be in charge." And in the first half of the season, it looked like Shaq was a prophet. Brown deferred to Kobe in just about any situation that popped up, whether it was poor shot selection, taking too many shots or not passing the ball. Brown always seemed to back down when Kobe was involved. Something changed, however, when Brown was criticized by Metta World Peace in an article that appeared on a national website. World Peace told the writer that Brown was just a stats guy who didn't understand that contributions on the court don't always show up in the box score. Instead of turning the other cheek, Brown called World Peace on the carpet, and told him that if he were just a stats guy, Metta wouldn't even be playing, pointing out that he was the 192nd ranked defensive player in the NBA. Since then, Brown has been anything but soft. In Sunday night's loss to Memphis at STAPLES Center, Brown wasn't pleased with Bryant's effort on either end of the floor, and benched him with the outcome still undecided. By the time he put Kobe back in, the game was all but over, and Bryant was visibly unhappy to be glued to sidelines.A few weeks ago, Brown almost assuredly would have gone out of his way to soften the blow to Bryant's ego with his post- game comments. Nothing doing on Sunday night. "I just wanted to make a sub," Brown said, adding that it was nothing in particular that led to him keep Kobe out of the game. "(I) tried to go back to (Kobe), but obviously it didn't work." Bryant, for his part, handled the situation well, refusing to publicly criticize. "I've had his back all season," Kobe said, "so I can't do anything crazy now." Andrew Bynum did speak out, though, saying the coaches obviously wanted to make some kind of point to Kobe. Bynum had no way to know he'd be the next example of "Bench 'em All" Brown's new no-nonsense philosophy. In Tuesday night's road win against the Golden State Warriors, Bynum launched a wide-open three-pointer with 9:33 left in the third quarter and the Lakers clinging to a six-point lead. Bynum's shot landed short on the front of the rim and he landed on the bench for the rest of the game, with the exception of the first 2:50 of the fourth quarter. Brown said after Wednesday's practice that Bynum's poor defensive effort and only five rebounds were one reason for the benching. But the coach admitted that the three-point attempt annoyed him. "I was looking at the time, score and flow of the game and I felt like I needed to make a change," Brown told reporters. "Then I put him back in the game and he wasn't getting it done and I felt like we needed to make a change again." He did, and ignited a controversy that could last for a while. Bynum spent his time on the sidelines acting as if he didn't have a care in the world, and afterwards he defiantly told the media that he would continue to take three pointers when he wanted. After practice, Brown said his relationship with Bynum is fine and that the All Star center can say anything he wants. "But if I feel a guy is not playing the right way for our team, I'll make a change." The biggest change Brown has made, however, is his morphing into Pat Riley. With his latest actionsand reactionsthe man who led the Cleveland Cavaliers to the NBA Finals in 2007 can no longer be accused of being easy on his stars. Benching Bryant and Bynumboth All Stars this seasonin back-to-back games is the decision of a confident coach. Was it the World Peace incident that prompted the change, or was Brown playing possum with the Lakers? Maybe it was his plan all along to be Mr. Nice Guy until he felt it was the right time to show everyone whose team it really is. Whatever the reason, they are bold statements by a man who needs to be respected if the Lakers are to make a legitimate run for another title. And if he hopes to keep his job for a while.
Original Story:
http://www.foxsportswest.com/03/29/12...
THE BACKYARD
BEST OF MAXIM
RELATED ARTICLES
Mike Brown is the easy scapegoat. He's replacing Phil Jackson, the greatest manager of athletic egos in the history of sports. Brown is a defensive-minded coach operating in Showtime Los Angeles. Whatever is wrong with the Lakers -- and there was plenty wrong the final three quarters Thursday night inside the Staples Center against the Oklahoma City Thunder -- must be traced...
When Andrew Bynum took and missed that ill advised three pointer on Tuesday night, we wondered aloud if Mike Brown was losing control of the Lakers. He had just benched Kobe Bryant and now Bynum was openly brushing his authority to the side. Things certainly didn't look good for Brown.But according to a report from the Daily News, things are starting to not look good for Andrew...
If you were wondering about the latest thing that Los Angeles Lakers star Kobe Bryant decided to purchase, you need to look no further.The good folks over at TMZ did the research and found out that Kobe has purchased a brand new Ferrari:According to our sources, Kobe's new ride is a Ferrari 458 Italia. We're told the Black Mamba paid $329,000 yesterday for the car ... which...
One of the difficult duties of a coach is to manage the egoes of his players, more especially the big stars. Having the likes of Kobe Bryant and Andrew Bynum on your side doesn't make things easy by any stretch of imagination. You actually have got your work well cut out for you. They are top class with lots of achievements to boast of and of course the deep bank accounts to back...
Mike Brown and the Lakers admit they are still getting a feel for their team. Adding in a new starter midseason in Ramon Sessions did not help, but this season has been an experiment for Mike Brown in his first year as coach. The Lakers have faced their bumps and bruises in that time. One thing that has been pretty consistent is that Brown has relied heavily on his three main players...
A few weeks ago the Lakers cast aside their starting point guard and co-captain, a fan favorite and locker-room leader, Kobe Bryant's best friend on the team and a guy whose clutch shots helped secure five championships for the franchise. It was a tough, emotional decision, but it had to be done. Now, when Derek Fisher returns to L.A. with his new team, the Oklahoma City...
Kobe Bryant is back to being the closer. Two days after getting benched late in a home loss to Memphis, Bryant made a pair of jumpers in the final 64 seconds, finishing with 30 points to lead the Los Angeles Lakers past the short-handed Golden State Warriors, 104-101 on Tuesday night. Bryant missed his first two shots in the final period before twice rising over a pair of defenders...
]Los Angeles Lakers and the OKC Thunder are dueling to what could be a Western Conference Finals preview, and Kobe and the rest of the purple and gold squad are playing with their hearts out on the hardwood. So, it's no surprise when Thunder's Sefolosha, there were some exchanging of words: You will see Kobe Bryant [...]
LA Laker Pau Gasol, you've got four guys on you looking to foul. I don't give a ****, pass the ******* ball. Every time you check your email, think -- gotta check Bob's Blitz. Follow us on... Full story at Bob's Blitz ~ http://www.bobsblitz.com
Los Angeles Lakers' head coach Mike Brown has come under fire over the past week for his two benching incidents involving stars Kobe Bryant and Andrew Bynum. While Bryant took his benching in stride not wanting the situation to become a media spectacle, Bynum took offense to his benching. Bynum was benched during the Lakers' win over the Golden State Warriors last night. Bynum...
Two days after getting benched late in a home loss to Memphis, Kobe Bryant made a pair of jumpers in the final 64 seconds, finishing with 30 points to lead the Los Angeles Lakers past the short-handed Golden State Warriors, 104-101 on Tuesday night.
All Sports News

Delivered to your inbox

You'll also receive Yardbarker's daily Top 10, featuring the best sports stories from around the web. Customize your newsletter to get articles on your favorite sports and teams. And the best part? It's free!
THE HOT 10: Who's Trending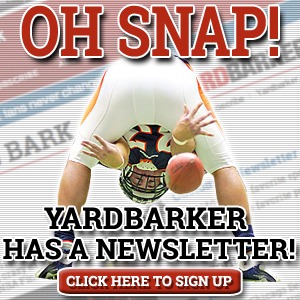 Latest Rumors
The Backyard

Today's Best Stuff

For Bloggers

Join the Yardbarker Network for more promotion, traffic, and money.

Company Info

Help

What is Yardbarker?

Yardbarker is the largest network of sports blogs and pro athlete blogs on the web. This site is the hub of the Yardbarker Network, where our editors and algorithms curate the best sports content from our network and beyond.