Found October 23, 2012 on Awful Announcing:
In an event that could become significantly more entertaining with the rise of Twitter over the last four years, both presidential campaigns have reached out to ESPN about having their candidates appear on Monday Night Football on the eve of the 2012 election November 4th.  That's according to John Ourand of Sports Business Daily, who got the details straight from ESPN's senior vice president and director of news, Vince Doria. "We've been approached and are strongly considering doing it again," Doria told Ourand. "If we do those, we will try to treat the candidates in a fair manner and try to find some questions that have a sports connection but have a substance to them." In 2008, John McCain and Barack Obama both were interviewed separately by Chris Berman in segments that ran during halftime of the Steelers-Redskins game that took place the night prior to the election. Each candidate also joined "Mike and Mike" on ESPN Radio at around the same time, and the campaigns have again made that request as well, according to the report. We realize that not everyone wants politics in their sports, but six minutes' worth of halftime interviews isn't the end of the world, and every year there are sports topics that creep into the world of politics. These candidates spend 99.9 percent of their time discussing foreign policy, healthcare and the economy, so a break to speak about peripheral issues couldn't hurt on the eve of the election. It also offers them an avenue to reach potential voters who might not be following the process until the eleventh hour. Remember: MNF is the most-watched show on cable television, so this isn't small potatoes.  Doria hinted that safety issues in football could be something that comes up, which would obviously make a lot of sense. And had this taken place a few weeks earlier, it wouldn't have been shocking to see the referee lockout come up. We do have another work stoppage affecting the sports world right now, but something tells me the NHL lockout won't make ESPN's cut. Still, it's not likely that any earth-shattering, game-changing questions are going to be asked in this enviornment, especially considering it'll be Chris Berman doing the interviews again. Berman's assignment will likely bring plenty groans, but it'll be interesting to see just how much he tones down his schtick in these interviews. Do you think ESPN has a responsibility to give Mitt Romney and Barack Obama some screen time during its broadcast? Or, on the other hand, do you feel as though it should instead have a responsibility to keep the election far away from football?
Original Story:
http://www.awfulannouncing.com/2012-a...
THE BACKYARD
BEST OF MAXIM
RELATED ARTICLES
Barack Obama is no dummy. When given the chance, he's always going to side with the people -- especially during election season. So when the president of the United States was asked about the NHL lockout on The Tonight Show With Jay Leno, Obama was diplomatic, taking only the side of the suffering hockey fans. "Ya'll should be able to figure this out," the president...
The third and final presidential debate sparked plenty of conversation on Twitter and other social media outlets, but it was a pair of tweets by author Ann Coulter that set the Internet on fire and prompted a spirited response from one person effected by her comments. Following Monday night's debate, Coulter tweeted out to her followers that she believed Mitt...
Barack Obama appeared on The Tonight Show with Jay Leno on Wednesday night and was asked a serious of questions about the economy, foreign policy and the debates he recently had against Mitt Romney. Later in the show questions were pulled in from Facebook, one of which asked Obama to "pull some strings" to end the NHL lockout. Solid answer, Mr. President. Obama reminds...
Ed Note: With Election Day a mere two weeks away, we want to fully prepare you for the most important race of 2012.  No, not that Presidential thing or whatever it is, AA's Decision 2012!  Besides, whoever your candidate of choice is, we can all agree Craig James is worse.  But, is the Senator-to-be a strong enough candidate for AA's Mount Rushmore to hold off the challenges...
President Barack Obama appeared on Jay Leno on Wednesday night and was taking some questions that had been submitted by viewers.  The question came from "Mike from Los Angeles," presumably a Los Angeles Kings fan, who wants to see his team get a shot to defend the Stanley Cup.Obviously the President's statement on the NHL lockout is going to be a favorable one, and it is unfortunate...
Four years ago, Barack Obama and John McCain popped in for a chat with Chris Berman on Monday Night Football, and that revealing, candid interview rocked the political landscape -- or the complete opposite of that. This year, once again, one day prior to the Nov. 6 presidential election, it looks like President Obama and opponent Mitt Romney will stop by for another...
PHOENIX Righty Trevor Bauer is as insistent in his politics as he is in his pitching,and the Diamondbacks are not about to confuse the two. Bauer sent out a series of tweets during the presidentail debate Monday, starting a spirited Twitter debate with his initial remarks about President Barack Obama. Obama looked childish and petty tonight. I'm ashamed that he is commander...
All Sports News

Delivered to your inbox

You'll also receive Yardbarker's daily Top 10, featuring the best sports stories from around the web. Customize your newsletter to get articles on your favorite sports and teams. And the best part? It's free!
THE HOT 10: Who's Trending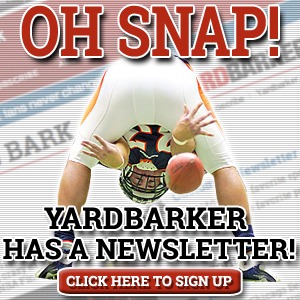 Latest Rumors
Best of Yardbarker

Today's Best Stuff

For Bloggers

Join the Yardbarker Network for more promotion, traffic, and money.

Company Info

Help

What is Yardbarker?

Yardbarker is the largest network of sports blogs and pro athlete blogs on the web. This site is the hub of the Yardbarker Network, where our editors and algorithms curate the best sports content from our network and beyond.