Found December 12, 2012 on World Series Dreaming:
  Before we begin…Hi. My name is Mauricio, I'm a low level writing prospect that WSD decided to take a flyer on. I guess good things happen when you are generally nice to people in forums and don't act a fool on Facebook. You can follow me on twitter @MRubio52, I usually post Foodgram pictures, cry about Derrick Rose, and compare the Cubs and their players to various art movements (They're in the Minimalist stage if you're wondering).  The Cubs have signed Korean righty Chang-Yong Lim to a split contract that could be worth up to 5MM. Split contracts are usually reserved for players that have prior Major League experience but are signed to minor league deals. Lim is a player who has experienced a lot of success overseas in the bullpen. He has consistently posted dominant numbers as a reliever for the Yakult Swallows in Japan and he had other suitors for his services stateside. I found a Youtube video of Lim's 2011 highlights: Lim is slight of build, he's listed at 5'11. Lim showcases an OK change, decent run on his offspeed stuff and a pretty OK slider in that clip. This scouting report indicates that Lim used to charge the velocity (henceforth to be referred to as velo) up a few MPH. There are a few things to note on Lim. He's coming off Tommy John surgery and it's speculated that he won't see MLB action until 2014 at the earliest. This is his second TJ procedure. His fastball velocity has been slipping lately as well. He generated a lot of swing and miss over in Japan, which is usually a strong indicator of success when you are attempting to make the jump from a lesser league to the Major League level. On the surface this signing doesn't seem to fit with what the Cubs are going for with their total rebuilding project, but let's keep a few things in mind. This is a low risk, moderately high reward move. Lim gets the 5MM only if he makes it to the bigs. If that happens in 2014, which might be when the Cubs make the jump from awful to mediocre and in semi-contention, then the Cubs have a valuable asset that they can either retain or flip to a team desperate for bullpen help at the trade deadline. And of course, there's the scenario that Rice blogged about a few days ago. It would make sense to start building the road blocks to success in 2014/2015 by acquiring some talent now that can help you when the Cubs feel that their window begins to open. Essentially, the Cubs have taken a flyer on a player that can bring back some solid returns if it breaks right. He also won't hurt the Cubs much if he doesn't. It's also worth noting the potential impact this move may have in the future concerning overseas scouting and player acquisition in the Asian market. The two TJ surgeries are scary, but this isn't a player that the Cubs are depending on. It's a low risk closer that has enjoyed a lot of success in Japan as a dominant reliever and perhaps can do the same stateside. I think it's a smart move that has a lot of potential to pan out in a big way.
Original Story:
http://worldseriesdreaming.com/2012/1...
THE BACKYARD
BEST OF MAXIM
RELATED ARTICLES
If you were frequenting blogs back in 2009, there's a good chance you are aware of the Alfonso Soriano blue 2005 Hummer H2 that captivated men who make a working wage. You remember the Soriano Hummer because of the $100k+ he spent on customization. You remember the Hummer because of the speaker wall that blocked the back window of the ride. Now you can buy that Hummer, minus a...
Christmas is ten days away, the stove is boiling and I am toiling. The signing of Josh Hamilton appears to have amped up the heat this winter and those waiting to sign are going to get it moving soon. So, let's just get down to the BRASS TACKS and go on a little rambling adventure … or just make a flurry of disjointed, yet hopefully timely remarks. By Brian McCabe · It is currently...
MLB.com released updates Tuesday on two players the Chicago Cubs hope to have on their Opening Day roster, starter Matt Garza and third-base hopeful Ian Stewart. Garza, projected even at this date as the Cubs number one starter, saw his 2012 campaign end in August after a triceps injury and a stress reaction in his right (throwing) elbow.  He managed to make only 18 starts...
When a baseball player signs a historically bad contract, he ceases to be judged by his play on the field. Instead he is judged against his contract. There seems to be something unfair about that. Alfonso Soriano, like Zito on the Giants, will always be looked at with skepticism. He is ridiculed and derided for the fact that he cannot earn his pay. Is that really fair? The Cubs...
The Chicago Cubs are doing everything possible to trade Alfonso Soriano this offseason, ramping up their efforts that were fruitless during the 2012 MLB season. The Cubs have entered full blown rebuilding mode, and they are attempting to start from scratch under Theo Epstein. That means moving all payroll that is not expected to help the Cubs compete when they are finally ready,...
The Chicago Cubs have made it clear that outfielder Alfonso Soriano is available through trade this offseason, and the team has reportedly held preliminary discussions with the Philadelphia Phillies and Houston Astros involving the veteran slugger, reports Danny Knobler of CBS Sports and Jayson Stark of ESPN. Cubs also shopped Soriano to Astros as a possible DH, but Astros...
The Chicago Cubs, seeking to make a bold move in the free-agent market, are in serious discussions with right-hander Anibal Sanchez, according to major-league sources. The sides are discussing a five-year deal in the $75 million range, but Sanchez's previous team, the Detroit Tigers, remains a factor in the bidding, sources said. Sanchez, 28, would give the Cubs a front-line...
The mystery team has struck again, and this time, it's the Chicago Cubs. They're reportedly close to signing free agent starting pitcher Anibal Sanchez, the second-best arm on the market this winter to Zack Greinke, to a five-year deal worth a reported $75 million. We didn't even consider the Cubs when looking at Sanchez's potential mystery team suitors last week...
The Cubs made their biggest move so far this off-season on Thursday, reportedly signing Anibal Sanchez to a five-year deal pending physical on Thursday according to reports from Bob Nightengale of USA Today.  Meanwhile, Jon Heyman of CBS Sports continues to report that Detroit is "very much in the mix". Sanchez, 28, made his debut with the then-Florida Marlins in 2006, where...
The Chicago Cubs and Anibal Sanchez reportedly had reached a deal on a five-year, $75 million contract as of early Thursday night. Not so fast. Both Bob Nightengale of USA Today and Jon Heyman of CBSSports.com reported that Sanchez is instead giving the Detroit Tigers one last chance to beat the Cubs' offer — Nightengale added that the Tigers are believed to have offered Sanchez...
Cubs News

Delivered to your inbox

You'll also receive Yardbarker's daily Top 10, featuring the best sports stories from around the web. Customize your newsletter to get articles on your favorite sports and teams. And the best part? It's free!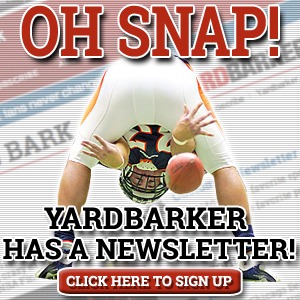 Latest Rumors
Best of Yardbarker

Today's Best Stuff

For Bloggers

Join the Yardbarker Network for more promotion, traffic, and money.

Company Info

Help

What is Yardbarker?

Yardbarker is the largest network of sports blogs and pro athlete blogs on the web. This site is the hub of the Yardbarker Network, where our editors and algorithms curate the best sports content from our network and beyond.