Be sure to follow me on Twitter for more Broncos updates throughout the day. Denver Broncos News Monday Morning Quarterback | Peter King
I walked the crosswalk of Abbey Road Saturday evening (the ZEB-ra, short "e" crossing), the one made famous by the Beatles album cover of my youth. I saw test-match cricket, which I presumed would be deadly dull but wasn't. I spent a day at the Fenway of world cricket. All in all, a very nice weekend with my brother Ken (who has lived in England since 1983) and his family, and some cricket fun with Neil Hornsby of Pro Football Focus too. Peyton Manning, Broncos ready to mesh on field | Denver Post
Watching John Fox and Peyton Manning lead separate NFL teams in the previous decade would suggest they have some work to do to get on the same offensive playbook page.
 Tim Tebow subject of E! TV special in July | Denver Post
You know Tim Tebow has hit the high-water mark in celebrity success when an entertainment network produces a show about him. Broncos' contract talks with Ryan Clady underway | Denver Post
The Broncos have opened contract-extension talks with Ryan Clady, according to several NFL sources. The left tackle is in the final year of a deal that will pay him $3.5 million in 2012. The franchise tag for a left tackle this season was $9.4 million. // <![CDATA[ google_ad_client = "ca-pub-1209026070761313"; /* 468x15 link content ad */ google_ad_slot = "0894341522"; google_ad_width = 468; google_ad_height = 15; // ]]>
// <![CDATA[
// ]]> Denver Broncos Blogs What's the real value of OTAs in the NFL? | NFP
Is there any real value for NFL clubs as they begin to start their "OTAs" (Organized Team Activities) this spring? Well, that all depends on what you are looking for. NFP Sunday Blitz | NFP
If Russell Wilson or Kellen Moore had Andrew Luck's size, the first round of the draft might have looked a little different. As it was, the two little guys found homes much later, Wilson going to the Seahawks in the third round and Moore signing with the Lions as a free agent. Denver Broncos Should Sign Ryan Clady to Long-Term Deal | Yahoo Sports!
The Denver Broncos are looking to sign starting left tackle Ryan Clady to a long-term contract extension. Negotiations have just begun, and I would expect Clady to ultimately get paid like a top-10 left tackle. I believe he's worth it, and the Broncos need him to protect Peyton Manning's blind side for the next few years (and hopefully more). Other News Jeremy Guthrie battered by Mariners as Rockies swept in weekend series | Denver Post
The Rockies continue to insist that the kid pitchers will be all right, but what about 33-year-old right-hander Jeremy Guthrie?

Original Story:
http://broncotalk.net/2012/05/36557/b...
MORE FROM YARDBARKER
All Sports News

Delivered to your inbox

You'll also receive Yardbarker's daily Top 10, featuring the best sports stories from around the web. Customize your newsletter to get articles on your favorite sports and teams. And the best part? It's free!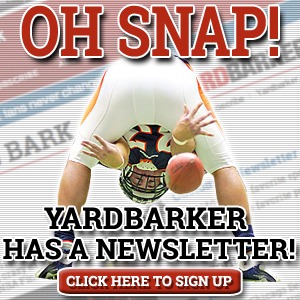 Latest Rumors
Best of Yardbarker

Today's Best Stuff

For Bloggers

Join the Yardbarker Network for more promotion, traffic, and money.

Company Info

Help

What is Yardbarker?

Yardbarker is the largest network of sports blogs and pro athlete blogs on the web. This site is the hub of the Yardbarker Network, where our editors and algorithms curate the best sports content from our network and beyond.