FORT WORTH, TX - NOVEMBER 06: Dale Earnhardt Jr., driver of the #88 National Guard/AMP Energy Chevrolet, stands on the grid during qualifying for the NASCAR Sprint Cup Series Dickies 500 at Texas Motor Speedway on November 6, 2009 in Fort Worth, Texas. (Photo by John Harrelson/Getty Images for NASCAR)
Dale Earnhardt Jr.'s No. 88 Chevrolet will have a different look for the NASCAR Sprint All-Star weekend. His partners Diet Mountain Dew and the National Guard donated this weekend's paint scheme to support The Dale Jr. Foundation. As 2012 marks its fifth year of giving, The Dale Jr. Foundation is rallying supporters to donate $5 apiece. A small gift from each fan can result in a monumental difference to the charities the foundation supports. With your help, the TDJF can reach even more families and individuals in need. To make a contribution, visit www.TheDaleJrFoundation.org/donate.aspx
SPRINT ALL-STAR SHOWDOWN: Earnhardt will make his second career appearance in the Sprint Showdown, and either a win, runner-up finish or the fan vote on NASCAR.com will ensure the driver of the No. 88 The Dale Jr. Foundation/Diet Mountain Dew/National Guard Chevrolet will participate in the NASCAR Sprint All-Star Race. Last year, Earnhardt qualified for the All-Star Race by winning the fan vote. Voting continues until 5 p.m. ET prior to Saturday's events. The qualifying races will begin at 7:30 p.m. at Charlotte (N.C.) Motor Speedway, and the all-star event will follow at approximately 9 p.m.
ALL-STAR VICTORY: Earnhardt made history on May 20, 2000, when he became the first rookie to win the Sprint All-Star Race at Charlotte Motor Speedway. Earnhardt led two laps and beat veteran Dale Jarrett to the finish line by 1.295 seconds.
ALL-STAR STATS: In 12 appearances in the non-points all-star event, Earnhardt has scored one win, three top-five finishes and nine top-10s. His average finish in the exhibition race is 8.66. Last year, Earnhardt earned a spot in the All-Star Race by winning the fan vote. He started 21st and crossed the finish line 14th.
THE DALE JR. FOUNDATION: Founded in 2007, The Dale Jr. Foundation is a charity dedicated to giving underprivileged individuals, with a focus on youth, the resources to improve their confidence and education, and the opportunity to achieve extraordinary goals. Since its founding, The Dale Jr. Foundation has donated more than $1 million in cash and non-cash donations for more than 300 local and national charities.   For the NASCAR Sprint All-Star weekend, The Dale Jr. Foundation will commemorate its five-year anniversary with a special paint scheme on Dale Earnhardt Jr.'s No. 88 Diet Mountain Dew/National Guard Chevrolet. As part of the fifth anniversary, TDJF is asking fans and supporters to donate $5 through www.thedalejrfoundation.org
ALL-STAR PIT CREW: The eighth annual NASCAR Sprint Pit Crew Challenge kicks off the all-star weekend on Thursday by providing crew members with a chance to test their skills in head-to-head competition. The No. 88 pit crew includes jackman Nick Covey (Livermore, Calif.), front-tire carrier Kevin Harris (Orlando, Fla.), gas man Caleb Hurd (Pulaski, Va.), front-tire changer Clay Robinson (Sun Valley, Calif.), rear-tire changer Joe Slingerland (Inverness, Fla.) and rear-tire carrier Matt Ver Meer (Montezuma, Iowa). Hendrick Motorsports' Lisa Smokstad will be driving the car for the No. 88 team. The event begins at 7 p.m. on Thursday at the Time Warner Cable Arena in Charlotte.
CHASSIS CHOICE: This weekend, crew chief Steve Letarte will unload Hendrick Motorsports Chassis No. 88-668. Earnhardt most recently raced this chassis to a 10th-place finish at Texas Motor Speedway in April.
HENDRICK IN THE ALL-STAR: In 79 all-star entries, Hendrick Motorsports has scored six wins, 28 top-five finishes, 41 top-10s and led 571 laps. The team has started from the front row a combined nine times, with three of those times from the pole position. Each of Hendrick's four current drivers have at least one career all-star victory.
HERITAGE WEBSITE: Earlier this week, Hendrick Motorsports launched its Heritage website, which highlights key people, wins, cars, moments and championships throughout the organization's storied history. Visit http://heritage.hendrickmotorsports.com for more.
FAN FEST: Hendrick Motorsports will host a fan appreciation day on Friday, May 25 during Charlotte Motor Speedway race weeks. The Hendrick Motorsports Fan Fest will be held at the team's Concord facility and feature an array of family-friendly activities, including scheduled appearances by NASCAR Sprint Cup Series drivers Kasey Kahne, Jeff Gordon, Jimmie Johnson and Earnhardt. Free and open to the public, the Hendrick Motorsports Fan Fest will run from 11 a.m. until 7 p.m. ET.
Original Story:
http://startnparkblog.com/?p=6554&utm...
MORE FROM YARDBARKER
All Sports News

Delivered to your inbox

You'll also receive Yardbarker's daily Top 10, featuring the best sports stories from around the web. Customize your newsletter to get articles on your favorite sports and teams. And the best part? It's free!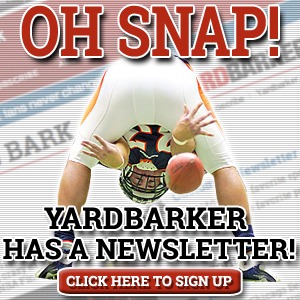 Latest Rumors
Best of Yardbarker

Today's Best Stuff

For Bloggers

Join the Yardbarker Network for more promotion, traffic, and money.

Company Info

Help

What is Yardbarker?

Yardbarker is the largest network of sports blogs and pro athlete blogs on the web. This site is the hub of the Yardbarker Network, where our editors and algorithms curate the best sports content from our network and beyond.