Found January 18, 2013 on Tennis Panorama :
(January 18, 2013) Novak Djokovic won his 17th straight match at the Australian Open, defeating Radek Stepanek 6-4, 6-3, 7-5 in the third round on Friday. Djokovic is the two-time defending champion at Melbourne Park is looking to become the first man in the Open Era began in 1968 to win three in a row. The match with Stepanek  which took 2 hours and 22 minutes was an entertaining one with the Czech constantly making dashes to the net and keeping up with pace of Djokovic's shots. "I wasn't expecting an easy match coming into the third round and playing a seeded player, "Djokovic said.  "Top 30 in the world.  Somebody that has a lot of experience playing on the tour. "He loves the big stage.  You saw how much fun he had.  I also had a lot of fun playing.  It was a very entertaining match.  As I said on the court, he's very skillful, comes to the net, never gives you the same ball twice.  That's something that makes him a different player from most of the guys." With Lance Armstrong's interview with Oprah Winfrey airing in the United States on Thursday night, Armstong admitted to doping  and Djokovic was asked his opinion about the cyclist. "He cheated the sport," said the Serb.  "He cheated many people around the world with his career, with his life story.  I think they should take all his titles away because it's not fair towards any sportsman, any athlete.  It's just not the way to be successful.  So I think he should suffer for his lies all these years.' "I lost a lot of faith in cycling, " Djokovic continued.  "I used to watch it.  All the big champions that were there, Marco Pantani, now Lance Armstrong.  Yeah, I don't want to say all.  I really don't know.  There has been so much controversy about that sport. "I'm sure that there are many cyclists in the world who are training very hard and trying to not use any enhancing drugs for their competition. "But I think it's not acceptable that they have physically so much races in short period of the time.  I think basically every single day, day and a half, they have to go through 200 miles.  Uphill, downhill in Giro D'Italia, Tour de France, that's inhuman effort.  As you can see, Lance Armstrong, many other big champions, had to use something to succeed." Djokovic was also asked about tennis' anti-doping measures: Well, in tennis, you know, at least from my perspective, it's really good.  Anti doping regulations a little bit maybe more strict in sense that you have to fill the whereabouts documents and you have to basically give an hour or two in every day of your life in a whole year, where you are. But on the other hand, it gives them an opportunity to test you.  And you know it is the same for the other players.  At least from that point of view it's fair.  And I have nothing against, you know, the anti doping federation, association, testing me 10, 20, 30 times a year. I think as long as I know as many numbers of testing for the other players, I'll be happy. I wasn't tested with blood for last six, seven months.  It was more regularly in last two, three years ago.  I don't know the reason why they stopped it. As I said, I mean, as long as it's fair, it's clean, we're trying to protect the identity of this sport.  I believe tennis players are one of the most cleanest athletes in the world and one of the most competitive sports. So as long as we keep it that way, I have no complaints about testing.   But in my opinion, yeah, there has been a complaints from players in few years, last few years, about this whereabouts system.  Why do we need to write where we are every single day of our 365 days when most of the time we're spending on the courts and so forth. Maybe that is something that is, you know, questionable.  But on the other hand as many urine, as many blood sample tests they take, the better.  Then you're aware that it's a clean sport and everybody has the same treatment. Djokovic will play the winner of the Sam Querrey – Stan Wawrinka match in the fourth round.
Original Story:
http://www.tennispanorama.com/archive...
THE BACKYARD
BEST OF MAXIM
RELATED ARTICLES
Like any true sportsman (nod Lance Armstrong) you're out there trying to get an edge on your competition. First it was training with those Vibram five-fingered toe shoes but as comfortable and useful as they are it is impossible to walk around in them and not look a bit odd.  Thankfully, Vibram's former CEO has come up with a solution for us: Camel-toe shoes.  At...
The former chief of the U.S. Anti-Doping Agency says a representative of Lance Armstrong's offered the agency a donation in the range of $200,000 to $250,000 in 2004 and the agency immediately rejected it. Terry Madden, who led USADA from 2000-07, corroborated a story current CEO Travis Tygart told in an interview earlier this month. In his interview with Oprah Winfrey on Friday...
First shunned, then vilified by Lance Armstrong, Mike Anderson had to move to the other side of the world to get his life back. Now running a bike shop outside of Wellington, New Zealand, Armstrong's former assistant watched news reports about his former boss confessing to performance-enhancing drug use with only mild interest. If Anderson never hears Armstrong's voice again...
Lance Armstrong, former winner of seven Tour de France titles as well as the former owner of an Olympic bronze medal, finally admitted to using performance enhancing drugs in a televised interview with Oprah Winfrey on Thursday night. When asked if he doped he said, quite simply: "I am sitting here today to acknowledge that and to to say I'm sorry for that." Armstrong admitted...
An independent panel preparing to investigate the International Cycling Union's links to Lance Armstrong is fighting back against the governing body's resistance to offer amnesty to potential witnesses. The three-member panel says it will soon hold a public hearing in London to examine if ''truth and reconciliation'' should be offered to riders and officials...
Admitting he cheated was a start. Now, it's all about whether Lance Armstrong is ready to give details - lots of them - to clean up his sport. Armstrong's much-awaited confession to Oprah Winfrey made for riveting television, but if the disgraced cyclist wants to take things further, it will involve several long days in meetings with anti-doping officials who have very specific...
- Here are WWE's dates for their next UK tour in November: RAW: November 6: Belfast, Ireland November 7: Dublin, Ireland November 8: Brussels, Belgium November 9: Birmingham, England November 10: Cardiff, Wales November 11: Manchester, England TV November 12: Newcastle, England November 13: Zurich, Switzerland November 14: Roeun, France November 15: Marseille, France SmackDown...
Before his abrupt U-turn in an interview this week with Oprah Winfrey, Lance Armstrong had, many times and in many forums, consistently denied that he used performance-enhancing drugs. Here is a sample of some of the cyclist's choicest comments on the subject before he finally admitted to doping: --- ''Luke's name is Armstrong and people know that name, and when...
Time was better spent eating a homemade dinner* and watching the season premiere of Archer and college basketball than watching Lance Armstrong pathologically mouth the right words but show no remorse and engage in an absurd attempt at a semantics lesson. Apparently this interview needed a level-headed lawyer type like Nancy Grace. It looks like we're not going to hear from Manti...
He did it. He finally admitted it. Lance Armstrong doped. He was light on the details and didn't name names. He mused that he might not have been caught if not for his comeback in 2009. And he was certain his ''fate was sealed'' when longtime friend, training partner and trusted lieutenant George Hincapie, who was along for the ride on all seven of Armstrong...
Oprah Winfrey's interview with Lance Armstrong is more than an illustration of a hero athlete tumbling from the heights. It's also a pivotal moment for a famous media figure trying to climb the ladder back up. Winfrey's OWN network is showing signs of life after a rocky start, and the Armstrong interview offered a chance for many more viewers to check it out. The former...
Sporting Kansas City CEO Rob Heineman says the loss of trust led the Major League Soccer team to sever ties with the cancer charity founded by Lance Armstrong. Heineman also said Wednesday the ''tumultuous environment'' that developed before the cyclist admitted to using performance-enhancing drugs also played into the team's decision to change Livestrong Sporting...
All Sports News

Delivered to your inbox

You'll also receive Yardbarker's daily Top 10, featuring the best sports stories from around the web. Customize your newsletter to get articles on your favorite sports and teams. And the best part? It's free!
THE HOT 10: Who's Trending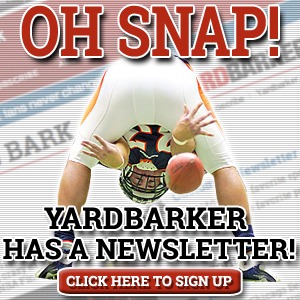 Latest Rumors
Best of Yardbarker

Today's Best Stuff

For Bloggers

Join the Yardbarker Network for more promotion, traffic, and money.

Company Info

Help

What is Yardbarker?

Yardbarker is the largest network of sports blogs and pro athlete blogs on the web. This site is the hub of the Yardbarker Network, where our editors and algorithms curate the best sports content from our network and beyond.