Found September 08, 2012 on Start 'N' Park Blog:
PLAYERS:
Carl Edwards
,
Matt Kenseth
,
Aric Almirola
,
Michael McDowell
,
Greg Biffle
,
David Ragan
,
Richard Petty
,
Marcos Ambrose
,
David Gilliland
,
Ken Schrader
,
Josh Wise
It was a poor showing for the Ford Racing camp in qualifying at the Richmond International Raceway for Saturday's Federated Auto Parts 400. Carl Edwards led the way qualifying in the 16th spot, followed by Roush Fenway Racing teammate Matt Kenseth in 17th, Aric Almirola was 18th, and Michael McDowell was the only other Ford driver in the top 20, clocking in with the 19th best lap. Below are quotes from those drivers and others on their laps.
CARL EDWARDS, No. 99 Kellogg's Ford Fusion (Qualified 16th) – "One side of the track is sunny and one side is dark and I just messed up both sides a little bit. I think we have a really good race car and hopefully it will be top-12 or something like that. I think we will be just fine. I am excited about this race. The car was really fast in the last practice. In race trim, we were the fastest car in the last practice I think, so that is good."
MATT KENSETH, No. 17 Best Buy Ford Fusion (Qualified 17th) – "That was better than I expected to be actually. It will probably only be 15th or 20th, hopefully closer to 15th. I kind of missed the gaps a little there and drug the splitter and just couldn't really get it to turn."
GREG BIFFLE, No. 16 3M Ford Fusion (Qualified 22nd) – IT LOOKED LIKE SOMETHING HAPPENED ON YOUR FIRST LAP. "I just hung the splitter a little bit getting into turn one and run up the track a little bit. I thought that lap two was really good. I will have to watch the lap tracker to see but I thought it was pretty dang good really. I felt pretty good about it but it still is outside a tenth and a half on the second lap."
DAVID RAGAN, No. 34 Taco Bell Ford Fusion (Qualified 27th) – THAT WAS A PRETTY GOOD LAP THERE. "Anytime you can pick up from practice it is good. I wish we could have gotten one more qualifying run in practice. We made a few changes that seemed to help a little bit. It is certainly not a perfect lap by any means but it was better than we had in practice and going out real early I would say it is a decent lap. I am looking forward to a fun race on Saturday night."
ARIC ALMIROLA, No. 43 Smithfield Ford Fusion (Qualified 18th) –  HOW IS YOUR CAR THIS WEEKEND?  "It has been okay. We got a little off in practice there and started in race trim when everyone else started in qualifying trim. On the practice sheet we didn't look that stellar. I thought our car was decent and Mike made some good gains on the car in practice."
YOU HAVE HAD ONE HECK OF A WEEK HAVEN'T YOU, WITH BECOMING A FATHER AND ALL? "Yeah, a huge week, it has been amazing. It has been really cool. You really learn to put things in perspective and it has been a great few days."
IS IT HARD TO COME HERE THIS WEEKEND? "It really was. That is probably the first time in my life that I have been torn about leaving to go to the race track. My whole life I have gotten up to go to the race track and been extremely excited. Not that I wasn't excited to come to Richmond, I am always excited to come drive a race car, but that is the first time in my life that I have been torn and equally had something at home that I wanted to be with as bad."
JANICE DOING GOOD? "Yeah, she was a trooper through the whole deal and she has been awesome. We have gotten lucky I think. Alex has been a great baby so far and it has all been good."
THERE HAS BEEN A LOT OF SPECULATION ABOUT YOU FOR NEXT YEAR. DO YOU KNOW WHAT YOU ARE DOING YET? "We are still trying to work on it. I think as a race team we have a lot of things up in the air. I think right now there are a lot of fires that Brian and Richard are trying to put out. I fall somewhere in that mix. We are trying to work through all the things we have going on at Richard Petty Motorsports. Me personally, I would love nothing more than to be right where I am at. I think we want to do better – you always want to do better – unless you win five championships in a row and win every other week you can always see room for improvement. All in all, I think RPM has been a great place to work and I would love nothing more than to continue my career there."
DO YOU FEEL LIKE YOU HAVE DONE ENOUGH TO SHOW THAT YOU DESERVE TO BE BACK IN THIS? "Yeah I do. It is tough. I didn't come into this series thinking it was going to be easy. I think showing up and trying to beat Jimmie Johnson and Tony Stewart and guys like that in your first year in the sport and trying to beat Carl Edwards and Matt Kenseth and those guys in the same equipment is not easy. I knew that coming into it. It has not been any harder than I expected and I think we are right on track. We want to do better. I think we want to do better every week. We have had some bumps in the road and had some things that we have tried with the cars that haven't worked and we have had to go back on and I've done some things as a driver making mistakes. We have had a lot of things. It just hasn't been a clean year. I would really love a chance to take everything I have learned this year and start fresh with a clean piece of paper next year."
Marcos Ambrose, No. 9 MAC Tools Ford Fusion (Qualified 23rd) "That wasn't quite what we were looking for. We struggled getting around the track on our qualifying lap. We'll have some work to do tomorrow night to get to the front of the field, but that's exactly what we are going to do. We've got to win this weekend if we are going to secure a spot in the Chase. We were good in practice, so I'm not too worried about tomorrow night. We are going to go out and do our best to put the Mac Tools Ford in Victory Lane at Richmond."
FORD QUALIFYING RESULTS
16th        Carl Edwards
17th        Matt Kenseth
18th        Aric Almirola
19th        Michael McDowell
22nd        Greg Biffle
23rd        Marcos Ambrose
27th        David Ragan
35th        David Gilliland
39th        Ken Schrader
41st         Josh Wise
42nd        Casey Mears
Original Story:
http://startnparkblog.com/?p=11101&ut...
THE BACKYARD
BEST OF MAXIM
RELATED ARTICLES
Matt Kenseth, driver of the No. 17 for Roush Fenway Racing announced earlier this week that he is leaving RFR and headed to Joe Gibbs Racing in 2013. In doing so, he will be leaving the #17 Ford that he has driven since 1999. We have compiled 17 of his most memorable paint schemes from through out his rich history at Roush Fenway. We bid him fair well at the end of the year onto...
Matt Kenseth, driver of the #17 Best Buy Ford, enters Saturday nights race at RIR locked into the 2012 Chase and standing third in points. He is also the only current Ford driver with a NSCS win at Richmond, bringing home the checkered flag in 2002. Kenseth talked about the weekend ahead with media members Friday morning. TALK ABOUT BEING HERE AT RICHMOND THIS WEEKEND AND HOW IMPORTANT...
Moving into Richmond both Greg Biffle and Matt Kenseth have clinched their respective spots in the 2012 Chase field. Carl Edwards will need a victory and for Kyle Busch to finish 24th or worse (with no laps led) this weekend and for Jeff Gordon to finish 12th or worse to secure a spot. If Busch or Gordon supplant Tony Stewart in the top 10, Edwards will be eliminated. RFR Chase History...
Typically when NASCAR Sprint Cup Series stars Matt Kenseth and Kurt Busch discuss the "field" it has to do with 41 other drivers and isn't named "Lambeau," but on Thursday, Sept. 13 that all changes. Prior to heading to Chicagoland Speedway to kick off the Chase for the NASCAR Sprint Cup, Kenseth and Busch will make a friendly wager as the Chicago Bears take on the Green...
It was not the night the Ford Racing drivers had in mind when the Federated Auto Parts 400 from Richmond International Raceway started. Sure Matt Kenseth (5th) and Greg Biffle (9th) finished in the top ten and solidified their Chase positions. But on the flip side Marcos Ambrose (15th) and Carl Edwards (17th) couldn't do enough to qualify for the Chase themselves. Disappointment...
On Tuesday months of speculation was put to rest when Matt Kenseth was announced as the new driver at Joe Gibbs Racing. During their press conference, it was implied that Joey Logano, whom Kenseth was replacing, was going to Penske Racing. So just a few short hours after Kenseth was announced, Logano was announced by Penske as their new guy. Below is a closer look at each driver's...
All Sports News

Delivered to your inbox

You'll also receive Yardbarker's daily Top 10, featuring the best sports stories from around the web. Customize your newsletter to get articles on your favorite sports and teams. And the best part? It's free!
THE HOT 10: Who's Trending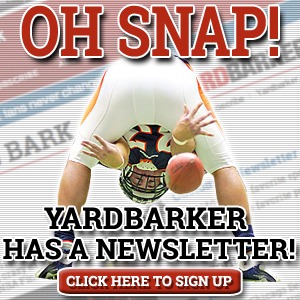 Latest Rumors
Best of Yardbarker

Today's Best Stuff

For Bloggers

Join the Yardbarker Network for more promotion, traffic, and money.

Company Info

Help

What is Yardbarker?

Yardbarker is the largest network of sports blogs and pro athlete blogs on the web. This site is the hub of the Yardbarker Network, where our editors and algorithms curate the best sports content from our network and beyond.