Found June 19, 2012 on Maize & Blue Nation:
This weeks dose: Decisions decisions, invites, recent visits/offers, MY INAUGURAL POST!!!
Decisions Decisions
Interestingly enough, three recruits have shed some insight on their decision timeline and all coincidentally play the same position: Wide Receiver.  Bad news for two of them is that Brady Hoke and the Michigan staff have promised
LaQuon Treadwell
, who says he will decide during his senior year, a spot in this spectacular class.  He would only make it that much better if he decides to take his talents to Ann Arbor (see what I did there).
As noted above,
Alvin Bailey
is an teammate of S
Leon Mcquay
for Armwood High School in Florida.  He is a smaller, slot type of receiver compared to Treadwell, but can still make some very impressive plays and is always a threat to go downtown on any play.  He has recently came out with a decision date of July and plans to make a visit this weekend.
Late offeree WR
Sebastion Larue
is the latter part of the two who have made up their mind on when a decision is coming.  Larue has been noticing the array of recruits making their commitment this week and has mentioned that he would like to join the commit party by pledging to his school of choice soon. We will see if he actually follows through with this, but keep your eye out in case he does make his decision in the near future.  He has yet to make a visit to Michigan so chances are slim but if he schedules a visit, things could get interesting.
Either way, Michigan is in good position, barring a visit from Larue, for either one of these talented receivers (who surprisingly mirror eachother, both being 5'11" 185) although Larue is regarded as the better recruit when looking at most recruiting sites.  Bailey seems the most interested as of now since he already has a visit planned, but we will see what happens.
In other 2013 news
Florida RB Derrick Henry de-committed from Georgia and rumors say that he is a Alabama lean which would give them four(!!) running back commits.  This is good news for the Wolverines as they are still in pursuit of
Rivals
top running back
Derrick Green
who has Alabama high on his list.  But don't get too excited, he hasn't mentioned Michigan much lately.
The most shocking (I'm talking like in a Tom Brady being picked in the 6th round and winning 3 Super Bowls kind of way good) news of the week also involved Alabama, but this came from the head man in charge down in Tuscaloosa Nick Saban. Saban complimented current Michigan commit Jourdan Lewis by saying he is
arguably a top 10 player in the country
!!! I don't know if there could be higher praise in college football than from also arguably the top coach in the country.
Someone who you may not have heard of,
RB Demetius Stinson
out of Detroit, may walk on to Michigan if the opportunity arises.  Stinson, has only one offer from Toledo, but after looking at
his film
seems to have pretty good speed and quickness.  Speaking of walk-on's, Michigan did accept a walk-on this week in Indiana TE Michael Jocz.  Check out his film below:
Jocz has good size standing at 6'4" 215 and seems to be a good pick up for the Wolverines as they are a little short at this position.  The question remain where he could actually end up.  With his stature, He could fit in a number of different places. Only time will tell.
Eddie Vanderdoes
has Michigan in his top 15. Will narrow down to ten soon.
Invites to the Opening
I don't know if this is a sign of great things to come, but The Opening in Oregon hosted by Nike is one of the top camps of the year and it is loaded with current Michigan commits and targets. A few have received an invite to showcase their talents earlier this week. Among them are current commits OL Logan Tully-Tillman and OL Kyle Bosch, and current targets Derrick Green and Kendall Fuller.  These four join a
looooooooong list
of current commits and targets along with most of the top players in the country.
2014 Offers/Recent Visit
If you missed this then you need to check it out ASAP!! Laquon Treadwell is the receiver...that's all I am going to say.
Curious who was blanketing Michigan's top remaining target at WR?!  I bet you are.  It was none other than 2014 Detroit Cass Tech
WR/DB Damon Webb
.  Webb looked very impressive at the Sound Mind Sound Body camp this past weekend. Impressive enough to earn his first BCS offer from our own Wolverines (Toledo is only other offer).  Add him to the list of top D1 players to play/come out of the pipeline school for Michigan.  He says that he is being recruited as a DB and he will have no argument from me.  Standing 6'0" 175, he has ideal size for a corner and I would expect him to stay at that position.  Michigan is his leader now and I have a feeling he may be the first to join the class of 2014. Our first commit watch of 2014?! I think so! He plans to camp at Michigan this week.
Another offer last week was extended to 2014 Chicago
OL Jamarco Jones
(6'5" 285) on his visit. He was a hot commodity last week as noted by
Tremendous
:
To his surprise, Michigan offered 2014 OL Jamarco Jones (Chicago, IL) on Friday while on his visit. I was able to catch up with Jamarco afterwards and he told me the following of his visit/offer:

Michigan: "It was a good visit. I toured the academic facilities, Schembechler Hall, the Big House. They were all really great. I thought the academic center was the best because they care about what you do after you graduate". 
Coaches: "I got to meet Coach Borges and Coach Funk. They were really cool guys. They told me they liked my athleticism at the position and that I have good footwork for a player my age". 
Visits: "I was invited to the barbecue on July 29th and will come back for a game this season as well. I will try to make it to the barbecue but I am not 100% sure yet". 
Other school: "I'll be camping at Notre Dame and Wisconsin this weekend. I've been hearing from Michigan State, Northwestern, Illinois, Michigan, Ohio State, Notre Dame and I was just offered by Indiana today". 
Core6: "The workouts have really helped my quickness especially. They've helped me get quicker off the line and my overall speed has improved drastically. We work a lot on my technique as well and it shows because that's what most coaches seem to like about my game". 

Jamarco might be the hottest 2014 name in the Midwest right now. He's keeping things mum right now as to any certain school that he might favor but Michigan made a great first impression on him, not to mention his surprise at getting the offer so early. Given all the teams that lined up to offer him so quickly, I wouldn't be surprised to see Notre Dame and Wisconsin follow suit with offers at their camps. He's a name you're likely to continue to hear.
Maybe the biggest visitor of the week came in 2014
OH LB Michael Ferns
who posted this picture on his twitter account during his visit.
Ferns (6'3" 235) was greatly impressed by his visit and seemed to enjoy it so much that he turned around and drove home instead of sticking to his plan of heading over to East Lansing for a visit to "Little Brother." HE-YO!!!  Ferns practically has an offer from every major Midwest program in the country and resides in Ohio, our new stomping ground when it comes to recruiting (geez that's so bittersweet to say).  Pulling him in would only add to the talent at this position that already does and will exist in Ann Arbor.  He expects to make his announcement by the middle of his junior year.
Visitor number three of the weekend belonged to 2014 Gallatin TN
WR Josh Malone
(6'2" 190) said he had a great visit and the coaches were awesome.  He plans to make a return visit during the fall to get the real experience of what the atmosphere of a home game is like. I am sure he won't be disappointed. 

Aside from the above, 2014 two sport in-state star Drake Harris received his offer this past week and will camp at Michigan this week.  2014 NJ DB Jabreel Peppers has Michigan listed as his favorite over Alabama, Notre Dame, Ohio (we will put the the State in parenthesis so we don't upset Coach Hoke - Your welcome), and Rutgers.  Peppers teammate WR/DB Tyrone Washington is also showing some interest in the wolverines although he has no offer.  2014 DB Parker Westphal visited Ann Arbor a few weeks ago saying his experience was jaw dropping.
  Westphal could be on of the most sought-out DB prospects in the country when it is all said and done.  2015 Cass Tech
QB Jayru Campbell
received an offer from Alabama over a handshake from Nick Saban himself.  He plans to make a return visit to Ann Arbor this weekend and I am almost positive this staff will extend him an offer.  He's to good for Michigan to let him out of their backyard.
Lastly, 2014 FL
WR Corey Holmes
is camping at Michigan this week and says if the Wolverines offer they would be the on top of the list.  2014 Teammates OL
Demetrius Knox
, who already has an offer and is considered the top OL, and
RB Daniel Gresham
(no offer) are trying to make a visit this weekend and say they really want to attend the same school. 
This is my INAUGURAL POST!!! and I hope it tickles your fancy (too much?).  I will hopefully be updating a few of these a week, but will definitely have a weekly update.  Feel free to
email me or reach me on twitte
r if you have any questions or are looking for daily updates.
window.dctile = Number(window.dctile) + 1 || 1; window.dc_ord = Number(window.dc_ord) || Math.floor(Math.random() * 1E10); if (dctile==1) {var vdcopt = 'ist';} else {vdcopt = '';} if (17>dctile) document.write('<script type="text/javascript" src="http://ad.doubleclick.net/adj/yb.maizenbluenation/;chan1=college;rating=pg;dcopt=' + vdcopt + ';yb=ad;s1=;s2=;tile=' + dctile + ';sz=300x250;ord=' + dc_ord + '?"><\/script>\n');
Original Story:
http://www.maizenbluenation.com/2012/...
THE BACKYARD
BEST OF MAXIM
RELATED ARTICLES
Carly Rae Jepsen's "Call Me Maybe" has taken the world by storm. Even Tom Brady can't avoid it. A new video has surfaced on the Internet that features Brady singing the song, which adds to the long list of spoofs involving Jepsen's hit single. The video, although choppy at times, is very creative, and likely took the creator plenty of time to edit. It includes...
Tom Brady 2011 Season - All 39 TD's (by vcmoss81) This is going to be a long five weeks until training camp. How many "training camp positional battles" articles can one blogger read/write?
"The biggest question in Foxboro will always be what if Tom Brady goes down with an injury? It...
Sweaterpunch.com: Here's my number, so call me Brady? There is not a song in the world I hate more than Carly Rae Jepsen's "Call Me Maybe", and each new YouTube video cover of this song sucks worst than the previous one. With that being said, here is a clip of Tom Brady singing the song. Much like the President Obama video of him "singing" Jepsen's hit, godlike899...
Just when you thought that the Internet had run out of ideas for "Call Me Maybe" parodies, another sports-related one has hit the fan. Check out this version using interviews from New England Patriots quarterback Tom Brady and mashing them all together: (Courtesy of Off The Bench)
The New England Patriots have become a dominant passing team since 2007. However, they are 0-2 in the last two Super Bowls they have been in. The retooling of the wide receiver corps has everyone excited, but it won't be the reason the Patriots succeed or fail in 2012. Tom Brady has proven he can throw the ball six ways to Sunday, you can pass your way to the Super Bowl, but...
I don't quite get the obsession surrounding the song "Call Me Maybe." Like, sure, it's an insanely catchy pop song but why are there nine million videos on YouTube of people lip-syncing to the song? Can anyone explain that to me?Anyhow, some intrepid soul spent far too many hours putting together footage of Tom Brady speaking in order to create another "Call...
Tom Brady has a lot of experience on TV, at least in a football uniform. But his singing acumen leaves a little to be desired. Here's a video of Brady set to the music of Carly Rae Jepsen's "Call Me Maybe."
You know that song. Now watch Tom Brady belt it out like a superstar.
Not much needs to be said here. I believe they call this one the Vanilla Ice Fade. via Miggie Smalls and The Big Lead Article found on: Cosby Sweaters
The trick play is an exciting play in the NFL. Something that comes out of nowhere to surprise the fan watching. It's been around since the early days of the league, and although they aren't ran week in and week out, when it happens – it's sure to be talked about. I've gathered a list of the Top 10 that stick out to me, I hope you enjoy them as much as I do! 10. AJ Trapasso...
All Sports News

Delivered to your inbox

You'll also receive Yardbarker's daily Top 10, featuring the best sports stories from around the web. Customize your newsletter to get articles on your favorite sports and teams. And the best part? It's free!
THE HOT 10: Who's Trending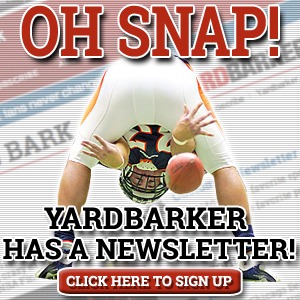 Latest Rumors
Best of Yardbarker

Today's Best Stuff

For Bloggers

Join the Yardbarker Network for more promotion, traffic, and money.

Company Info

Help

What is Yardbarker?

Yardbarker is the largest network of sports blogs and pro athlete blogs on the web. This site is the hub of the Yardbarker Network, where our editors and algorithms curate the best sports content from our network and beyond.