Found June 02, 2012 on Start 'N' Park Blog:
Greg Biffle, driver of the #16 3M Ford who continues to lead the points on the NASCAR Sprint Cup circuit, met with media members at Dover International Speedway following the first practice session Friday afternoon. 
TALK A LITTLE BIT ABOUT CONTINUING YOUR LEAD IN THE POINTS AND COMING INTO DOVER THIS WEEKEND. "I am really excited about this race track and coming here. It is one we definitely look forward to. Last week was a little bit of a disappointment for us. We had a really fast race car during the evening and when it got cool at night we weren't quite as good, just like we were in the all-star. We missed it a little bit. The car was pretty good here in the first practice and decent here in the qualifying run. I look forward to Sunday and to see what the track brings." 
THERE HAS BEEN A LOT OF TALK ABOUT LACK OF CAUTIONS. WHEN YOU STRAP INTO YOUR 16 CAR, DO YOU FEEL AN OBLIGATION TO ENTERTAIN THE RACE FANS? "No. My obligation when I strap into that thing is to win. To kind of contradict myself though, we want to put on a good show and race each other hard and we do, but you can't make it up. You can't say, 'Well I am going to try and race this guy side by side for so many laps or something.' Our goal is to race hard, get to the front and get the highest finish we can. We want to win, get by the cars but we know it is an entertainment sport and there is not anything in our control that we can do about that part of it." 
YOU AND KASEY BATTLE QUITE A BIT AT CHARLOTTE. DID YOU NOTICE A DIFFERENCE AS NEITHER ONE OF YOU SEEMED TO GET A DECISIVE ADVANTAGE BEFORE THAT DEBRIS CAUTION CAME OUT. "Yeah, that is part of racing hard. That goes along with putting on a good show actually but there again, that is a perfect follow up question. We don't plan that. Both Kasey and I are driving as hard as we can. I don't know if it is the change in the aero that created that side by side or what. I don't really feel like it is. I just feel like we each had our own lane at that particular track right then. Our cars were pretty equal at that point in the race. It could have contributed a little bit to it but it wasn't like he was out front. He basically ran the top to get to me and then switched over to the bottom and got inside of me. It could have played some sort of role in that." 
COMPARED TO LAST YEAR WHEN YOU WERE 14TH OR 15TH IN POINTS AND NEEDED TO GET YOUR WAY INTO THE CHASE TO NOW WHEN YOU ARE LEADING. DO YOU FIND YOURSELF RACING ANY DIFFERENTLY NOW DUE TO YOUR POINTS POSITION?  "It sounds good but no. This season I have done basically the same thing. I don't really worry about the points when we are on the race track. I race as hard as I can every lap and try to get every position I can. Sometimes you make mistakes and sometimes you don't. My cars are better this year which has enabled me to be better. We didn't have a lot of cautions or spin outs last year as a 16 team; we just had a lot of lousy finishes. We didn't make it on fuel, got a lap down, something happened, all those things. It wasn't necessarily points driven why we didn't run better last year and it isn't the case this year. I think the lack of cautions are the cars being so equal and they drive stuck to the race track so good and recover fairly well. I just think that has a lot to do with why you don't see cautions. I think people are racing as hard as they have ever raced. It is just that the cars are better than they ever have been." 
WHAT DO YOU EXPECT FROM THE NEW POCONO NEXT WEEK?  "I think out of any race track that is getting repaved – Kansas, Michigan and Pocono – I feel like Pocono would be at the top of my list for a repave. I am excited about that and I think the racing being shortened to 400 miles will create some excitement with the fans. I think it will be a little better race and not so drawn out. There will be more urgency to go and different strategy. Do I know what to expect or what I am thinking? I am nervous as can be going into next week because I have no idea what to expect. We have a day and a half of practice which is good but I have no idea how fast it will be or how different it will drive through the corners. I am pretty anxious to get there and get on the track." 
IF YOU HAVE A DOMINANT RACE THIS WEEKEND LIKE YOU DID LAST WEEKEND, WHAT DO YOU HAVE TO DO TO MAKE SURE IT ENDS WITH A TRIP TO VICTORY LANE? "I think that if we look back and analyze what we did last week we know that we have a little bit of an issue when the speeds picked up that our car didn't turn as good. We lost the front grip of the car. This race isn't starting in the daytime and finishing at night so it will be a different animal for us. As this race runs the track gets more rubber on it so it gets slicker and slicker as the race goes. We need to work on that grip at the end of the race. Last week was kind of its own scenario of staring in the day and finishing at night. That is different than normal. In the All-Star race it was kind of the same. We weren't that great in the race but pretty good in practice and qualifying. In the race we were off a little bit. We need to work on that within out 16 car and figure out what we have to do different here with a difference scenario. I think our car will be good when it comes down to the wire. We just have to focus on this place and be there at the end." 
IS THERE SOMETHING YOU AND YOUR TEAMMATES DO SIMILAR IN YOUR CARS OR LOOK FOR WHEN YOU COME HERE TO HAVE HAD SO MUCH SUCCESS OVER THE YEARS? "I think this is a driver's race track and a lot of us like this race track but at the same time we share a lot of information. We share setups and that kind of thing. I think that helps our organization as a whole. I think we can count on one another for information and that makes us good as a team. We run good at this race track which is a plus for us." 
IS THE 2013 CAR DIFFERENT ENOUGH THAT A YEAR FROM NOW WE WILL BE TALKING ABOUT THE FIELD BEING NOT AS LEVEL AS IT IS NOW? "I've been wrong before but I think it will be different next year. I think you will see more cautions with this new car. More people will lean on that car and it may not do what this car did or may do something different and they may get over their head. I think there will be growing pains with that new car. I think there will be more cautions with that car but that may taper off. I would have to guess that with going to a new car completely, all the teams, that you are going to see some learning curve within the sport and that means probably some cautions."
Original Story:
http://startnparkblog.com/?p=7162&utm...
THE BACKYARD
BEST OF MAXIM
RELATED ARTICLES
In motorsports, age is just another number. While it's a big deal in most stick and ball sports when an athlete turns 40, in NASCAR, many competitors are just hitting their prime. Greg Biffle, 41, has led the Sprint Cup point standings for the last 10 races. On Saturday, 53-year-old Mark Martin earned the pole for the FedEx 400 benefiting Autism Speaks. It's his fifth pole...
CORNELIUS, N.C. – NASCAR drivers Clint Bowyer and Greg Biffle battle on the race track just about every weekend, but this summer the pair is locked in a fierce battle in the Sherwin-Williams Planet Color® All-Star Charity Challenge. The Challenge pits the truck design talents of the two drivers. Bidders at the Barrett Jackson Auctions in Orange County, Calif. and Las Vegas, Nev...
Tony Stewart was involved in a 12 car accident early on today at Dover, effectivly ending his day at lap ten. Crew Chief Steve Addington and the Office Depot team fought back well, bringing the #14 Chevy team home a repectable 25th."You know, we finished 25th last week at Charlotte, and none of us were happy about it," said Stewart, referencing his frustrating run in last Sunday's...
All Sports News

Delivered to your inbox

You'll also receive Yardbarker's daily Top 10, featuring the best sports stories from around the web. Customize your newsletter to get articles on your favorite sports and teams. And the best part? It's free!
THE HOT 10: Who's Trending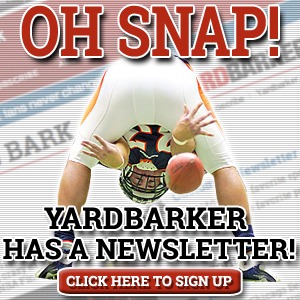 Latest Rumors
The Backyard

Today's Best Stuff

For Bloggers

Join the Yardbarker Network for more promotion, traffic, and money.

Company Info

Help

What is Yardbarker?

Yardbarker is the largest network of sports blogs and pro athlete blogs on the web. This site is the hub of the Yardbarker Network, where our editors and algorithms curate the best sports content from our network and beyond.