Found April 19, 2013 on Fox Sports:
Mike Rogerson sat on a barstool at the Cask 'n Flagon, the popular tavern across the street from Fenway Park's Green Monster. As he spoke Thursday evening, the Red Sox were about 24 hours from playing their first home game since Monday's bombings at the Boston Marathon. "Tomorrow," Rogerson said, "can be a defining moment for this team." Rogerson, a 27-year-old South Boston resident, wasn't referring to a victory over the Kansas City Royals. He meant a moment , like Rene Rancourt's rendition of "The Star-Spangled Banner" before the Boston Bruins played Wednesday. Rancourt stopped singing after a few stanzas, and the proud, tearful sellout of 17,565 took over in a moving scene viewed across the country. "I don't really know what it would be," Rogerson continued. "It'll be something like what Rene Rancourt did. It doesn't cross your mind beforehand. It just happens." Friday night, tens of thousands will come to Fenway Park to see what that something is. As the Bruins' crowd did earlier this week, they will overcome the anxiety of joining in a mass public gathering so soon after a terrorist attack. They will find empathy among fellow fans and comfort in the sight of crisp white jerseys on New England's most famous lawn. And they will appreciate how this Red Sox team is brilliantly and genuinely shouldering the new responsibility thrust upon it. Boston sports fans had fallen out of love with the Red Sox, long before Bobby Valentine's brief and calamitous reign in 2012. Rogerson felt it, too. He didn't watch a single Red Sox game from start to finish last year, emblematic of a weakened bond between the city and its team. The beloved 2004 Red Sox broke the Curse of the Bambino. With another World Series title three years later, the Red Sox became the preeminent organization in the sport. After that, what was left to prove? The search for that answer led ownership and management to a number of disparate pursuits - higher television ratings, sexier players, ownership of Liverpool F.C., even a partnership with LeBron James - which, collectively, yielded zero postseason victories over the past four years. An overhaul after last season focused on players of high character and accountability - and just in time. The franchise suddenly represents a greater, intensely personal purpose to the region, in a way it hasn't since delivering that long-awaited championship nine years ago. As they assembled this team, Red Sox officials couldn't have known their city would need a team worthy of attaching so much civic pride. Yet, that is what Boston has in the 2013 Red Sox. It helps that they return home atop the American League East, having won six straight. But New Englanders are drawn to them for reasons that transcend an 11-4 start. These players understood their obligation before April 15, and they really understand it now. "I hope we can keep winning and give somebody something to look forward to - coming to a game, rooting us on, being in first place," Red Sox catcher David Ross said earlier this week. "It's something positive to take in their life right now, because . . . there's a lot of negativity. But as a bystander you're seeing all the people run towards the explosion. It's kind of uplifting in the same aspect. "A lot of us are anxious to get back home, play in front of our crowd, and try to uplift the people of Boston." Already, Friday's game has a number of rich subplots. Earlier in the week, Red Sox designated hitter Jonny Gomes made mention of the first baseball game in New York after the 9/11 attacks - which the Mets came from behind to win on a dramatic home run by Mike Piazza. The pitching matchup features Boston's Clay Buchholz - the AL ERA leader at 0.41 - against Royals ace James Shields. As if to add even more drama, Boston superstar David Ortiz is expected to return from the disabled list and make his season debut. "What if he hits a walk-off home run?" Rogerson asked whimsically. "It gives you chills just thinking about it." But as the Bruins and Rancourt showed Wednesday, the most memorable events Friday don't necessarily have to occur within the confines of nine innings. Red Sox executive vice president Charles Steinberg is known for having planned some of the most poignant ceremonies in recent sports history - including the 100th anniversary celebration of Fenway Park, almost exactly one year ago. This is different. "We'd love to fill the field with thousands of people we want to honor, but that's not for tomorrow," Steinberg said Thursday in a telephone interview. "We need to do something simpler, a low-key appreciation. It's not at all a day for pageantry. It's a day of unity. "The basic elements are coming together as one, recognizing Fenway Park as a community gathering place where people can mourn together and share thoughts and prayers together, and also to encourage one another. There's been extraordinary compassion shown by our players, and that has happened organically. We want that to continue." Though plans weren't official as of Thursday afternoon, the Red Sox have considered asking organist Josh Kantor to cue the crowd in singing "The Star-Spangled Banner" without a performer on the field. "We and the Bruins have the same instinct, that this is a time for fans to sing the anthem for themselves," Steinberg said. Life is not yet normal in Boston - and never will be, for many of those affected by Monday's tragedy. The Copley Square MBTA station, located just beneath the Marathon finish line, remains closed because of its proximity to the crime scene. As I rode the Green Line through the area Thursday, the conductor said simply, "Attention, passengers: Copley Station remains closed." The conversation around me quieted. Then the train rolled slowly through the dim, deserted station, as if to genuflect. Thousands of Red Sox fans will see and hear the same thing Friday, on their way to Fenway Park. They can't be sure what they will see when they arrive. But it will be something. Very likely, it will be something special.
Original Story:
http://msn.foxsports.com/mlb/story/bo...
THE BACKYARD
BEST OF MAXIM
RELATED ARTICLES
Game 13: With heavy hearts, The Red Sox win 7-2 Despite the tragedy happening about 48 hours earlier in their town, the Boston Red Sox traveled to Cleveland and continued with business as usual, winning 7-2 with a relatively weak offensive night. Red Sox batters struck out 16 times against the Indians pitchers, but all they needed was one inning to show the nation that they were...
All Sports News

Delivered to your inbox

You'll also receive Yardbarker's daily Top 10, featuring the best sports stories from around the web. Customize your newsletter to get articles on your favorite sports and teams. And the best part? It's free!
THE HOT 10: Who's Trending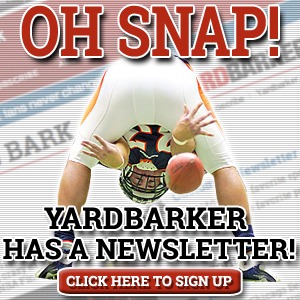 Latest Rumors
The Backyard

Today's Best Stuff

For Bloggers

Join the Yardbarker Network for more promotion, traffic, and money.

Company Info

Help

What is Yardbarker?

Yardbarker is the largest network of sports blogs and pro athlete blogs on the web. This site is the hub of the Yardbarker Network, where our editors and algorithms curate the best sports content from our network and beyond.