Found January 03, 2013 on State of the Texans:
PLAYERS:
Andy Dalton
,
Matt Schaub
,
Arian Foster
,
BenJarvus Green-Ellis
,
Danieal Manning
,
Jermaine Gresham
,
Carlos Dunlap
,
A.J. Green
,
Andrew Hawkins
,
Marvin Jones
,
Andre Johnson
TEAMS:
Cincinnati Bengals
,
Houston Texans
Wildcard weekend. Texans fans know we "shouldn't" be here. We were "supposed" to be the 1-seed in the AFC. And yet, after a 1-3 final quarter of the season, here we are, facing the Bengals in the same weekend as last year. Same Bengals, same Texans, but different. This Bengals defense is bigger and badder in every way. This Texans defense is more decimated. Andy Dalton is surprising many of us. So is Matt Schaub but in a totally opposite manner. Both teams have questionable running attacks which is odd to say with Arian Foster and BenJarvus Green-Ellis in their respective backfields. What to expect from these two teams this Sunday? For answers we turn to Joe Goodberry of www.CincyJungle.com who fills in the blanks for us. Is there still any trepidation about V. Burfict's attitude and demeanor, or has he proven himself to be trustworthy? @txbobbumman I was one that didn't want Burfict for his play as much as his character. Going undrafted and signing in Cincinnati, he's been the opposite of what we saw in college and read in reports. He's humbled, eager to please, and provides energy that teammates are feeding off of. Other teams seem to try and test him every week with an extra push or smack-talk after the play, but Burfict doesn't bite. There's still some concern that he could get too comfortable this offseason like he did that ASU, but as of right now, he's been nothing but a pleasant surprise. Can the Bengals take advantage of Danieal Manning's coverage issues with Jermaine Gresham? @frobeus_NS That depends on how the Bengals try to use Gresham. His role has fluctuated with every passing week from blocker, to short target, and even some deeper stuff down the seam. Mainly, Jay Gruden uses Gresham on shorter routes that'll allow him to run after the catch. That's his best trait. Gresham is big, strong and refuses to go down. He leads all NFL tight ends in yards after the catch. I would expect the Texans to play a deep safety over A.J.Green, if that's Manning, Gresham will be free to do work on the linebackers. What have the Bengals seen from the Texans on offense and defense that can be exploited? @texantakeover The first thing that jumps out on offense is the Right Tackle for Houston. I don't really know who he is, but in the games I reviewed, he definitely doesn't look like an NFL starter. Carlos Dunlap will line up across from him and I have to believe that's an advantage for the Bengals. On defense, the middle linebackers are the obvious weakness. We know the injury trouble Houston is having there and hopefully Cincinnati can exploit it. What is the Bengals weakness that the Texans can exploit? @msawyer4 Make the Bengals linebackers and safeties think and redirect and the Texans will have the advantage. Counters, cutbacks, play-actions, reverses and bootlegs are very effective. On offense, Andy Dalton struggles with the blitz. Get pressure on him, and he'll fold fairly easily. When AJ Green draws extra coverage, who will benefit most for the Bengals? @txbobbumman Andrew Hawkins and BenJarvus Green-Ellis. Hawkins is a matchup nightmare and when the Bengals get him in space away from the extra coverage, he's running for a while before the defense catches up. Green-Ellis takes advantage of playing against seven or less in the box and can really force defenses to play more sound. What do you and other fans feel about the playoff loss last year and the chance for Bengals redemption in 2013? We all feel like the Bengals got their collective butts kicked pretty bad last time. We feel the gap has been closed and the young Bengals should be more experienced this time. Most fans feel this team has a real shot this time. Who are some Bengals players on offense and defense that we need to keep an eye on this weekend? @olyeller01 Besides Green, we've already mentioned Gresham and Hawkins, but keep an eye out for their rookie starting WR Marvin Jones. He has good speed and keeps finding ways to get open. They need to see consistent hands, but he's getting close after recording 10 catches for 110 yards and a TD over the last two games. On defense, watch for who matches up on Andre Johnson each play. The Bengals corners don't follow the number one WR, and will instead play their sides. The Bengals front seven is fearsome. How do you feel they matchup versus the Texans o-line? I don't think the best offensive lines can block this defensive line without help. It's all up to the QB. If he can get rid of the ball early, Cincinnati won't be able to get there. The problem is the Bengals secondary has been covering very well this year. Running the ball effectively and using play action is the best hope for mild success.   Thanks again to Joe Goodberry. You can find Joe on twitter @JoeGoodberry and writing for CincyJungle.com. Thank you to the readers for your questions throughout the season. Without your input, Know Your Opponent would never have gotten the popularity it's achieved. Thanks especially to to @txbobbumman, @the_abman_mon, @texantakeover, @olyeller, and the many others who contributed on a regular basis. You can follow me and submit your questions for next week (*fingers crossed*) at @theclairebear23. Grateful for your readership, all and Go Texans!
Original Story:
http://www.stateofthetexans.com/?p=9781
THE BACKYARD
BEST OF MAXIM
RELATED ARTICLES
According to the Houston Texans, The #Texans have placed ILB Tim Dobbins on the Reserve/Injured list with an ankle injury — Houston Texans (@HoustonTexans) January 4, 2013 The #Texans have signed rookie ILB Cameron Collins from the practice squad to the active roster — Houston Texans (@HoustonTexans) January 4, 2013     This comes a big blow to an already depleted inside linebacker...
HOUSTON -- The one thing everybody seems to "know" about Matt Schaub is that he is not quite as good as he seems. This has come to define the Houston Texans quarterback's relationship with Houston Texans fans. Nobody thinks Schaub isn't any good at all. Everybody can remember those 4,000-yard seasons. They can pick out a handful of anecdotes to prove Schaub'...
The Bengals and Texans face off for the second postseason in a row.  Will the results be different this time? The Playoffs start this weekend and some teams will be one and done.  Here are this weekends winners and losers. AFC Wild Card Game - #6 Bengals at #3 Texans This is a very interesting game.  The Bengals have been red hot headed into the playoffs and...
Do the Bengals or Texans have the stronger team? Comparing wildcard teams by position. AFC Wild Card Game - #6 Bengals at #3 Texans QB - Matt Schaub over Andy Dalton - I really should be going with Dalton here but I'm going to stick with Schaub. RB - Foster over BGE - This is obvious. WR - Johnson over Green -  This is probably the last year Johnson would...
Talk about one of the worst months of football that anyone in Houston could imagine, the Houston Texans have raised doubts on how good this team really is. At times, it looks like they can't get out of their own way or they forgot what made them successful the first 12 games of the season. With the home-field advantage gone and the Cincinnati Bengals coming to town, the Texans...
Cincinnati Bengals rookie linebacker Vontaze Burfict had a big game against the Baltimore Ravens in their regular season finale, recording 18 tackles, a season and NFL career high as it were, and he's not stepping on the brakes any time soon. Burfict has been angry and fired up ever since he got into a little pushing and shoving match with Ravens RB Ray Rice. He channeled that...
Michael Johnson towers over blockers at 6-foot-7. At 6-foot-1, Geno Atkins often gets dwarfed on the line. Domata Peko is gregarious. Carlos Dunlap tends to cut off interviews after a few questions. The Bengals' defensive line is an eclectic mix of players from far different backgrounds with very different personalities and body types. Together, they formed one of the NFL'...
The Bengals have made the playoffs for the 2nd straight year, but like last year, they did it by winning the games they were supposed to and nothing else (well not technically nothing else this year, but close to it). The Bengals went 9-0 against non-playoff teams last season, but 0-7 against playoff teams, a number that grew to 0-8 when they lost to the Texans in the first round...
Here are some of my thoughts as we wrap up Friday and look forward to the playoffs tomorrow.   The Bengals have a really good chance of winning this game.   Tune into channel 9 (wcpo) in Cincinnati this evening at 7:00pm to see yours truly sit down with the people from The List and talk Bengals football.   The Pittsburgh Steelers season is done and it is because of the Bengals...
The 2013 NFL Playoffs kick into swing on Saturday with the Cincinnati Bengals (10-6) at the Houston Texans (12-4) at 4:30 p.m., followed by the Minnesota Vikings (10-6) at the Green Bay Packers (11-5).  Both games will be aired on NBC. Then on Sunday, the Baltimore Ravens (10-6) will host the Indianapolis Colts (11-5) at 1:00 p.m. on CBS before the Seattle Seahawks (11-5) take on...
All Sports News

Delivered to your inbox

You'll also receive Yardbarker's daily Top 10, featuring the best sports stories from around the web. Customize your newsletter to get articles on your favorite sports and teams. And the best part? It's free!
THE HOT 10: Who's Trending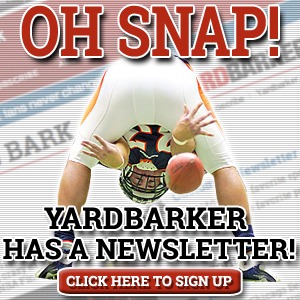 Latest Rumors
Best of Yardbarker

Today's Best Stuff

For Bloggers

Join the Yardbarker Network for more promotion, traffic, and money.

Company Info

Help

What is Yardbarker?

Yardbarker is the largest network of sports blogs and pro athlete blogs on the web. This site is the hub of the Yardbarker Network, where our editors and algorithms curate the best sports content from our network and beyond.