Found March 03, 2013 on BlackSportsOnline:
Major League Baseball and it's performance enhancing drug problem has given the game a black eye and raised suspicions for every player that puts up good statistics year in and year out. Baseball commissioner Bud Selig  is seeking stronger penalties for performance-enhancing drug users, and some players are now voicing their support for the commissioners efforts. Washington Nationals third baseman Ryan Zimmerman spoke out on the subject recently, and said that "nobody wants to watch cheaters play." "If you want harsher penalties, I'm all for that," Zimmerman told USA TODAY Sports. "Nobody wants to watch cheaters. Those guys make those of us who don't cheat and use things look worse. "It's not fair. It's tough to play this game when you don't have any sort of chemical help, and that's the point of this game. That's why the season's so long, and not too many people make it to this level — it's such a grind physically and mentally. It's not good for the sport." Zimmerman pointed out that the current 25 and 50 game suspensions are not a big enough deterrent to players using PED's. "The risk," Zimmerman says of the current 50-game suspension, "is not as great as the reward you get. You cheat, get caught, it's 25, 50 games, whatever it is. You come back, you're still getting a $40 million-$50 million contract. Of course, those guys are going to take that chance to get that payday. I think if you give harsher penalties, it's going to deter people from taking that chance and they'll have to think about it again. "Some guys are willing to do whatever it takes to try and get that break in that small time frame they have. I'm against anything that involves using it. I don't think it's fair for other people who work hard and don't have the luxury of feeling great every day. The other guys get sore, have to work out, and lift consistently."
Original Story:
http://blacksportsonline.com/home/201...
THE BACKYARD
BEST OF MAXIM
RELATED ARTICLES
Despite coming off shoulder surgery that has limited his ability to throw int he field, the Washington Nationals penciled Ryan Zimmerman into their lineup yesterday.  The slugging third baseman underwent arthroscopic surgery this offseason, but he is expected to be ready for Opening Day.  Joey Nowak of MLB.com says the club will simply use Zimmerman as a DH during the spring until...
Your browser does not support iframes. And here's video of Bryce Harper's first home run of spring training on Friday night: Oppo boppo. Harper's bat may be ready for the season to start, but as Federal Baseball correctly noted, Harper's home run trot is definitely not in mid-season form. Befriend Nats Enquirer on Facebook. Follow on Twitter.
The weather wasn't so welcoming to the Washington Nationals on Sunday. The players arrived for batting practice at Space Coast Stadium in Viera, Fla. and were greeted with temperatures in the lows 40s.So, what do major league players do when they don't feel like taking BP outside in the cold? Send in the little guy, of course.Nats players reportedly sent in Drake LaRoche...
Will Ohman has pitched in the majors for 10 years so he knows how things work in spring training. But we're not quite sure that even he was ready for what happened to him on Sunday. Ohman pitched in the sixth inning of the National's Grapefruit game against the Cardinals on Sunday where he gave up two hits and two walks. Afterwards, Ohman was informed that he would be cut and...
  Major League Baseball is a cut-throat business apparently. Nationals pitcher Will Ohman had just pitched the sixth inning in spring training against the St. Louis Cardinals when he was delivered some bad news. He had been cut. Before the game had even ended. "Will Ohman, who pitched the sixth inning today, was cut before the game ended. Tough day at the office." – @AdamKilgoreWP...
Up above, a screencap of The Shark batting for the Netherlands in the WBC on Saturday... Befriend Nats Enquirer on Facebook. Follow on Twitter.
The World Baseball Classic has started and so too has the spring of Chien-Ming Wang. Wang pitched six scoreless innings as Chinese Taipei beat Australia 4-1 in the WBC opener. Wang allowed four hits in the contest and struck out two but managed to stay under the 65-pitch limit for the classics opening round. While Wang's numbers look good on paper there should be concern with the...
Baseball Prospectus' PECOTA projection engine has predicted the Washington Nationals to repeat as National League East Division Champions. Here is their overall projection of the division: Overall, Baseball Prospectus projects that the Nationals will have the third best record in the National League in 2013 and the sixth best record in baseball. That projection would make...
Chien-Ming Wang threw six shutout innings to lead Taiwan past Australia 4-1 in Saturday's opening game of the World Baseball Classic. Scattering four hits, Wang, a former New York Yankees star, was helped by a solid infield that turned three double plays to halt Australian scoring threats in the Group B contest. Cheng-Min Peng homered and Chih-Sheng Lin doubled in a run to...
Adam Wainwright struggled with location in his second spring-training start, giving up five runs and eight hits over three innings Saturday in the St. Louis Cardinals' 6-2 loss to the Washington Nationals. Gio Gonzalez won his second exhibition start for the Nationals, allowing two runs and five hits in three innings. Kurt Suzuki doubled off the Cardinals' ace leading off...
Former Yank hero (and ex-whipping horse) Chien-Ming Wang pitched well this weekend in the Selig Baseball Classic, stopping the mighty Bushmen of Australia.  He shut out the dreaded Aussie lineup (No lie: Beresford, Denning, Hughes, Welch, Huber, Walker, Harman, Snelling and Kennelly) over six innings, prompting bleacher report blogologists to suggest the cobra-like Yankees are watching...
Nationals News

Delivered to your inbox

You'll also receive Yardbarker's daily Top 10, featuring the best sports stories from around the web. Customize your newsletter to get articles on your favorite sports and teams. And the best part? It's free!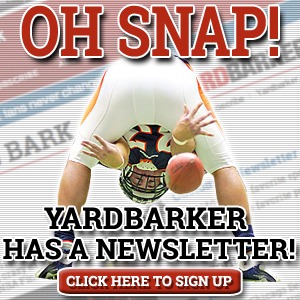 Latest Rumors
Best of Yardbarker

Today's Best Stuff

For Bloggers

Join the Yardbarker Network for more promotion, traffic, and money.

Company Info

Help

What is Yardbarker?

Yardbarker is the largest network of sports blogs and pro athlete blogs on the web. This site is the hub of the Yardbarker Network, where our editors and algorithms curate the best sports content from our network and beyond.