Found June 05, 2012 on isportsweb.com:
Vance Worley fills out the bottom of the rotation, making starts like yesterday's for the Philadelphia Phillies. Are the young guns in San Francisco getting the job done?  The Apocalyptic Horsemen Stats are in my recent coverage linked below. TAL'S HANDY STATS   WELCOME, NEWCOMERS: I am alternating a game-day 2012 ERA For The NL East and a 2012 ERA For The MLB 5. See link section below. In each publication, the number after the title will be based on the quantity of outcomes played by the Phillies. Top Performance Yesterday: Ryan Vogelsong Throws A Fastball In The 2nd During 7 Strong Frames At Home Against The Cubs   Check out Philadelphia Phillies storyline: Trade considerations   REASONING For The Stats: These numbers are a glimpse over the pitching coach's shoulder, because they warn of difficulty ahead. The rule of thumb is that the bullpen load should be no more than 33.3%, which is a 6-complete average per scheduled outing. That is why going a distance into the game is 6.1 frames or more, which is 70.4%. The added detail of 1 out per contest is 54 innings over the long summer's course. This also shows the mound masters that give the relievers a well deserved night off, but there is a rust factor due to lack of backend chances. If there are any questions, please ask.   Note:  All old ERA tables are automatically updated. STARTING & RELIEF PITCHING: CLUBSP INNSP ERSP ERASP PERRP PERRP INNRP ERRP ERA Phillies363.11473.6472.3%27.7%139.0684.40 Halos350.11333.4270.4%29.6%147.0623.80 Brewers310.01504.3664.0%36.0%174.1844.34 Giants353.21303.3171.6%28.4%140.0493.15 Yankees321.21664.6568.6%31.4%147.1442.69   TOTAL PITCHING & STARTS OF 6.1 INNINGS OR MORE: CLUBINNERERAARMSCONVGMSPER Phillies502.12153.856305653.6% Halos497.11953.535305653.6% Brewers484.12344.356175431.5% Giants493.21793.265315556.4% Yankees469.02104.035265349.1%   KEYS: ABRVS.MEANING ARMSPitchers With 6.1 Innings Plus CONVConverted Start Of 6.1 Innings Or More LastLast Conversion ResultOutcome Of Last Start UpdateNext Start Or Status Change Note:Listing is in order of conversion, including time of day. SESeason Ending   STARTERS WITH OUTINGS OF 6.1 INNINGS OR MORE: NOTE:  Click entries button to open more than the visible 10. CLUBHURLERCONVLASTRESULTUPDATE 01SFVogelsong9 of 106/04CONV 02PHLHalladay8 of 115/17DL'ed 02NYYSabathia8 of 116/01 02PHLHamels8 of 116/02 5:44 PM 02SFCain8 of 116/02 9:06 PM 06LAAHaren7 of 125/29Short 06LAAWilliams7 of 096/01 11:53 PM 06SFBumgarner7 of 116/01 11:58 PM 09LAAWeaver6 of 115/23 DL'ed 09NYYKuroda6 of 116/02 11PHLBlanton5 of 105/14 Short 11LAASantana5 of 125/15 Short 11MILGreinke5 of 115/20 11LAAWilson5 of 125/23 12:19 AM 11PHLLee5 of 085/25Night 11NYYNova5 of 105/30 11MILMarcum5 of 116/02 18MILGallardo4 of 115/25 Night 18NYYPettitte4 of 045/29Night 18SFZito4 of 116/03CONV 21SFLincecum3 of 115/30Late Night 21NYYHughes3 of 116/03CONV 23PHLWorley2 of 084/30Pitch Count 23PHLKendrick2 of 075/26 25MILEstrada1 of 065/07DL'ed 25MILWolf1 of 105/21 25MILFiers1 of 025/29Short     LINK-UP BELOW: There are previews–time permitting–of my next storyline at Tal's Handy Caps on Facebook.  Join for notification of future glimpses, which will be almost daily.  You'll also know immediately when my isportsweb post goes up.  It might be worth your while because there are delays of 2 hours on most feeds. Check out my previous publication (The Debate) and the 62 storylines–so far–for 2012 on the Phillies page or my author archives, where there is an excerpt photo. Tal's Handy Stats is daily coverage. I am alternating the 2012 ERA For The NL East and the 2012 ERA For The MLB 5. Thank you, to all who bookmarked the Phillies page. TAL'S HANDY LINKS TAL'S HANDY CAPS on Facebook (time problem lately) Philadelphia Phillies storyline: Trade considerations Philadelphia Phillies storyline: Dead heat? (Horsemen stats) Philadelphia Phillies Tal Venada Philadelphia Phillies: 2012 ERA for the NL East at game 55  
Original Story:
http://isportsweb.com/2012/06/05/phil...
THE BACKYARD
BEST OF MAXIM
RELATED ARTICLES
While the Phillies continue to pile up heartbreaking losses, the news on the injury front is getting better on the big three injured superstars. Roy Halladay finally received his second opinion yesterday from Mets doctor Steve Alchek. After much delay (almost a week) Dr. Michael Ciccotti's original diagnosis of grade 1 strain of the latissimus dorsi muscle was confirmed. Even better...
We find ourselves at the end of another mediocre week from the Phillies.  The Phillies took two of three from the Mets before giving up two of three to the Marlins.  Lucky for us, mediocre baseball seems the slogan of the National League East so the Phillies are still not that far off.————————–The Good, the bad, the ugly (Wild Thing)Chase Utley is on the move...
Other than three grounds-crew members, Roy Halladay was the lone soul on the field early Sunday morning at Citizens Bank Park. He ran sprints on the warning track, which probably offered little solace for the weeks of rest ahead. If Halladay's bad shoulder forces an absence of eight weeks, as suggested, it could make him a free agent one season sooner than expected. Halladay signed...
Cliff Lee of the Philadelphia Phillies is the best 2 in the NL East.  Our immediate rivals have what level of strength behind their 1-slot hurler?  The Apocalyptic Horsemen Stats are in my daily coverage. TAL'S HANDY STATS   WELCOME, NEWCOMERS: I am alternating a game-day 2012 ERA For The NL East and a 2012 ERA For The MLB 5. See link section below. In each publication, the...
Jonathan Papelbon may have taken the loss as the Phillies were defeated 4-3 by the Dodgers on Monday night, but he is not taking the blame. That blame, he says, belongs to home plate umpire D.J. Reyburn. In a 3-3 tie in the ninth, Papelbon allowed a lead-off triple on a 2-2 pitch to Dodgers shortstop Dee Gordon. Papelbon thought he had strike three on the previous pitch, and naturally...
It is a real shame when the focus of any baseball game becomes the umpires instead of the actual plays. But this seems to be an ever increasing trend as MLB continues to sweep bad umpiring under the rug. After a 4-3 loss to the Dodgers last night, Phillies closer Jonathan Papelbon got all bent out of shape about the performance of home plate umpire D.J. Reyburn. Papelbon told reporters...
Is it too late to make an all star push for Carlos Ruiz? Getty Images. Carlos Ruiz leads all catchers in baseball with a .368 batting average, a .600 slugging percentage, 1.029 OPS. He also is tied for the National League lead with 32 RBI and has played some very solid defense this season. As Todd Zolecki points out, Ruiz is just short of enough plate appearances to qualify...
Courtesy The Chronicle of Lewis County, Washington More pitching, though this one appears to have some bat too.  The Phillies have used their second pick, number 54 overall to select RHP Mitch Gueller.  This pick was the one the Phillies received for letting Raul Ibanez go to the Yankees.  He is the gift of Ibanez not accepting the Phillies' arbitration offer. Gueller hails...
The Phillies offense was at its worst on Sunday against Carlos Zambrano and the Miami Marlins. They played their 55th straight game without both Ryan Howard and Chase Utley. Manager Charlie Manuel slotted journeyman Hector Luna into the cleanup spot of his batting order. The team's lone extra base hit was a bunt double by Juan Pierre. It wasn't a surprise, then, that...
When Jonathan Papelbon bolted for Philadelphia, the Red Sox received the 31st overall pick in the first round of 2012 MLB Draft as compensation. With that pick –– their second of the night –– the team selected left-handed pitcher Brian Johnson out of the University of Florida, where he dabbled between playing pitching and playing first base for the Gators. Scouts say Johnson...
Every day Charlie Manuel winds down with an ice cold PBR, a nice chew and his dog. He sits on his porch and curses every child at play, woman running on the side walk or couple walking their dog. It's hard to have time for Twitter when your life is a mirror image of Clint Eastwood's character in Gran Torino, so it comes as no surprise that Manuel struggles through half of the...
All Sports News

Delivered to your inbox

You'll also receive Yardbarker's daily Top 10, featuring the best sports stories from around the web. Customize your newsletter to get articles on your favorite sports and teams. And the best part? It's free!
THE HOT 10: Who's Trending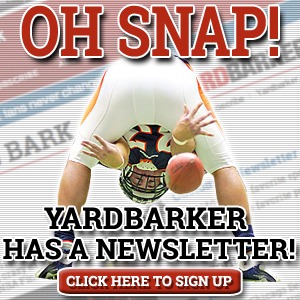 Latest Rumors
Best of Yardbarker

Today's Best Stuff

For Bloggers

Join the Yardbarker Network for more promotion, traffic, and money.

Company Info

Help

What is Yardbarker?

Yardbarker is the largest network of sports blogs and pro athlete blogs on the web. This site is the hub of the Yardbarker Network, where our editors and algorithms curate the best sports content from our network and beyond.