Found March 03, 2013 on isportsweb.com:
On the radar it didn't appear to be much of a trade for the Philadelphia Phillies after they acquired Art Charles.  However, the piece they received for Mike Schwimer is a first baseman. TAL'S HANDY CAPS WELCOME, NEWCOMERS: My articles are designed to represent a baseball man's thinking, the view from the dugout and the GM's box. Most fans do not consider the budget, prospects on the radar, the club's weaknesses, the track record, the competition and the other intangibles. Please go to my author archives or Phillies page for my most recent coverage. Scroll down to Tal's Handy Links at the bottom. Thank you. Check out:  Philadelphia Phillies storyline: Compelling chemistry Baseball-Fix Schedule I will continue the process of the previous Monday's approach, if appropriate.  For early birds Sunday evening is post time. Due to a strong response and a complicated offseason, my reviews will be weekly until spring training ends. The new summer schedule will allow me to publish the best 3 storylines each week, but there will be an updated calendar included with each feature:  Posts involving commentary, polls and stats will be listed for the upcoming 7 days. TIMEFRAMEFORMATPUBLISHING December to AprilBaseball-Fix MondayWeekly December to AprilSuds or Studs2-4 Times a Month April to Season's EndNitecap Insight3 Times a Week April to Season's EndSuds or Studs2 Times per 10 Days April to Season's EndTal's Handy Stats2 Times per 10 Days   Joseph Advances to 2nd during the 6th in Clearwater on March 3 against the Blue Jays.   1ST MARCH BASEBALL-FIX MONDAY         The Silent Surprise: Contracts are only a formality in the entertainment arena, and the deal of Schwimer to the Blue Jays is a perfect example. I experienced this first hand years ago in the recording industry, where the one needed more has the upper hand. If you are the star, you can disregard the legalities, because the organization places profit above everything else. On the other hand, when the performer needs management more, you cannot sue for breach of contract without being pruned from the roster. However, one big difference in the music business is the bad reference, which is a career-ender. Schwimer went to the union about service time, and the higher-ups decided his spell in Philly was over. Asche Scored ahead of Joseph before Congratulations during the 7th in Clearwater on February 26 against the Yankees. My best guess is that he was quiet about his shoulder problems, because questionable health is a common job-losing fear in professional sports. He got hit during 3 consecutive appearances, did not indicate there was a physical concern, was sent to Triple-A Lehigh Valley, and then he revealed his injury. He did not pitch at Lehigh Valley, but the rub occurred when he wanted his service time to continue accumulating on the major-league DL. However, he was not placed on the minor-league disabled list, was invited to camp as a value-maintaining move, and was swapped for a Single-A player. The event behind the barter went completely unnoticed, and that was the strategy to obtain the new member of the franchise. Don't look now but the lack of position hopefuls is changing with dispatch. Some are on the diamond already:  CF Ben Revere, RF Dom Brown, LF Darin Ruf and 2B Freddy Galvis. At Lehigh Valley, there will be C Tommy Joseph and 3B Cody Asche. The others include SS Roman Quinn and 1B Charles, who are on Single-A squads. The Current Future: POS - BATSPLAYER - AGELGEABAVGHR - RBIBB - IBBSB - CS C - RTommy Joseph, 21AA404.25711 - 04834 - 000 - 4 1B - LArt Charles, 22Rke085.23506 - 01633 - 002 - 0 CharlesSht A127.23607 - 01813 - 100 - 1 2B - SFreddy Galvis, 23NL190.22603 - 02407 - 000 - 0 GalvisWint227.30005 - 02918 - 004 - 2 SS - SRoman Quinn, 19Sht A267.28101 - 02328 - 030 - 6 3B - LCody Asche, 22Adv A255.34902 - 02512 - 110 - 2 AscheAA263.30010 - 04722 - 001 - 1 AscheWint089.28101 - 01208 - 000 - 1 LF - RDarin Ruf, 26AA489.31738 - 10465 - 202 - 0 RufNL033.33303 - 01002 - 100 - 0 RufWint120.25810 - 02717 - 000 - 0 RufST021.14200 - 00301 - 000 - 0 CF - LBen Revere, 24AL511.29400 - 03229 - 040 - 9 RF - LDom Brown, 25AAA220.28605 - 02817 -104 - 6 BrownNL187.23505 - 02621 - 200 - 0 BrownST020.35003 - 00406 - 000 - 0 Sht = Short, Wint = Winter & Rke = Rookie   Galvis appeared at Double-A Reading in 2009 as a shortstop, and was known mostly for his leather. Last year he supplied some offense and was stellar at second base. Even though he held down Chase Utley's place on the field, he proved he was among the elite gloves at that spot. Depending on the talent produced by the farm system, he could be at second or short, but he will need to chip in with some hitting. Brown Scores after his 4th-inning Bomb in Clearwater on March 3 against the Blue Jays. Brown came to Clearwater for a starting gig, and he has impressed everybody. He made the jump to Reading in 2009, but he had fallen short of expectations until now. He is turning on 95-mph fastballs inside and pulling them into the right-field corner, which is a good sign. Jimmy Rollins and Ryan Howard have spoken highly of him this spring, which is a new wrinkle. Ruf came out of nowhere to generate excitement last season in Reading. And after the campaign ended, he continued to thump the ball until Thanksgiving for Tiburones de La Guaira. He is the eyes-on favorite this March after a solid September, but–consider–he went 1 for his first 13 during winter ball. He has a quick bat, which could be the difference between Triple-A Lehigh Valley and Philly. Revere Scores during the 5th in Fort Myers on February 27 against the Twins. Revere is a ball of fire with an illuminating smile and personality. So far, he is slotting first or second, and that will continue with Rollins on Team USA in the World Baseball Classic. Revere is the leadoff man of tomorrow; however, Rollins may see some action in the 2 hole during this 162. Because it is hard to imagine Revere in any spot other than first or second. Last summer Asche moved to within 1 tour of the hot corner at the Bank by averaging .300 for Reading. He has a legitimate shot at a September call-up with a solid 5 months for Lehigh Valley. Joseph was the prospect that came in the Hunter Pence trade, and probably is the next backstop for the red pinstripes. He will provide strong defense with a decent stick. Quinn is ranked 5th in the Phils' minor-league system, because no one has more tools than he does. He had the most stolen bases of any farm product, and that was in a short-season league. That brings us to the return for Schwimer, which is Charles. The first sacker has power and middle-of-the-order potential. Rube Amaro has been very deliberate with the minor leaguers he has picked up. Since last July 31, he has dealt for a catcher, a center fielder and a 1st basemen. Galvis can handle second or short, Ruf can always return to first, and Brown can patrol left. That's two possible regulars for shortstop, first base and left field. The club hasn't advertised their plans but the pattern is unmistakable.   Phillies email notification: Email Notifications   LINK-UP BELOW: A link for Phillies email notification is provided below. Any holdups that may occur will be posted at Tal's Handy Caps on Facebook. This is the 18th storyline for 2013. Check out my recent publication (The Next Chapter) on the Phillies page or my author archives, where there is an excerpt photo. Also, my new feature is Suds or Studs.  The last one was Select One of Each. I will periodically publish the 2013 ERA for the NL East and the 2013 ERA for the MLB 5. Thank you, to all who bookmarked my page. TAL'S HANDY LINKS Email Notifications TAL'S HANDY CAPS on Facebook  Philadelphia Phillies storyline: Compelling chemistry Philadelphia Phillies: New suds or studs, trades Phillies Tal Venada (Author Archives) Philadelphia Phillies: 2012 ERA for the NL East at final game 162 Philadelphia Phillies: 2012 ERA for the MLB 5 at final game 162
Original Story:
http://feedproxy.google.com/~r/isport...
THE BACKYARD
BEST OF MAXIM
RELATED ARTICLES
Your browser does not support iframes.Philadelphia Phillies first basemen Ryan Howard only managed to smack 14 homers during an injury-shortened season in 2012. But the 33-year-old sure looks like he is up to his old ways this spring.Howard absolutely crushed a offering from Toronto's Brett Cecil during the fifth inning on Sunday to give the Phillies a lead. Howard's homer...
As the Phillies Darin Ruf struggles in the early going of Spring Training (more poorly played balls than hits), the panic button needs not to be pressed. Domonic Brown who hit his third home run of the spring might be why Ruf finds himself in the minor's when the season begins. Hitting is the main attraction of Ruf and he has not done much of it this spring, making his poor fielding...
Photo: Mcall.com When Roy Halladay arrived in Philadelphia, he was a man of mystery, in a sense. Many understood he was the best pitcher in the game and had seen him play, albeit very little, as he was tucked away in the bowels of the AL East, tossing complete games left and right for a Blue Jays team that struggled to find average behind the Red Sox and Yankees, and more recently...
Philadelphia Phillies outfielder Domonic Brown came into Spring Training 2013 with something to prove. After missing most of the last two years of Grapefruit League play and having two unimpressive stints at the major league level, Brown is looking to make his mark and land a starting job in the outfield. After a week of play, Brown looks like the prospect that scouts have been touting...
Ryan Howard hit a go-ahead, three-run homer off Brett Cecil that cleared the back fence and went out of Bright House Field, helping a Philadelphia Phillies' split squad beat the Toronto Blue Jays 13-5 Sunday. Howard's fifth-inning drive put the Phillies ahead 6-4. After missing spring training and the first half of last season while recovering from a torn left Achilles tendon...
Pittsburgh Pirates vs Philadelphia Phillies Time: 1:05 pm McKechnie Field– Bradenton, FL Weather: 59, Clear TV: No TV today. Only MLB Radio. Follow Phillies Nation on Twitter John Lannan gets the start today for the Phils as they match up with the Bucs. Line-Up 1. Revere – CF 2. Young – 3B 3. Utley – 2B 4. Howard – 1B 5. Ruf – LF 6. Brown – RF 7. Mayberry – DH 8...
Powerful Dominican third baseman Maikel Franco has shown great progress during his time as a pro.  A highly touted player, Franco is an individual that Phils fans should be getting excited about as he climbs the developmental ladder. Signed as an amateur free agent by the Phillies in 2010 at the age of 17, Franco would make his professional debut with the Gulf Coast League Phillies...
Ryan Howard hit a two-run homer off R.A. Dickey, but Jose Reyes and the Toronto Blue Jays touched up Cliff Lee in an 11-6 victory over the Philadelphia Phillies on Saturday. Reyes and Melky Cabrera each doubled and Edwin Encarnacion had an RBI single in a two-run first inning off the 2008 AL Cy Young Award winner. Lee allowed five hits, including Emilio Bonifacio's solo shot...
The Phillies are headed just north of Clearwater Beach to Dunedin to take on The Toronto Blue Jays at Florida Auto Exchange Stadium. Cliff Lee takes the mound for the Phillies today. The Phillies will face former National League East foe and reigning National League Cy Young award winner R.A....
Phillies News

Delivered to your inbox

You'll also receive Yardbarker's daily Top 10, featuring the best sports stories from around the web. Customize your newsletter to get articles on your favorite sports and teams. And the best part? It's free!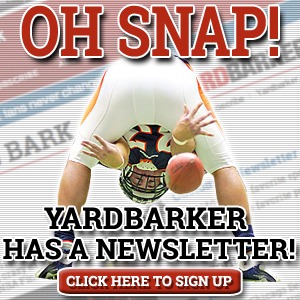 Latest Rumors
Best of Yardbarker

Today's Best Stuff

For Bloggers

Join the Yardbarker Network for more promotion, traffic, and money.

Company Info

Help

What is Yardbarker?

Yardbarker is the largest network of sports blogs and pro athlete blogs on the web. This site is the hub of the Yardbarker Network, where our editors and algorithms curate the best sports content from our network and beyond.