Found February 26, 2013 on Rams Herd:
PLAYERS:
Titus Young
,
Jeff Fisher
,
Janoris Jenkins
,
Tyrann Mathieu
,
Les Miles
,
Calvin Johnson
,
Cortland Finnegan
,
Josh Morgan
,
Johnny Hekker
,
Craig Dahl
,
Michael Brockers
,
Steve Spagnuolo
,
Bradley Fletcher
,
Trumaine Johnson
TEAMS:
St. Louis Rams
,
Detroit Lions
,
LSU Tigers
,
Colorado State Rams
With the 39th pick of the 2012 NFL Draft and the recent acquisition of Titus Young (now released), there is no question that Jeff Fisher will take a chance on players who have "character concerns."  Gone are the four pillars and in comes the talent.  Janoris Jenkins had several issues entering the draft but Les Snead and Fisher did their homework and the Rams were rewarded with a sensational rookie year. There is no doubt in my mind that Snead and company are targeting impact players that might be overlooked by some scouts because of "character concerns" and I plan to analyze these types of players in my "Red Flag Player Profiles" and how they might contribute to the Rams successes in the future.  Feel free to tweet me any suggestions @micheros_ and I'd gladly check those players out. First off in the series is the "Honey Badger", Tyrann Mathieu.  The Crime On October 19, 2011, Mathieu was suspended for one game, along with two other teammates for violating LSU's drug policy.  Strike one for Mathieu, although he was able to remain sober (at least not get caught) the remainder of the season earning the Chuck Bednarik Award, as well as propel LSU into the National Championship game.  Mathieu also gained serious consideration for the Heisman Trophy award and seemed primed for a big 2012 season. August 10, 2012, LSU Head Coach Les Miles announced that Mathieu would be dismissed from the football team due to a violation of team rules.  Miles would not clarify the reason for dismissal but reports said they were a result of repeated drug test failures.  Uh-Oh, strike two Honey Badger.  To save face, Mathieu entered a drug rehab program in Houston, Texas a week later.  He also expressed interest in returning to the program in 2013.  Sounds good Tyrann, too bad this is a production based business with most of the "producing" done on the field. Things look good for Mathieu as he was able to enroll in classes for the fall semester, but he was later arrested on October 25, 2012 for possession of marijuana.  Strike three and you are a player with "character concerns," someone that NFL teams are wary off adding to their teams. Drugs in college are actually a common thing (I think).  Off the top of my head, I think I can safely assume that a good portion of college students have tried a type of drug at least once in their college careers.  That being said, Mathieu isn't someone who I wouldn't mind drafting if I was Snead and Fisher.  Jenkins has done far worse than Mathieu and we can see the type of turnaround and impact he has on the Rams.  From the above video, you can really see that Mathieu wants to change for the better.  Even if he starts getting back into marijuana while playing in the NFL, the Rams have Fisher and locker room figures that will keep Mathieu straight. I have no issues with Mathieu the person, but I do have issues with Mathieu the football player. Notable Measurables Height - 5'8 3/4" Everyone knew Mathieu wasn't a big player so this isn't that big of a surprise.  The thing is your typical NFL receiver is getting bigger like Detroit's 6'5" Calvin Johnson.  Any defensive coordinator lining up Mathieu against the likes of Johnson would pretty much be out of a job by the end of the season.  Mathieu will need to have other things going for him to downplay his "vertical challenge" Weight – 186 pounds This is a positive for Mathieu, especially since he was weighed in at 176 pounds during his LSU days.  While no one can control how tall one can be, you are always able to control your weight to an extent.  Here we see a conscious effort from Mathieu to "beef up" and get his body ready for pro Football. Number of Reps at the Bench Press x 225 pounds – FOUR I believe "Fore" is a saying to warn someone of a golf ball coming their way.  Four reps at the bench press are alarming and pretty much means you aren't a strong player.  Yes I know, combine results aren't everything but they do tell us something. 40-yard dash – 4.43 unofficial  Mathieu has not run his 40-yard dash in the NFL combine yet but CBS projects him to run a 4.58.  Anything sub-4.5 for a DB is generally accepted as good or fast.  Mathieu does not have size or strength so he has to run a very good forty if he wants to boost his stock. Updated: Mathieu ran 4.43 and 4.5 at the combine, unofficially. Yes, size isn't everything (That's what she said) and supporters of Mathieu can look at a current Rams Pro-Bowl Caliber cornerback, and it's not Jenkins.  Cortland Finnegan is a CB who isn't that big physically, but he makes up for it for real gritty play and with getting into opposing receivers heads.  I can't recall a time where Mathieu baited an opposing WR in to a Josh Morgan penalty but I'm sure Finnegan can teach him his tricks should Mathieu be wearing the blue and gold this fall. Regardless of the similar mold, Finnegan is still the better physical specimen.  At the 2006 Samford Pro Day, Finnegan measured at 5'9 5/8" and weighed 188 pounds.  He also ran a 4.32 in the forty and benched pressed seven times. So yeah….. Not a whole lot going for Mathieu physically so let's go to the tape. The Film Tyrann Mathieu vs West Virginia 2011 (video courtesy of JPDraftJedi) (0:00) – Good jump off the snap to beat the left tackle and get immediate pressure on the QB.  Good thing to see for a potential nickelback who might bet put in blitzing situations. (0:09) – Not a good play designed on WVU part in my opinion.  Everyone is pretty much running a go route with one safety valve/screen play on the far sideline.  The QB does throw at the receiver that was initially lined up against Mathieu. (0:19) – Mathieu goes for the strip knowing that there are white jerseys all around his man, and he is able to rip the ball out and take it for himself.  Honey Badger in full effect here. (0:59) – At first I was thinking what an idiot trying to punt return the ball inside the 20….then I realized that he was a gunner hah.  Good special teams play and having a good gunner on the outside reduce the need (still need to do) for Johnny Hekker to "attempt" a directional punt and to just boom it. (1:11) – Whiffed tackle, Craig Dahl anyone? (1:15) – Mathieu is pretty much taken out of the play by the screening receiver and if it wasn't for that deep safety coming up to make the play (which the Rams lack), Tavon Austin would have picked up good yardage. (1:21) – At first it looks like Mathieu got the deflection but watch the replay, Mathieu was beat badly by Austin.  (1:47) – Mathieu is playing man on Austin which we can see with him motioning over pre-snap.  Austin makes a little cut inside and Mathieu is just standing 10 yards away still wondering where his man went. (1:57) – Mathieu got the stop near the line of scrimmage but the running back had to adjust his running lane, not that impressed.  Big ole' Michael Brockers was the reason why this play got stuffed. (2:02) – OK Mathieu, this wasn't your fault. You were covering the flat, I got you. (2:14) – Whoops, good move though by the receiver to get open. (2:18) – Bit on the play action fake, but not really his fault for the offense converting.  (2:41) – Mathieu fails to wrap up and the receiver manages to get the first down. (3:02) – whiffed tackle again but I'll cut Mathieu some slack since Austin ran a 4.34 in his forty, but this is not a Steve Spagnuolo team where good effort trumps production. (3:10) – Look Familiar? Tavon's probably saying something along the lines of "how does turf taste like Mr. Honey Badger?" (3:15) – I'm not sure if Mathieu was supposed to blitz on this play.  On the near sideline, there are more WVU players than LSU defenders so if Geno Smith's pass was a little higher, then WVU gets some pretty good yards.  Good instinct though to read the screen and get his hands up to come away with the turnover. (3:47) – Yawn, that pass wasn't getting caught anyways. (3:56) – good play design by WVU, and oh, Austin was your guy Mr. Honey Badger (4:08) – Honey Badger sandwich anyone? (4:16) – Good job getting off the screen. (4:23) - Late substitution by LSU and if that ball was throwned better WVU would have a first down. (4:36) – You ain't getting out of my block Mr. Honey Badger.  Mathieu was essentially removed from the play. (4:40) – IT IS 3RD DOWN AND ONE, you don't play five plus yards off your man.  More cushion for the pushing I guess, real awkward tackle. From what I can see, Mathieu has poor tackling skills.  Rams fans all around the world are done with C. Dahl, a pro on whiffing on tackles.  He has good instincts on the ball and can make a play to turn the tide of the game.  LSU did have a talented secondary so it would be interesting to see if Mathieu can make these plays turnovers without safety help over the top, something the Rams don't essentially have.   Not an every down kind of defender.  Where he could fit on the Rams CB – Mathieu will get physically beat in a jump situation most of the time so most of his talents are best served in the slot position.  With Bradley Fletcher most likely wanting to earn a starting job elsewhere, what once was a position field with depth coming into last season is one that needs reloading.  Could be drafted as a depth player and not be rushed onto the field. Safety – Heavens no. If you expect this guy to play in the box you have to be out of your mind.  Tight ends are more and more getting involved in the passing game, which means Mathieu probably won't be able to cover them. Special Teams – The Rams do lack a bona-fide threat at the returner position and anybody that can come in and contribute is wanted.  This is the NFL though and you need to be lighting quick to be back there.  Could spend some time as a gunner and make plays to help out while Hekker learns to directional punt. The Verdict With depth questions arising again for the Rams on the cornerback position, I would expect the Rams to roll the dice on another player that they can develop.  I fully trust Trumaine Johnson, Jenkins and Finnegan to hold it down in the base and nickel formations and I'm sure former Lions secondary coach and current Rams defensive coordinator Tim Walton can coach up Mathieu to be able to contribute and not be a liability on the field. However, unless Mathieu runs a blazing forty time, he shouldn't be drafted anytime early until the middle fifth round.  The reward does not outweigh the risk in this scenario and I wish the best of luck to whatever team decides to roll the dice on Mathieu. Mathieu will have a future in the NFL if he goes to the right team.  That team will need to have a good secondary already in place so that Mathieu can take advantage of his ball hawking abilities.  Feel free to tweet me @micheros_ if you want to discuss Mathieu further.  Also tweet me other "character concerns" related player that you want me to review.
Original Story:
http://www.ramsherd.com/2013-articles...
THE BACKYARD
BEST OF MAXIM
RELATED ARTICLES
Fansided – Former LSU Tigers defensive back Tyrann Mathieu was hoping to use the opportunity he was presented at the 2013 NFL Scouting Combine to impress NFL scouts and show that he has been working hard to improve as a player, despite spending the entire season on the sidelines after being booted from the LSU football program.  Unfortunately for Mathieu, his time...
Tyrann Mathieu was kicked out of LSU, and with another chance to make an impression on NFL executives and coaches, he again failed to impress.
Tyrann Mathieu had a nice day at the NFL Scouting Combine on Tuesday. It seems that the former LSU Tiger has already let it go to his head. An NFL-caliber cornerback has to have swagger but he also has to have some common sense. Please click here to read this story. The post Tyrann Mathieu says he can limit Megatron to five catches. appeared first on Players View.
The cornerback formally known as the Honey Badger Tyrann Mathieu turned in a pretty impressive 40 at the NFL Scouting Combine Tuesday. Mathieu, who was kicked off the LSU football team after repeated drug charges ran a 4.43 40 in his first attempt and a 4.5 flat in his second attempt. Both times are unofficial [...]
@BenVolinPBP The cornerback's at this year's NFL Scouting Combine ran the forty-yard dash today and their official times have now been released. Former LSU cornerback Tyrann Mathieu ran a 4.50 forty and former Alabama corner Dee Millner clocked a 4.37 forty. ESPN's Adam Schefter posted a few more. Official DB 40 times: Darius Slay 4.36, Dee Milliner 4.37, Desmond Trufant 4...
Former LSU cornerback Tyrann Mathieu believes he is personally more equipped for the NFL stage now than ever before. "I know what it's like to not have football; I know what it's like to be humiliated," he said in front of hundreds at the NFL Scouting Combine. "To go back down that road? Not a chance in my lifetime again." He talks inside.
Defensive back and special teams specialist Tyrann "Honey Badger" Mathieu was once one of, if not the, most electrifying players in Division 1 college football at LSU. However, his failed drug tests and pot-related arrests led to a monumental fall from grace and dismissal from the football program.He has resurfaced at the combine, and impressed many there with his words...
Tyrann Mathieu out of LSU is an interesting prospect. He has some off the field issues, but on the field he is a very good player. Mathieu isn't slated to go in the first couple rounds and with at least 14 picks in this draft, the 49ers can take a chance on a player like Mathieu.CBS SportsNFL.comCBS SportsOverview A New Orleans native, Mathieu arrived at LSU as the No. 13-ranked...
Former LSU cornerback Tyrann Mathieu told MLive.com that he believes he can handle covering a great receiver like Calvin Johnson of the Lions. "I feel like if I was to check somebody like a Calvin Johnson, he'll make his plays, but I'm definitely going to get mine, too," Mathieu said. "He's going to catch his five balls, but I'm going to get my two turnovers, so we'll...
The NFL scouting combine is now officially in the rear view and all 32 teams around the league will have to make heads or tails of the more than 300 prospects they scouted over the past week. Some of the big winners from the 2013 edition included Notre Dame tight end Tyler Eifert, Florida defensive tackle Shariff Floyd and even West Virginia wide receiver Tavon Austin. They, along...
After a hectic four days at Lucas Oil Stadium, the 2013 NFL Combine culminated on Tuesday with the defensive backs getting on the field for a chance to showcase their athletic ability to on looking NFL teams. Just like every other day at the combine, a few prospective pro's took advantage of the opportunity by dominating the day of drills, while others did just the opposite and...
Last night I wrote a piece on whether or not the Patriots should take a chance on former LSU standout Tyrann Mathieu should he be available in the late rounds of the draft. But evaluating the plethora of secondary talent in this year's draft; they should have a chance to upgrade the defensive backfield much earlier if they want. Kenny Vaccaro, coming out of Texas, has established...
All Sports News

Delivered to your inbox

You'll also receive Yardbarker's daily Top 10, featuring the best sports stories from around the web. Customize your newsletter to get articles on your favorite sports and teams. And the best part? It's free!
THE HOT 10: Who's Trending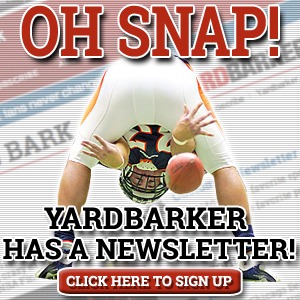 Latest Rumors
Best of Yardbarker

Today's Best Stuff

For Bloggers

Join the Yardbarker Network for more promotion, traffic, and money.

Company Info

Help

What is Yardbarker?

Yardbarker is the largest network of sports blogs and pro athlete blogs on the web. This site is the hub of the Yardbarker Network, where our editors and algorithms curate the best sports content from our network and beyond.