Found September 12, 2012 on Start 'N' Park Blog:
In 24 previous Nationwide Series appearances at Chicagoland Speedway, Richard Childress Racing has four wins at the 1.5-mile track, including a victory with Elliott Sadler in July, in addition to wins with Kevin Harvick in 2007 and 2005 and Johnny Sauter in 2002. RCR drivers have completed 95.1 percent of the laps attempted at the track (4,570 of 4,806), with 264 laps led. Elliott Sadler #2 OneMain Financial Chevrolet This Week's OneMain Financial Chevrolet at Chicagoland Speedway … Elliott Sadler and the No. 2 OneMain Financial team will unload Chassis No. 104 from Richard Childress Racing's NASCAR Nationwide Series stable this weekend. The is the eighth time the team will utilize this Chevrolet, which includes the victory the No. 2 team earned the last time the Nationwide Series visited Chicagoland Speedway in July. Sadler also earned a pole award and third-place finish at Las Vegas Motor Speedway, 12th-place finish at Texas Motor Speedway, 24th-place finish at Darlington Raceway, seventh-place finish at Dover International Speedway, 11th-place finish at Michigan International Speedway and fourth-place finish at Atlanta Motor Speedway in this Chevrolet. Chicago Style … In his Nationwide Series career, Sadler has made six starts at Chicagoland Speedway with one win (July 2012), one top-five and two top-10 finishes and 67 laps led. Sadler also brings experience from the NASCAR Sprint Cup Series at the 1.5-mile track with 10 starts and one top-10 finish. Last Time By … After starting the second event at Chicagoland Speedway in 2011 from the fifth position, Sadler drove the OneMain Financial Chevrolet to a sixth-place finish in the 200-lap event. Just The Stats … According to NASCAR's 2012 Loop Data Season-to-Date statistics, Sadler leads the Nationwide Series in Average Mid-Race Position (6.3), Average Finishing Position (7.4), Average Running Position (7.3), Quality Passes (1,061), Percentage of Quality Passes (72.4), Laps in the Top 15 (4,205) and Percentage of laps in the Top 15 (95.0). After 25 events in the Nationwide Series season, Sadler has earned four wins, three pole awards, 11 top-five and 18 top-10 finishes with 251 laps led. To the Point … Sadler remains atop the Nationwide Series driver championship point standings, leading Race Rewind: Richmond … After competing in the top five for much of the 250-lap event at Richmond International Raceway last Friday night, Sadler spun late in the race. The OneMain Financial Chevrolet received damage on the right-side and rear of the car, but the No. 2 RCR crew strategically worked to repair the damage under the yellow flag. Sadler worked his way from as far back as the 29th spot during the final laps of the race to finish in the 12th position. What are your thoughts on Chicagoland Speedway?  "I'm thrilled to head back to Chicagoland Speedway this weekend. We are bringing the same car back that we won with in July at the track. I know that the OneMain Financial team is hungry to get back to Victory Lane, and we are going to do everything we can to get there. I always enjoy racing in front of the fans at Chicagoland because they are so passionate about racing." Austin Dillon #3 American Ethanol Chevrolet This Week's American Ethanol Chevrolet at Chicagoland Speedway … Austin Dillon will pilot Chassis No. 118 from the Richard Childress Racing NASCAR Nationwide Series stable in the Dollar General 300 powered by Coca-Cola. This is a new Chevrolet that will be utilized for the first time this weekend. Dillon at Chicagoland Speedway … In July, Dillon started his first Nationwide Series Chicagoland Speedway race from the second position and posted a sixth-place finish after battling a tight-handling condition. The 22-year old driver earned a NASCAR Camping World Truck Series win at the 1.5-mile track in September 2011 and finished ninth in August 2010. The Season So Far … According to NASCAR's Season-to-Date Loop Data Statistics, Dillon has completed 95.84 percent of Laps on the Lead Lap, ranking him second among all competitors. The Nationwide Series rookie has completed 89.9 percent of his Laps in the Top 15, ranking him second and is ranked third in the Fastest Laps Run category with 321 laps so far this season. He maintains a Driver Rating of 103.0, ranking him third, has an Average Running Position of 9.083 in the season's 24 contested Nationwide Series races, ranking him fourth, has the fourth-fastest Speed in Traffic and has 297 Laps Led this season, ranking him fifth. He has the fifth-fastest Green Flag Speed, is fifth-Fastest on Restarts, ranks sixth in Quality Passes with 893, is the fifth-Fastest Driver Late in a Run and is the sixth-fastest Driver Early in a Run. Get to the Points … Dillon ranks third in the 2012 Nationwide Series driver championship point standings, trailing RCR teammate and current point leader Elliott Sadler by 30 points. The Welcome, N.C., driver currently leads the Sunoco Rookie of the Year standings over Cole Whitt. Richmond International Raceway Recap … Dillon led 14 laps of the Virginia College Savings 529 at Richmond International Raceway last weekend but developed a tight-handling condition in the center of the corners on the No. 3 AdvoCare Chevrolet, ultimately posting a sixth-place finish. What do you think about Chicagoland Speedway? "Chicagoland Speedway is getting pretty rough. The track is building a lot of character and as racers, that's what you really want to see. It gives you a chance to work on the cars and try and make them turn better than the other drivers around you. It's very fast. We'll be out there fighting grip and it will be a fun race." How much more pressure is it on the crew going into the second half of the NASCAR Nationwide Series season?  I think we're sitting in a great spot right now so while there is pressure, we have a lot to look forward to. As a rookie team, we have accomplished so much this year. Anything from this point on is just going to be a bonus. But we don't look at it that way. We look at it as we want to win a championship. We don't take just Top 10′s; that's getting by for us. We want to run up front each and every week. We want to be in the Top three and we want to compete with the Cup guys who come race in the Nationwide Series. Right now, we are visiting several tracks that we have already been to this year so it's exciting because we have a notebook to work off of. We have already been to Chicagoland Speedway and we earned our first win at Kentucky Speedway, so it will be fun to go to some of those race tracks and go all out for some more wins. There is pressure for us to perform as a team, but we thrive on that pressure and enjoy the challenge. The good thing about the No. 3 team is that we are all racers,have racing backgrounds and enjoy competition." Paul Menard #33 Rheem/Menards Chevrolet This Week's Rheem/Menards Chevrolet at Chicagoland Speedway … Paul Menard will pilot Chassis No. 107 from the Richard Childress Racing NASCAR Nationwide Series stable. This No. 33 Chevrolet was built new for 2012 competition and was previously driven by Menard at Indianapolis Motor Speedway in June and at Michigan International Speedway in August where he earned eighth-place finishes in both events. The 32-year old driver also piloted this chassis at Texas Motor Speedway in April where he started from the pole position and finished second after leading the most laps (100). By the Numbers in the "Windy City"… In seven Nationwide Series starts at Chicagoland Speedway, Menard has three top-10 finishes, completing 84 percent of his laps (1,179 of 1,403). He holds an average starting position of 16.4 coupled with an average finishing position of 17.9. He claimed his best finish of sixth in the 2007 Nationwide Series race with his best start of third in the 2011 Dollar General 300. A Little Loopy the Last Time Around … Menard posted some top-10 NASCAR Loop Data Statistics with his ninth-place performance at the Joliet, Ill. facility in September 2011. The Eau Claire, Wis., native tied for third in the category Closers (8 positions), ranked seventh in Green Flag Passes (275) and ninth in Laps in the Top 15 (757). 2012 in the Nationwide Series for Menard … This weekend marks Menard's fifth of seven scheduled starts in the No. 33 Rheem/Menards Chevrolet for RCR in the 2012 Nationwide Series season. He holds one top-five and four top-10 finishes this season, earning one pole award (Texas Motor Speedway, April) and leading for 137 laps. Menard has a fifth-place average starting position and an average finishing position of 6.5. He will return to the driver's seat of the No. 33 Rheem/Menards Chevrolet for his final appearances of the season in two weeks at Dover International Speedway and at Kansas Speedway in October. Race Rewind: Chicagoland … Menard qualified the No. 33 Chevrolet in the third position for the 200-lap event and competed among the top 10 throughout the day while battling a tight-handling condition before earning a ninth-place result. Winner, Winner … The No. 33 Chevrolet team and RCR teammate Kevin Harvick visited NASCAR Nationwide Series Victory Lane at Richmond International Raceway last weekend. The Ernie Cope-led team has earned 10 top-five and 18 top-10 finishes, holding an average starting position of 5.6 and an average finishing position of 8.4 while leading for a series-high 956 laps so far this season with drivers Ty Dillon, Brendan Gaughan, Harvick, Menard, Max Papis and Tony Stewart. In the Rearview Mirror: Watkins Glen … Menard started the No. 33 Rheem/Menards Chevrolet from the third position in the NASCAR Nationwide Series Zippo 200 at The Glen and persevered through battery issues to earn a top-10 finish at Watkins Glen International. You are running in both series this weekend at Chicagoland Speedway. How much different is the NASCAR Nationwide Series car compared to the NASCAR Sprint Cup Series car? "The Nationwide Series and Sprint Cup Series cars are very different. There isn't much that translates between the two. You benefit from the extra track time when you run both series there. It helps you see what the track does when it rubbers up and how it is going to change throughout the race." How competitive is the NASCAR Nationwide Series today, now that there are fewer Sprint Cup Series drivers entered each week? "The Nationwide Series is very competitive. I'd say it may be the best that it has ever been right now. When I started in the Nationwide Series eight years ago, we didn't have as many Sprint Cup Series guys in it as we did a couple of years ago. I think we're getting back to that, where the Cup drivers are being weaned out now that we can only accumulate driver championship points in one series. The Nationwide Series is always competitive. It always has been, and always will be."
Original Story:
http://startnparkblog.com/?p=11263&ut...
THE BACKYARD
BEST OF MAXIM
RELATED ARTICLES
Richard Childress Racing has seven previous NASCAR Camping World Truck Series starts at the Newton, Iowa-based facility, earning one victory with Austin Dillon in 2010, one pole award, three top-five and five top-10 finishes. The organization also boasts an 8.9 average starting position combined with a 7.1 average finishing position at the 0.875-mile track. Collectively, the Welcome...
Richard Childress is tied for second place for number of car owner victories at Chicagoland Speedway with two wins out of the 11 NASCAR Sprint Cup Series events. Kevin Harvick scored back-to-back wins for RCR in the 2001 and 2002 Tropicana 400. In 35 starts at the 1.5-mile suburban Chicago tri-oval, Richard Childress Racing teams have combined for eight top-five and 17 top-10 finishes...
DAYTONA BEACH, Fla. – The National Stock Car Racing Appeals Panel today heard and considered the appeal of the No. 27 Richard Childress NASCAR Sprint Cup Series team. The penalties concern Section 12-1: Actions detrimental to stock car racing; Section 12-4K: If, in the judgment of NASCAR Officials, race equipment that has been previously certified or previously approved by NASCAR...
Sadler, Stenhouse Face Heated Final Championship Stretch Run Eight races left, two drivers on top of their game and just one point separates the fierce competitors as the NASCAR Nationwide Series heads to Chicagoland Speedway. Standings leader Elliott Sadler just barely held on to the points lead following last weekend's race at Richmond. Sadler and the No. 2 Richard Childress...
All Sports News

Delivered to your inbox

You'll also receive Yardbarker's daily Top 10, featuring the best sports stories from around the web. Customize your newsletter to get articles on your favorite sports and teams. And the best part? It's free!
THE HOT 10: Who's Trending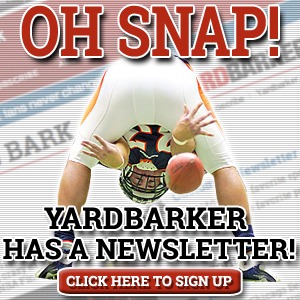 Latest Rumors
Best of Yardbarker

Today's Best Stuff

For Bloggers

Join the Yardbarker Network for more promotion, traffic, and money.

Company Info

Help

What is Yardbarker?

Yardbarker is the largest network of sports blogs and pro athlete blogs on the web. This site is the hub of the Yardbarker Network, where our editors and algorithms curate the best sports content from our network and beyond.