In 130 starts at Michigan International Speedway, RCR teams have earned three wins, two with Dale Earnhardt (June 1987 and June 1990) and the most recent with Kevin Harvick (August 2010). Additionally, RCR has claimed 17 top-five and 43 top-10 finishes with 10 different drivers including Richard Childress, a former driver in NASCAR's top division, who recorded top-10 finishes at MIS in June 1978 and August 1979. The Welcome, N.C.-based organization has an 18.5 average starting position, a 16.9 average finishing position, has completed 24,320 of the 25,729 contested laps (94.5 percent) and has led 677 laps in the Irish Hills.  RCR in the NSCS … In 2,228 Sprint Cup Series starts dating back to 1969, RCR has amassed 100 wins, 432 top-five finishes, 898 top-10 finishes and 42 pole awards, with an average starting position of 17.9 and an average finishing position of 15.8 among all races contested. RCR has earned six Sprint Cup Series championships with Dale Earnhardt (1986, '87, '90,'91, '93, '94), 14 total championships (five NASCAR Nationwide Series titles, two NASCAR Camping World Truck Series titles and one ARCA Racing Series title) and was the first organization to win titles in NASCAR's three national series. The Collective RCR … Throughout the season's first 22 races, RCR's Sprint Cup Series entries have notched five top-five and 17 top-10 finishes. RCR teams have completed 18,864 out of 19,118 total laps (98.67 percent) with drivers Jeff Burton, Austin Dillon, Brendan Gaughan, Harvick, Paul Menard and Elliott Sadler. The group has led a combined 175 laps. Goodyear Continues "Gives Back" Program to Support Our Troops … Goodyear is continuing the momentum of this special program at Michigan International Speedway this weekend. On Thursday, they are teaming up with the VFW and local volunteers, family and friends of deployed Michigan troops to pack 5,000 care packages which will be sent to troops overseas. In addition, they'll be onsite at the track with a large display where fans can learn more about this program, get involved, or even drop a NASCAR tire on the giant Plinko board. Fundraising continues through the end of the month, with all proceeds going to Support Our Troops to help military and their families. Check out the auction featuring unique autographed Support Our Troops tires and motorsports memorabilia and learn more at www.Goodyear.com/GivesBack. Get to the Points … Following the Finger Lakes 355 at The Glen, Harvick ranks ninth in the driver championship point standings, 67 markers out of the top spot. Menard sits 16th in the point standings, while Burton is now ranked 19th. Catch the Action … ESPN's live coverage of the Pure Michigan 400 begins Sunday, August 19 at 12 p.m. Eastern Time. The race will also be broadcast on the Motor Racing Network and SiriusXM NASCAR Radio. Qualifying for the 23rd points-paying event on the Sprint Cup Series will be broadcast live on SPEED on Friday, August 17 at 4 p.m. ET. Paul Menard #27 Pittsburgh Paints/Menards Chevrolet This Week's Pittsburgh Paints/Menards Chevrolet at Michigan International Speedway … Paul Menard will pilot Chassis No. 397 from the Richard Childress Racing NASCAR Sprint Cup Series stable. Built new for 2012 competition, this No. 27 Chevrolet was utilized for the first time at MIS in June, where Menard started from the 18th position and finished 22nd. Menard in the Irish Hills … In 12 career Sprint Cup Series starts at the two-mile oval, Menard has finished each of his contested races and completed 98.1 percent of his laps (2,363 of 2,409), leading for seven circuits. He has an average starting position of 26.4 and an average finishing position of 23.2. According to NASCAR's Loop Data statistics, Menard ranks sixth in the category Green-Flag Passes, gaining 1,078 positions under green-flag conditions since its inception in 2006. The Eau Claire, Wis., native recorded both his best start (ninth) and his best finish (fourth) during last year's June visit to the Brooklyn, Mich.-based facility. He also owns two top-five and six top-10 finishes coupled with one pole award in seven NASCAR Nationwide Series starts at MIS. By the Numbers in 2012 … With 22 points-paying events of the 2012 season complete, Menard sits 16th in the Sprint Cup Series driver championship point standings, 64 points out of the final Chase for the NASCAR Sprint Cup spot on the merit of four top-10 and 12 top-15 finishes. In his sophomore season with RCR, Menard has an average starting position of 16.9, an average finishing position of 15.5, maintains an Average Running Position of 17.77, and has completed 99.7 percent of his laps (5,816 of 5,836), the fourth-best of all drivers. Race Rewind … Menard started the Duracell/Menards Chevrolet from the 11th position in the 2011 Pure Michigan 400; however, changing track conditions and handling issues plagued the No. 27 team throughout the 203-lap event, relegating them to a 26th-place finish at Michigan International Speedway In the Rearview Mirror: Watkins Glen International … Menard started the No. 27 Rheem/Menards Chevrolet from the 22nd position in the Finger Lakes 355 at The Glen, driving to a 12th-place finish at the seven-turn upstate New York-based road course. You finished 22nd at Michigan International Speedway in June. Tell us about your afternoon. "We ran out of fuel on the last lap and that cost us seven positions. We ran between the 10th and 15th position all day. We felt really good about the car after testing and practice and then Goodyear changed the left-side tires. We had a hard time figuring out the balance of the car with the new tires, so that put us behind for the race. We did not have a good final practice on those left-side tires. When the race started we made some good adjustments and the car was competitive. I felt like at the worst we were going to finish 14th, but I think we could have gotten a top-10 finish." What was it like to qualify at Michigan International Speedway at over 200 mph? You were one of maybe 20 people to do that in June. "I thought it would be a lot scarier than it was. The cars are really solid. A lot of times when you go to a newly paved track, you can't move the car around when it gets loose or tight, when it snaps you can't catch it. You can catch it there (Michigan International Speedway), which was pretty cool. It gave you the confidence to drive it little bit harder. Breaking the 200 mph threshold in a stock car is something that not many people have done and a lot want to do and now we have that." How was the race on the new pavement at Michigan International Speedway? "I think the new left-side tires made it easier to pass. People were messing up and losing control which allowed you to capitalize on that. The problem was that you were one of those guys at some point, so others were capitalizing on you. If they would have kept the left-side tires the same, who knows what the race might have been. There may have been less passing, but it would have been racier. The only way you could pass someone was if they made a mistake and you could get a run on them." Kevin Harvick #29 Jimmy John's Chevrolet This Week's Jimmy John's Chevrolet at Michigan International Speedway … Kevin Harvick will pilot Chassis No. 381 from the Richard Childress Racing NASCAR Sprint Cup Series stable in this weekend's Pure Michigan 400. Harvick drove this Chevrolet to an 11th-place finish at Kentucky Speedway in July and a 13th-place finish at Texas Motor Speedway in April of 2011. It was also driven earlier this season by Brendan Gaughan at Las Vegas Motor Speedway in March as a No. 33 RCR Sprint Cup Series entry. Freaky Fast! Freaky Good! at Michigan … Jimmy John's will don the hood and quarter panels of the No. 29 Chevrolet for their fifth of six scheduled races during the 2012 Sprint Cup Series season. The 36-year-old driver made his first NASCAR appearance at Michigan International Speedway in 2001. Harvick has completed a total of 4,459 laps of the 4,500 of the total laps contested at the two-mile tri-oval track. Harvick has collected one win (2010), three top-five and eight top-10 finishes and has led 149 laps at the Brooklyn, Mich.-based facility. Getting Loopy in the Irish Hills … Since the inception of NASCAR's Loop Data Statistics in 2006, Harvick has completed 15 Sprint Cup Series events at the two-mile tri-oval and holds a 20.7 average starting position and a 13.7 average finishing position. The RCR driver ranks second amongst all competitors in the category of Green Flag Passes with 1,232. Points Racing … With 22 point-paying events in the books, Harvick remains ninth in the Sprint Cup Series driver championship point standings, 67 markers behind the leader. Harvick has collected three top-five and nine top-10 finishes thus far this season, completing 99.69 percent (5,663 of 5,646) of the laps contested. Kevin's Krew … Harvick will host a group of children from the Boys and Girls Club of Lenawee, Mich. for the fifth of sixth scheduled Kevin's Krew at-track events Saturday at Michigan International Speedway during the NASCAR Truck Series event. Kevin's Krew is an at-track outreach program for youth supported by the Kevin Harvick Foundation intended to expose kids to the fast world of racing. These children see by example that hard work, following your dreams and leading a drug-free lifestyle can be very rewarding. The kids in attendance will get a behind the scenes look at different professions in motorsports, ranging from pit crew jobs to merchandising careers. By attending a Kevin's Krew event, the students are given hope that helps them to stay focused and work hard, despite any social and/or economical misfortunes. Where to See Harvick … Harvick is scheduled to visit the Team Chevy stage located in the Fan Plaza at Michigan International Speedway on Sunday, August 18 at 9:40 a.m. Eastern Time for a fan question-and-answer session. Following his visit to the Team Chevy Stage, Harvick will join fans at the Budweiser Acceleration Club at 10 a.m. ET. Tickets for the Budweiser Acceleration Club include a pre-race pit pass, food and drinks, a souvenir program, complimentary scanner rental, parking pass, souvenir gift and entertainment. Tickets can be purchased by visiting www.mispeedway.com or by calling 517-592-1161. The Last Time By … Harvick and the No. 29 Jimmy John's Chevrolet team finished 22nd in 2011 Pure Michigan 400 at Michigan International Speedway after experiencing troubles on pit road throughout the race. In the Rearview Mirror: Finger Lakes 355 … Harvick and the No. 29 team brought home a 15th-place finish in the Finger Lakes 355 at Watkins Glen International last Sunday afternoon after battling a tight-handling condition and lack of grip around the seven-turn road course. Talk about your race on the newly repaved Michigan International Speedway back in June? "We didn't have the best race. We practiced really well during the weekend and were able to figure things out on the first tire, but when they changed the (left-side) tires and we weren't quite as good. We had a few problems at the beginning of the race and had to make up ground all day. Our car was fast enough to make up ground and do the things we needed to do to get back into the top 10, but we still need to be better." There was a lot of talk about 200 plus mph speeds. What was your take on how fast the race cars were and did you feel how fast they were?  "Obviously the speeds were high, but from where we sit after you run two or three laps you become accustomed to how fast you are going. It probably looked faster from the outside, but to us it was just another day in the office." Talk about how many grooves you were able to find during the race in June on the newly repaved Michigan International Speedway and how was passing that day? "There was virtually no passing, and there was only one groove." Jeff Burton #31 Wheaties Chevrolet This Weekend's No. 31 Wheaties Chevrolet at Michigan International Speedway … Jeff Burton will race chassis No. 367 from the Richard Childress Racing NASCAR Sprint Cup Series stable this weekend. This No. 31 Chevrolet, built new for the 2012 season, has been utilized twice this year at Kansas Speedway in April (started-12th, finished-22nd) and Pocono Raceway in June (started-20th, finished-15th). Career Michigan Stats … This weekend's 400-mile event marks Burton's 38th start at the two-mile facility and 642nd-career Sprint Cup Series entry. Burton has garnered four top-five and nine top-10 finishes at the track along with two pole awards in 1996 and 2006. He has also led 76 laps at the Brooklyn, Mich.-based race track. Getting Loopy in the Irish Hills … Burton has accrued impressive NASCAR Loop Data Statistics at Michigan International Speedway since its inception in 2006. Of all drivers entering the event, he has the third-most Green Flag Passes (1,168) with 401 coming while running in the top 15. Burton has also spent 1,061 laps running in the top 15. Vote for Burton … In the spirit of the campaign season, the four-time New Hampshire Motor Speedway winner Burton will be making pit stops in Massachusetts and New Hampshire on Wednesday, August 15. He'll be campaigning in the Bay and Granite states in hopes of championing the support of NASCAR fans in his quest to get back to Victory Lane at "The Magic Mile" on September 23 in the SYLVANIA 300. The only driver in history to lead a race from start to finish at NHMS and dubbed the "Mayor of NASCAR," Burton is urging all his fans to follow him in his "Turn Left with Jeff" campaign as he drives for a fifth-career victory at the Loudon, N.H.-based facility. Pit stops will include Faneuil Hall in Boston, Mass. at 10:30 a.m. Eastern Time, City Hall in Manchester, N.H. at 12:30 p.m. ET. and a stop in downtown Portsmouth N.H. at 2:30 p.m. ET. Like Father, Like Son … Burton's son Harrison has shown he is quite the race car driver. Competing in USAC's .25 "Generation Next" National Touring Series, the younger Burton, driving three different divisions (Light 160, Senior Animal, & Light World Formula), has raced in 36 events during the 2012 season, accumulating 15 wins, nine runner-up, six third-place and two fourth-place finishes. The 10th race of the 12-state, 15-race schedule is slated to take place this weekend in Kalamazoo, Mich. The 11-year-old driver is the 2011 National Series Champion in the Light 160 division and was runner up in the 2011 Senior Animal division. For additional information on the USAC Touring Series, please visit http://www.usacracing.com/. Race Rewind: Watkins Glen International … After climbing into the top 20 just past the halfway point of the Finger Lakes 355 at The Glen, Burton's No. 31 Caterpillar Chevrolet team experienced a fuel pump issue, forcing the Richard Childress Racing driver to the garage area for a short time, relegating him to a 30th-place finish. Points Racing … Burton sits 19th in the Sprint Cup Series driver championship point standings. After 22 points-paying events of the 36-race Sprint Cup Series season, Burton has two top-five and four top-10 finishes. The veteran RCR driver has spent 1,868 laps running in the top 15 and has made 2,144 green-flag passes. What was it like running those high speeds at Michigan International Speedway after the surface was repaved? "It was a lot of fun. The speed was really cool. It felt like a brand new track with the new pavement. After going to certain race tracks for so long, it is cool when they change them because it brings something new. The speed was fast, but until you looked at the speed charts, you didn't know you were going that fast because the pavement allows you to run that speed." How much did the tire situation alter your game plan for the first race at Michigan International Speedway? "It was pretty big. It affected some teams more than others. It affected us quite a bit. We had a game plan in place and our Thursday test went really well. By the time we got a new tire, the changes just got away from us. We were struggling a little bit and I think when changes like that are made last-minute, the teams that aren't quite on top of their game struggle a little bit." Do you think Goodyear has come up with a good tire combination for Michigan International Speedway? "I really do. I think what we saw when we tested at Michigan (International Speedway) a few weeks ago had a lot of speed, but also a lot of durability. No one saw any tire issues up there. No blisters or anything on the tires. I feel pretty confident going back." What do you expect the second time around at Michigan International Speedway and for the rest of the season? "I think we've started to move in the right direction. We went to Indianapolis Motor Speedway and didn't get the finish we deserved because we had a mechanical failure. We ran much better at Pocono Raceway earlier this month also, but still didn't get the finish we deserved. We made a lot of changes in the way we are doing stuff and things certainly seem to be picking up."
Original Story:
http://startnparkblog.com/?p=9912&utm...
MORE FROM YARDBARKER
Magic News

Delivered to your inbox

You'll also receive Yardbarker's daily Top 10, featuring the best sports stories from around the web. Customize your newsletter to get articles on your favorite sports and teams. And the best part? It's free!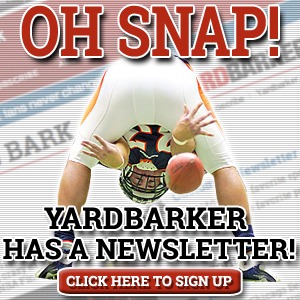 Latest Rumors
Best of Yardbarker

Today's Best Stuff

For Bloggers

Join the Yardbarker Network for more promotion, traffic, and money.

Company Info

Help

What is Yardbarker?

Yardbarker is the largest network of sports blogs and pro athlete blogs on the web. This site is the hub of the Yardbarker Network, where our editors and algorithms curate the best sports content from our network and beyond.