Found August 24, 2012 on Race Review Online:
PLAYERS:
Greg Biffle
,
Brad Keselowski
,
Matt Kenseth
,
Kurt Busch
,
Kasey Kahne
,
Ryan Newman
,
Kyle Busch
,
Jeff Gordon
,
Marcos Ambrose
,
Joey Logano
,
Carl Edwards
,
Paul Menard
,
Jamie McMurray
,
Jeff Burton
,
Michael Waltrip
,
Clint Bowyer
,
Brian Vickers
,
Denny Hamlin
,
Richard Petty
,
Darrell Waltrip
,
Richard Childress
,
Dale Earnhardt Jr.
,
Martin Truex, Jr.
Biffle Regains Lead But Momentum May Reside Elsewhere

Now it's Greg Biffle's turn. Again. The early-season points leader is back atop the NASCAR Sprint Cup Series standings following last Sunday's Pure Michigan 400 victory.
Biffle won for the second time this season, giving him three additional bonus points when the standings are reset for the Chase for the NASCAR Sprint Cup™, which begins Sept. 16 at Chicagoland Speedway. The driver of Roush Fenway Racing's No. 16 Ford largely had dropped out of the championship conversation after losing the points lead in early June.
"Well, I know that a lot of people don't expect us to win the championship and don't expect us to compete for the title, but I don't care what they say or who they want to talk about or what they want to talk about," Biffle said. "We will be a factor when it comes down to Homestead, I promise you that."
Biffle has every right to claim the mantle of a favorite. That's because there really isn't one as the Race to the Chase heads into its final three events beginning with Saturday's Irwin Tools Night Race at Bristol Motor Speedway.
He's the third different points leader in as many weeks following Jimmie Johnson and Dale Earnhardt Jr. The provisional Chase seedings haven't moved since Indianapolis when Johnson won for the third time to match victory totals of reigning NASCAR Sprint Cup champion Tony Stewart and Brad Keselowski.
Biffle is the 10th consecutive different winner – a run that began at Pocono Raceway in early June. The top four in the championship standings – Biffle, Matt Kenseth, Earnhardt and Johnson – have separated themselves from the next six contenders.
Biffle has been the most consistent, posting top 10s and a win in four of his past five races. Earnhardt and Johnson each have three top 10s. Kenseth has a single top five and two finishes outside the top 20. The pre-Chase momentum actually belongs to Keselowski, whose ranking (fifth) doesn't reflect the current strength of his Penske Racing No. 2 Dodge team. Keselowski, hampered by early season mechanical problems, didn't crack the top 10 until the first Pocono race on June 10.
Beginning with his June 30 Kentucky victory, the 28-year-old rising star has assembled seven consecutive top-10 finishes. Four of his last five races were top fives, the last two runner-ups at Watkins Glen and Michigan.
He battled Johnson late for the win at Michigan, Pocono and The Glen and claimed better finishes in all three races. It's not yet a rivalry, but the No. 2 and Johnson's Hendrick Motorsports No. 48 Chevrolet seem to be finding each other on the track on an increasingly frequent basis.
Keselowski might have the edge this week. He's won the past two Bristol races and bids to become the track's first winner of three straight since Kurt Busch in 2003-04.
'Wild Card' Opportunities Fading Fast

With the regular season dwindling down to a precious few races, the Chase "Wild Card" race literally has become a game of musical chairs. Six winners into two seats obviously won't go. And that doesn't take into consideration four more drivers ranked 11th through 20th able to win their way into post-season racing.
Kasey Kahne and Ryan Newman retained the provisional "Wild Cards" in Michigan. Kyle Busch, Jeff Gordon, Marcos Ambrose and Joey Logano must wait for another day – or in the case of Bristol, night – to oust their rivals. Hope remains for non-winners Carl Edwards, Paul Menard, Jamie McMurray and Jeff Burton.
Kahne holds the best cards: Two victories to his challengers' one or zero. He's also only 33 points out of the top 10 and the possibility of entering the Chase with at least six bonus points. Bristol isn't quite a get-it-done-or-else affair but it's close – especially for drivers who have feasted at the 0.533-mile concrete-surfaced oval in past years. That would be Busch and Gordon, five-time winners, and Edwards, who counts a pair of victories.
 Busch has won four of the last seven Bristol races, including a sweep of both events in 2009. He has the top Driver Rating (102.3) among the contenders and the most laps led (1,375). Busch is one of three short-track winners in 2012, in May at Richmond.
The past few races have been on-again, off-again affairs with Busch: second at Indianapolis, 33rd at Pocono, seventh at Watkins Glen and 13th at Michigan. With track changes expected to make track position and pit selection crucial, Gordon's ability to qualify is an asset. The four-time champion's average start (8.3) is best in the field and his Driver Rating (99.8) trails only Busch and Matt Kenseth. Gordon's last Bristol victory came in 2002.
Whether New Or Old, Bristol's Tough Test

It's rare – almost unheard of, in fact – that teams go to a race track unsure of what's about to take place. But that's the case this week at one of the NASCAR Sprint Cup Series' longest-scheduled venues, Bristol Motor Speedway.
Unhappy with the on-track activities in March, Speedway Motorsports Inc.'s O. Bruton Smith fired up his heavy equipment and set to work milling down the top groove of the 0.533-mile oval's progressive banking. Whether this brings back the "old," pre-2007 Bristol, in which racing was primarily punctuated with passing via bumps and gouges, remains to be seen. The progressive banking produced side-by-side competition in which passes could be executed without re-arranging a competitor's doors and fenders and significantly reduced caution periods.
"Who knows what will happen. Anytime you change a track like that there is no telling," said Carl Edwards, winner of the 2007-08 Irwin Tools Night Races. "It might make it a completely different race." Roush Fenway Racing teammate Greg Biffle, who's yet to win at Thunder Valley, calls the reconfiguration "a shot in the dark." And that's exactly what his and other teams face when the series rolls into Bristol on Friday morning for the first practice.
Bristol Good Times Haven't Faded For Waltrip Racing

Michael Waltrip Racing got everyone's attention when each of its three cars finished among the top five in March's race at Bristol Motor Speedway. Some suggested, based upon the organization's history, that the good times wouldn't last. Oh, were they wrong.
MWR, which never has qualified a driver for the Chase, continues to steam toward not one but two spots. Wins and bonus points would be nice, but consistency, with three races remaining until the post season, is the key to Martin Truex Jr. and Clint Bowyer sealing the deal.
Truex is sixth in points; Bowyer, with one win, is seventh. Their lead over 11th-place Kasey Kahne is 69 and 63 points, respectively. MWR's five drivers – Bowyer, Truex, Mark Martin, Brian Vickers and Michael Waltrip – have produced team records for poles (five), top fives (14) and top 10s (34).
Hats A Fact: Expect A Few Drivers To Clinch Chase Spot At Bristol

When a driver clinches his spot in the Chase for the NASCAR Sprint Cup, they receive a commemorative black and yellow hat with the 2012 Chase logo emblazoned on it. So far, no one's in possession of that hat.
Ten drivers in all have a mathematical chance at clinching a Chase spot. Seven can secure a top-10 berth in the Chase this Saturday at Bristol Motor Speedway. Regardless of what any other driver does, points leader Greg Biffle will clinch with a finish of 28th with no laps led, 29th with at least one lap led and 30th with the most laps led. The scenario for Matt Kenseth is eighth with no laps led, ninth with at least one lap led and 10th with most laps led. Dale Earnhardt Jr. lands a spot in the postseason with finishes of sixth with no laps led, seventh with at least one lap led and eighth with the most laps led. Five-time NASCAR Sprint Cup champion Jimmie Johnson will punch his Chase ticket with a victory or second-place finish while leading the most laps.
Brad Keselowski, Martin Truex Jr. and Clint Bowyer also can reserve spots in the Chase but are not yet in charge of the their own destinies. The magic number is 97. Any driver 97 points ahead of 11th place leaving Bristol will officially clinch a top 10 spot.
Those who can clinch at least a Wild Card: Keselowski, Tony Stewart, Denny Hamlin, Kasey Kahne and Clint Bowyer. A win and Keselowski and Stewart are in. Hamlin, Kahne and Bowyer have to win on Saturday night, and get some help.
NASCAR Sprint Cup Series, Etc.

With 21 more laps led, Jimmie Johnson will reach the 1,000 laps-led mark for the sixth consecutive year. Only four drivers have ever led 1,000 laps in six or more consecutive years: Richard Petty (12 straight years), Cale Yarborough (eight), Darrell Waltrip (seven) and Dale Earnhardt (seven). … Bristol Motor Speedway boasts one of the more unique driver introductions in all of NASCAR, as drivers choose their own entrance music as they walk down the stage in turn 3. This weekend, an added buzz will surround the festivities, as Michael Buffer – of "Let's Get Ready To Rumble" fame – will announce all 43 drivers. … Richard Childress Racing's next top-10 finish will be No. 900 for the team. The first was scored by owner Richard Childress himself on Jan. 18, 1976, at Riverside International Raceway. … If Roush Fenway Racing places two of its drivers in the top five on Saturday night, it'll be the 700th top-five finish for the team. Coincidentally, the team's first top-five finish came at Bristol, by Mark Martin on April 10, 1988. … The last seven races at Bristol have all ended with a margin of victory under one second. NASCAR PR
Original Story:
http://sports-at-work.com/Sprint-Cup/...
THE BACKYARD
BEST OF MAXIM
RELATED ARTICLES
Greg Biffle, driver of the No.16 3M/BONDO Ford Fusion Saturday night in Bristol can clinch his spot in the NASCAR Sprint Cup Series Chase, and all he has to do is finish 28th or better. Biffle, who has two wins this season, first at the early Spring Texas race and his second last weekend at Michigan International Speedway is currently sitting safe and sound as the points leader...
  Thanks to Hendrick engine woes and a late-race restart, Greg Biffle survived the 215 mph Michigan wire act last weekend to claim victory number two on the season. With the win, Biffle also reclaimed the points lead with a 20-point cushion to boot, breaking a veritable deadlock atop the points standings. With the Chase looming large and Biffle looking the suitable part, the following...
Greg Biffle, Jimmie Johnson and Dale Earnhardt Jr. will contend in NASCAR's Chase for the Sprint Cup. Despite finishing 19th Saturday night at Bristol Motor Speedway, Biffle still holds an 11-point advantage over Johnson, who finished third. "It feels really good to be locked in with two races to go," Biffle said. "It was a tough night here, but we did lock ourselves...
Winning is great. Everyone likes to win. Greg Biffle says that Michigan International Speedway is one of his favorite tracks and on Sunday he drove to his second win of the season. The only problem with that win is that team owner Jack Roush is not very fond of confetti according to 'The Biff.' Perhaps he "won't try so hard next time" to win? View of the video below ...
Carl Edwards, driver of the No. 99 Fastenal Ford Fusion, and Greg Biffle, driver of the No. 16 3M Ford Fusion, held back-to-back press conferences in the Bristol Motor Speedway infield media center after today's second practice session.  Edwards is 12th in the point standings and looking for a much-needed win to join the wild card race while Biffle leads the point standings after...
Much is on the line as Roush Fenway rolls into Bristol Motor Speedway looking for its18th NASCAR victory at the half-mile track noted for its intense hot summer night action. With his dramatic come from behind win at Michigan, Greg Biffle reclaimed the Sprint Cup point lead, while teamate Matt Kenseth overcame tire isses to move to second. Biffle currently leads Kenseth by 20 points...
Rain cancelled qualifying for tomorrow night's NASCAR Sprint Cup Series Irwin Tools Night Race at Bristol Motor Speedway, meaning the starting field will be set in accordance with the rule book.  As a result, Casey Mears, driver of the No. 13 Geico Ford Fusion, will start from the pole after posting the fastest single lap time in today's first practice session.  Greg Biffle...
All Sports News

Delivered to your inbox

You'll also receive Yardbarker's daily Top 10, featuring the best sports stories from around the web. Customize your newsletter to get articles on your favorite sports and teams. And the best part? It's free!
THE HOT 10: Who's Trending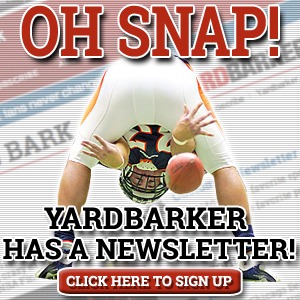 Latest Rumors
Best of Yardbarker

Today's Best Stuff

For Bloggers

Join the Yardbarker Network for more promotion, traffic, and money.

Company Info

Help

What is Yardbarker?

Yardbarker is the largest network of sports blogs and pro athlete blogs on the web. This site is the hub of the Yardbarker Network, where our editors and algorithms curate the best sports content from our network and beyond.