Found May 07, 2012 on Start 'N' Park Blog:
Welcome to the May 7, 2012 edition of Start 'N' Park Blog's Stock Watch. Each week we'll take a look at who's rising, falling, and treading water in the world of NASCAR. This stretches all division and all aspects of NASCAR, including drivers, owners, crew members, media and fans. Finding their way onto this week's watch includes Brad Keselowski, Joe Nemechek, David Ragan, Kevin Harvick, and Caution Flags. Is your favorite NASCAR personality rising, falling, or treading water? Find out below what Greg and Mike have to say below. Rising Brad Keselowski – Well isn't it obvious? After a 20th place finish on Saturday during the Nationwide Series, he followed it up with a victory on Sunday in the Sprint Cup Series. Only two things knock this win a bit, the first was dumping Ricky Bobby (er, Kurt Busch) out of the way when he was indecisive about changing lanes. The second was telling everyone his secret to the holding off Kyle Busch to the finish. This kid is too honest, he did the same thing after pulling a fast one on everyone at Kansas last year with his fuel saving, then next thing you know everyone is doing that trick. Look for everyone to rip him off at Daytona in July.  – Mike David Ragan – Ragan picked a perfect time have his best run of the year, while he was sporting an all-white car. This team, Front Row Motorsports, is fighting the good fight with both Ragan and teammate David Gilliland. It's nice to see their hard work pay off and maybe that will lead to some sponsorship dollars coming their way.  – Mike Tony Stewart – Did you see his post-race presser? This is a man amongst boys. That and he deserves an Oscar for that performance. – Greg Kurt Busch – That Talladega Nights tribute scheme was picture perfect, and he looked poised to steal a W at the tail end, until he got hooked while following Brad Keselowski. I'm not gonna lie, that scheme was easilly my favorite of the race and I am glad that Universal signed off on them to do it. A+ for the show, Kurt! – Greg Falling A.J. Allmendinger – I'm torn on whether fault lies with Denny Hamlin or Allmendinger for the late race crash. My initial thought was Hamlin was to blame, but upon review Allmendinger might need to take more of the blame. Beyond that dust up, qualifying second was good for this team but they needed better than 15th place at the end of the day. I don't think he made many friends out there but he needs to up his performance ASAP. – Mike Joe Nemechek – Finally Front Row Joe was up front and competing near the end of a race. No this wasn't Sunday's Aaron's 499, but Saturday's Aaron's 312, but the idea is the same. A driver who's had his share of bad luck, had to do some things he's probably not proud of to stay in racing, and he's finally in second place with 3 laps to go. But as quick as they went green, he was slammed into by Sam Hornish, Jr. and damaged his car so that he had to limp home in 19th place. Not the end result he needed or deserved, heck even if it was between 3rd and 10th it would have been a great results. Instead Nemechek is left with a broken car and average finish. – Mike Darrell Waltrip – Sometimes I wonder if he is even watching the race he's commenting on. I counted 3 times he made comments on parts of the race that were 100% categorically incorrect (the big one when he commented "That looks like steam coming from Johnsons car"…..Darrell, steam is not blue-ish and coming  from UNDER the engine…..duh…..), and he just does nothing but provide an annoyance. I really wish he would just go away, and take his brother with him. – Greg Treading Water Kevin Harvick – He left Talladega with two destroyed race cars that luckily he doesn't have to pay for anymore. Sunday's DNF marked the first time in 22 races he failed to finish at Talladega. Oddly though he managed to move up two positions in the points standings thanks to Martin Truex, Jr. and Jimmie Johnson having problems. This is honestly the first time I've seen a driver fail to finish a race, yet move up in the standings. – Mike Caution Flags – Well we hit five caution flags in this race and finally some car wrecking carnage. What is keeping me from all out gushing that not only the "pack is back" but caution flags are back is that it is Talladega. That's pretty much expected when you put guys three and four wide around the track at a high rate of speed. The caution flag gets another boost with the series going to Darlington this weekend, let's see if we can beat five! – Mike
Original Story:
http://startnparkblog.com/?p=6089&utm...
THE BACKYARD
BEST OF MAXIM
RELATED ARTICLES
What a race. A great one at that, but it's a damn shame so many competitive drivers had to wreck there at the end. Who am I kidding, that was Talladega racing boys! In the end, the driver of the #2 Miller Lite Dodge Charger delivered when it counted. The victory for Brad was his second at Talladega in just four years. Keselowski picked up the first win of his career in the very...
TALLADEGA, Ala. – Brad Keselowski, driver of the No. 22 Discount Tire Dodge Challenger in the NASCAR Nationwide Series (NNS), finished 20th in the Aaron's 312 at Talladega Superspeedway (TSS) on Saturday afternoon. A former winner of this event, Keselowski was in position to challenge for the win in the final laps of the race before being hit from behind by the No. 43 of Michael...
TALLADEGA, Ala. -- Brad Keselowski got a huge push from Kyle Busch to take the lead with a lap to go Sunday, then used a calculated move to prevent Busch from taking the win away from him at Talladega Superspeedway. A nine-car accident with four laps remaining brought out the yellow flag, setting up a two-lap overtime sprint to the finish. Daytona 500 winner Matt Kenseth was the...
FVP loves when NASCAR drivers speak openly to the media. Say what you will about Kyle Busch and his attitude, he definitely is unfiltered. Sunday was no different, speaking his mind in his usual irreverent manor after a respectable second place finish to race winner Brad Keselowski. Some of his answers were the usual curt replies. You'd think the guy would be happy coming home...
Brad Keselowski allowed his inner daredevil to emerge at Talladega Superspeedway Sunday. "At Talladega, you don't have a plan," Keselowski said. "You go up front and race your butt off all day long. You either get to the front or you don't." But Keselowski did indeed have a plan. He knew precisely what his strategy would be if he could maneuver his way...
Brad Keselowski avoided trouble through three cautions that marred the final 13 laps of the Aaron's 499 at Talladega (Ala.) Superspeedway on Sunday to take the checkered flag, his second win of the season and his second-career series win at the largest track on the NASCAR circuit. The win by the No. 2 Penske Racing Dodge was also the first win for Dodge at Talladega since Dave...
The last time a Dodge was in Victory Lane at Talladega Superspeedway was in 1976 when Dave Marcus piloted his Dodge to victory at the 2.66-mile high banked speedway. Brad Keselowski updated that stat today with his second victory at the famed high banked track, which was also his second victory of the season in the Aaron's 499. Keselowski used a great move that no one had ever...
Brad Keselowski picked up his sixth Sprint Cup victory with a nice push from Kyle Busch at Talladega Superspeedway on Sunday. Matt Kenseth, who led the most laps, finished third, followed by Kasey Kahne and Greg Biffle. The green-white checkered flag finish was set up when AJ Allmendinger collided with Paul Menard coming out of a restart with four laps to go. There were 19 cars...
By: NASCAR Wire Service Talladega , Ala. — Executing perfectly a move he had saved for the right occasion, Brad Keselowski pulled away from Kyle Busch on the final lap to win Sunday's Aaron's 499 NASCAR Sprint Cup race at at Talladega Superspeedway in a green-white-checkered-flag finish. Busch had pushed Keselowski to the lead on [...]
  It looks like more crew chiefs are trying to be like Chad Knaus. Of course, pushing the rules limits is in the job description of being a NASCAR crew chief. Only difference is, these guys aren't smart enough to get away with it. And it's not like this is some under-the-radar team. The two cars in question are the No. 22 of Brad Keselowski and the No. 12 of Sam Hornish...
No matter who you are, Talladega lived up to its reputation for being the biggest, baddest track on the Sprint Cup circuit. The drivers certainly had their work cut out for them on the track, but the hardest-working guys might have been those at the engine shop. NASCAR threw all kinds of rule change curveballs in an attempt to break up the tandem drafts that had dominated recent...
All Sports News

Delivered to your inbox

You'll also receive Yardbarker's daily Top 10, featuring the best sports stories from around the web. Customize your newsletter to get articles on your favorite sports and teams. And the best part? It's free!
THE HOT 10: Who's Trending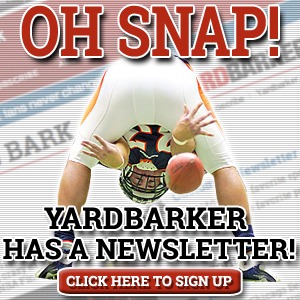 Latest Rumors
Best of Yardbarker

Today's Best Stuff

For Bloggers

Join the Yardbarker Network for more promotion, traffic, and money.

Company Info

Help

What is Yardbarker?

Yardbarker is the largest network of sports blogs and pro athlete blogs on the web. This site is the hub of the Yardbarker Network, where our editors and algorithms curate the best sports content from our network and beyond.