Found November 28, 2012 on Fox Sports Detroit:
ALLEN PARK, Mich. Two days after avoiding suspension, Detroit Lions defensive tackle Ndamukong Suh was fined 30,000 by the NFL for the kicking incident that occurred Thanksgiving Day against the Houston Texans. The Lions' 2010 first-round pick claims he didnt even know he kicked Houston quarterback Matt Schaub in the groin until after last weeks game when he started reading messages about the incident on Twitter. Suh met with the media Wednesday for the first time since the Thanksgiving Day controversy. Its a crazy play, Suh said. Its one that unfortunately happened. I didnt even realize until the end of the game and (on) my Twitter feed, I see my friends telling me about it. You cant do much more about it. I was being dragged to the ground (by an offensive lineman) and my foot inadvertently hit the man. Its over with. Im moving forward. Asked if he felt he should apologize to Schaub even if the kick was unintentional, Suh said, I was dragged to the ground. A lot of things happen to me. Its part of the game. While there was an outcry that Suh should get suspended, the NFL announced Monday there would be none. Suh said he never talked to any league officials about the matter, but he added that he has heard of a possible fine. The NFL announces fines every Friday. On Tuesday, Suh sent out the following tweet, which quickly became a topic of discussion: IF YOU HAVE A LIFE YOU DONT HAVE TIME TO HATE!!! MS. Some people automatically assumed that MS stood for Matt Schaub. Asked if that was accurate, Suh said, No. Thats actually Michael Strahan. Suh apparently has a good relationship with Strahan, a former NFL player. They both appear in Subway commercials. Strahans Twitter profile includes the same message that Suh had tweeted out with Strahans initials at the end. During Wednesdays six-minute interview, Suh addressed several other topics: On the perception that hes a dirty player even though hes been called for only one penalty, an off-sides, in 11 games this season: I think Im always going to be punished (in) some form or fashion for last Thanksgiving (when he was ejected and suspended for two games for stomping on the arm of a Green Bay player). I apologize for it. Im going to continue to apologize for it. Its something that happened, a mistake that I made. Some people may not (get past that incident). Some people will. Some people will teeter-totter back and forth between it depending on whatever the situation is or whatever may happen. Im just going to continue to play and try to help my team win. On Schaub saying that hed never want Suh as a teammate because of his actions on the field: Thats his opinion. I guess the person who would make that decision would be the GM or the coach of that team. Im happy exactly where Im at. I dont think they have any opportunity to even have me there with the Texans. On playing in Detroit: My comfort levels very nice here. I have a home here that I recently purchased, (late) last year. I dont think anybody whos buying a home somewhere doesnt feel comfortable there. Great teammates, Matt (Stafford), Calvin (Johnson), all these other guys Im playing with. On receiving a ticket for driving carelessly earlier this month: In that particular instance, I believe the chief of Lathrup said it the best (Lathrup Village police chief William Armstrong admitted to Detroit's FOX television affiliate that his officer can be overly aggressive in writing tickets). Im going to leave it at that.
Original Story:
http://www.foxsportsdetroit.com/11/28...
THE BACKYARD
BEST OF MAXIM
RELATED ARTICLES
It probably wasn't meant a recruiting pitch, but Bruce Arians of the Indianapolis Colts went a little too far while discussing the talents of Ndamukong Suh. Arians made comments about Suh that were in contrast to those made by Texans QB, Matt Schaub. Unlike Schaub, Arians doesn't see Suh as a dirty player. He should [...]
I'm a huge Lions fan, perhaps the biggest one that I know.  I love this team and want them to do well, but even I think that Ndamukong Suh is out of his mind if the Lions are going to win "multiple Super Bowls" in the future.Sure, add some free agents and a few good draft picks, and this team is gonna be a powerhouse.  The problem I have with him saying this, is not that...
Detroit Lions defensive tackle Ndamukong Suh continues to claim that he accidentally kicked Texans quarterback Matt Schaub in the groin during last Thursday's Thanksgiving game. Suh believes that he'll never get the benefit of the doubt with the NFL because of last year's Thanksgiving stomp against the Packers. "I think I'm always going to be punished in some form or fashion...
Ndamukong Suh will not be suspended. For now. The NFL decided Monday not to suspend Suh for the controversial lineman's kick to Matt Schaub's groin during the Lions-Texans Thanksgiving game. It was the right call by the NFL, but we'd all be crazy to think Suh won't land in hot water again at some point, and the Lions therefore need to start taking matters into their own hands...
Detroit Lions defensive lineman Ndamukong Suh may be in a little more trouble after WJBK in Detroit reported Monday that he was given a traffic ticket on November 15 for failure to use due care and caution. According to the report, an officer saw Suh's Land Rover traveling at a high rate of speed and passing several cars on the right side. As the lane was about to end, Suh...
Detroit Lions defensive lineman Ndamukong Suh avoided a suspension, but the NFL fined him $30,000 for kicking Houston Texans quarterback Matt Schaub during a Thanksgiving Day game. The league reviewed the incident and levied the fine Wednesday, NFL.com reported. Suh was blocked to the ground on the play and swung his left leg, which struck Schaub in the groin area. Suh, considered...
ALLEN PARK, Mich. (AP) -- Detroit Lions defensive tackle Ndamukong Suh was fined 30,000 by the NFL on Wednesday, but says he didn't kick Houston Texans quarterback Matt Schaub on purpose. That's why Suh insisted he doesn't need to apologize to Schaub. Suh spoke to reporters Wednesday for the first time since his left cleat connected with Schaub's groin area in Detroit...
The NFL has decided not to suspend Detroit Lions defensive tackle Ndamukong Suh (ehn-DAHM'-uh-kehn soo) for his actions against Houston Texans quarterback Matt Schaub. League spokesman Greg Aiello announced the decision Monday on his Twitter account, adding the ''incident' will be reviewed for a potential fine. Suh's left cleat connected with Schaub's groin...
Earlier in the week, Houston Texans QB Matt Schaub told Houston radio station SportsRadio 610 that he wouldn't want Ndamukong Suh as a teammate and that Suh wasn't "Houston Texan" worthy… whatever that means. Of course the question came after the now much publicized Thanksgiving Game between the Lions and Texans where not only one of the most egregious NFL rules was unearthed...
NFL Commissioner Roger Goodell says it's very difficult for the league to judge whether Detroit Lions defensive tackle Ndamukong Suh intended to kick Houston Texans quarterback Matt Schaub in the groin area. Goodell met with reporters before speaking at a Lions charity event Tuesday night, a day after the league decided it wouldn't suspend Suh. Goodell says he hasn'...
The NFL announced earlier today that Lions defensive tackle Ndamukong Suh will not be suspended for booting Texans quarterback Matt Schaub in the ballsack during the first quarter of Houston's 34-31 overtime victory on Thanksgiving at Ford Field in Detroit. … Continue reading →
The 2013 SEC hype video has been released – Throw The Flag Mark Stoops Accepts Kentucky Job – Southern Gameday Cincinnati reportedly batting its eyes at ACC – College Football Talk The Lights Went Out Briefly During the Indiana and North Carolina Game – The Big Lead Ndamukong Suh sees 'Multiple Super Bowls' for Detroit Lions – Die Hard Sport NSFW Please nobody tell...
All Sports News

Delivered to your inbox

You'll also receive Yardbarker's daily Top 10, featuring the best sports stories from around the web. Customize your newsletter to get articles on your favorite sports and teams. And the best part? It's free!
THE HOT 10: Who's Trending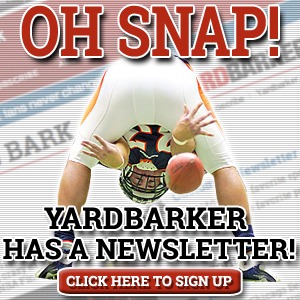 Latest Rumors
The Backyard

Today's Best Stuff

For Bloggers

Join the Yardbarker Network for more promotion, traffic, and money.

Company Info

Help

What is Yardbarker?

Yardbarker is the largest network of sports blogs and pro athlete blogs on the web. This site is the hub of the Yardbarker Network, where our editors and algorithms curate the best sports content from our network and beyond.