When looking at the tournament as a whole, one thing sticks out to me. And that thing is how even everyone's records are in terms of wins, loses, and ties. Being a one and done tournament, this thing is up for grabs.
EAST REGIONAL (Bridgeport, CT)
#3 Union (24-7-7) vs. #15 Michigan St. (19-15-4)
The Dutchmen are 4-0-0 and the Spartans are 2-3-0 this season on neutral sites. MSU lost in its first round CCHA playoff games versus Miami. Union is on a five game win streak that helped them capture the ECAC hockey crown. The Dutchmen have only lost two games in the 2012 calendar year (Brown and Cornell). The Spartans have lost three of their four games. I'm going with the obvious choice here - UNION WINS
#5 Miami (24-12-2) vs #12 Mass-Lowell (23-12-1)
The Red Hot RedHawks are winners of 9 of their last 10 games and the RiverHawks, not so hot winning three of their last seven, losing two of their last three. UML is 1-1-0 on neutral ice this year and UM is 2-1-0 on common grounds. However, this is not the far for RiverHawks fans to travel, so it could almost be considered a home game for them. This will be UM-Lowell's first trip back to the tournament since 1996. I'm going with the hot hand here – MIAMI WINS
EAST REGION FINAL – UC/MSU vs UM/UMass-L winners
I'm going to go with Union over Miami.
NORTHEAST REGIONAL (Worcester, MA)
#1 Boston College (29-10-1) vs #16 Air Force (21-10-7)
The Falcons are 2-1-0 on neutral sites and 8-5-5 on road this season. The Eagles are 6-1-0 on neutral ice and 13-3-1 at home this season; this is basically a home game, since it is about 30 miles away. Last year in the tournament the Falcons gave the top seed Yale all they could handle, losing to them in overtime. The Eagle come into the tourney on a 15-game winning streak, their last lose was on January 21st to Maine. Some might say the BC is ripe for the picking, with that long of a winning streak. The longer this game is tied or within a goal, the more it will favor the Falcons. I'm going with the upset special here and hope I don't end up in the bird bath. AIR FORCE WINS
#7 Minnesota-Duluth (24-9-6) vs #10 Maine (23-13-3)
The Black Bears are 3-1-0 and the Bulldogs are 0-1-0 on neutral sites this season. The Black Bears have won five of their last seven, with their loses coming at the hands of Merrimack and Boston College. The Bulldogs 2-2-1 in their last five games, with three of them going to overtime and the last game into double overtime. In UMD's double overtime loss to Denver, they had 70, that is seventy, shots on goal. They through everything they had a them, including the kitchen sink. This should be a fast paced, up and down the ice game. Both teams skate well, which should make for a humdinger to watch. MAINE WINS
NORTHEAST REGION FINAL – BC/AFA vs UMD/UM winners
I'm going to go with Maine over Air Force.
MIDWEST REGIONAL (Green Bay, WI)
#2 Michigan (24-12-4) vs #13 Cornell (18-8-7)
The Wolverines are 4-1-0 and the Big Red 2-3-0 are on neutral ice this season. The Big Red have won five of their last seven games. The Wolverines have won four of their last five games, with two wins coming in double overtime games. Cornell has been a defense first team for as long as I can remember. I think most people know that a defensive team can be rather boring to watch. But, they can lull other teams to sleep with their suffocating defense and then attack. The wolverines are well coached and won't likely fall victim to it. MICHIGAN WINS
#6 Ferris St (23-11-5) vs #11 Denver (25-13-4)
The Bulldogs are back to the tournament after a nine year break, their last appearance was back in 2003. The Bulldogs have struggled down the home stretch only winning once in their last five games. The Pioneers are just the opposite, only losing once in their last five games. The Pioneers are 2-1-0 and the Bulldogs are 0-1-0 on neutral ice this season. These teams have almost identical records, so one would think it should be an evenly matched game. I'm going to give the nod to Denver based on their defensive play down the stretch. DENVER WINS
MIDWEST REGION FINAL – UM/CU vs DU/FSU winners
I'm going to go with Michigan over Denver.
WEST REGIONAL (St. Paul, MN)
#8 Minnesota (26-13-1) vs #9 Boston U (23-14-1)
The Gopher make their return to the tournament after a three year drought, their last appearance was in 2008. The Terries return too, after a two year delay, they last attended in 2009. In 2009 the Terriers won the title over Miami in overtime, after scoring two late third period goals to tie the game. The Gophers were on three game winning streak, until a bad third period against UND last weekend, cost them that game. The Gophers have plenty of talent up front to score goals, so they can jump on teams easily and take over that game. The Terries enter on a 2-3-0 record over their last five games, three of which have gone to overtime, and two of those where double overtime. If their trend holds on, this could be a lengthy game, or as I like to call overtime, bonus hockey! Technically this is a neutral site, but this will really be a Gopher home game, with many of their fans in the stands. However, I suspect many UND fans will be at this game and will be cheering against the Gophers. (Last weekend it was estimated about 60/40 mix of UM/UND fans at the Xcel center.) If BU can get the first goal, and keep UM's confidence rattled the Terrier can control the crowd. BOSTON WINS
#4 North Dakota (25-12-3) vs #14 Western Michigan (21-13-6)
The Mustangs enter the tournament on a five game win streak and the team formerly known as the Sioux are on a seven game winning streak. The WMU is 2-0-0 and UND is 3-0-0 at neutral sites this season. In a couple years from now this would be a conference match up, in the new National Collegiate Hockey Conference. The Sioux have found their scoring touch the last few weeks, and have been getting goals from all the lines. UND is playing well as team late in the season, and it shows as they captured their third straight WCHA Broadmoor trophy last weekend. As long as UND focuses on WMU, and aren't looking for a rematch with Minnesota, they should be able to pull out victory. NORTH DAKOTA WINS
WEST REGION FINAL – UM/BU vs UND/WMU winners
I'm going to go with North Dakota over Boston University.
So my Frozen Four teams are as follows:
Maine
North Dakota
Union
Michigan
Original Story:
http://feedproxy.google.com/~r/blogsp...
MORE FROM YARDBARKER
All Sports News

Delivered to your inbox

You'll also receive Yardbarker's daily Top 10, featuring the best sports stories from around the web. Customize your newsletter to get articles on your favorite sports and teams. And the best part? It's free!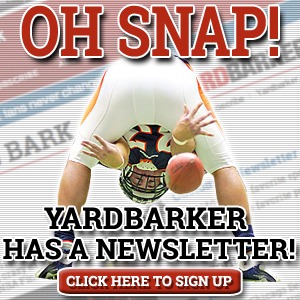 Latest Rumors
Best of Yardbarker

Today's Best Stuff

For Bloggers

Join the Yardbarker Network for more promotion, traffic, and money.

Company Info

Help

What is Yardbarker?

Yardbarker is the largest network of sports blogs and pro athlete blogs on the web. This site is the hub of the Yardbarker Network, where our editors and algorithms curate the best sports content from our network and beyond.