Found November 20, 2012 on SCACC Hoops:
When the rumors started surfacing about Maryland possibly leaving the ACC to go to the Big Ten, I believed in them about as much as I believe in Santa Claus or the Easter bunny. We have heard so many rumors about every school in the ACC going to one conference or another since the realignment really got going that I figured it was just a silly rumor. But then the stories came out that there was going to be a vote on changing conferences. Then I finally realized that there were some legs to these rumors. But why would a charter member of the ACC want to leave a conference they've been in for nearly 60 years to go another conference? The answer can be summed it in one word: money. What the Terps have done with their own money has been pretty shabby at best. The athletic department was broke, and they had to cut seven programs just this summer in order to make ends meet. Now they have to figure out how they're going to pay the exit fee of $50 million dollars. That number could be lower if they are able to successfully negotiate with John Swofford and his crew. And where is all of this money coming from? Look no farther than Kevin Plank, Under Armour CEO and basically the athletic department's personal financier. He recently sold off $65 million in stock from his company. Coincidence? I think not. What I would like to know is if Plank cared so much about the school, why couldn't he have found a way to save the seven programs that were cut by the school? Clearly Plank is more interested in continuing to make uniforms for the football team that look like something designed by four year olds. The rivalries and the tradition the school has established in its time in the ACC no longer mean anything. In fact, like many other schools that have bailed on conferences to join other ones in their ever lasting thirst for the almighty dollar, tradition is no longer a word in these schools vocabularies. The Terps have won 187 conference championships in their time in the ACC, which is second in the conference's history. Only North Carolina has won more. But who cares? The extra dollars they they're recklessly blowing are far more important. They added more seats to the Byrd Stadium, plus built a new basketball arena with hopes it will draw more money. But that's only made things worse. Speaking of money, let's talk about road trips for the Maryland fans. Do you really think Maryland fans will want to fly in to Minneapolis in the middle of November when it's 30 degrees and snowing out to see a football game? When you factor in round trip airfare, hotel, tickets, concessions, etc, and I wish you luck in spending less than $1000 on the trip. The same can be said for going to Lincoln, Nebraska or Iowa City, Iowa. You might as well take out a loan if you want to go to these games. The biggest thing that ended up being in Maryland's favor is their location. It's within a 40 minute drive of Baltimore and Washington DC. The Big Ten Network, which is a big reason that Maryland will get this extra income, will be more entrenched in this market, which could potentially mean more rating for their shows. But let's be honest. How many people in this market would be that interested in watching a non conference game between Wisconsin and South Dakota State? Is it going to make that big of a difference. It is going to be different seeing the ACC in the coming years without Maryland as a part of it. It's earn and wildly spend mentality got them in big trouble financially, and thanks to location, got a big bailout from Jim Delaney and the Big Ten. So long Maryland. Don't let the door hit you on the way out.
Original Story:
http://www.scacchoops.com/tt_NewsBrea...
THE BACKYARD
BEST OF MAXIM
RELATED ARTICLES
The Associated Press Tianna Hawkins had 25 points and nine rebounds, Malina Howard added 17 points, and Alicia DeVaughn had 14 to help No. 10 Maryland beat American 94-54 on Wednesday. It was the first game for Maryland (3-1) since a 50-49 loss at St. Joseph's on Saturday. Maryland started freshman Chloe Pavlech at point guard for the first time and she responded with eight...
In a day and age of PR coaches, talking points, and plain out right lies it was clearly refreshing to see what we witnessed on Monday afternoon in College Park, MD as University of Maryland President Dr. Wallace Loh gave a refreshing breath of honesty and truth in what was his reasoning behind Maryland's official move to the Big Ten. The Terps won't officially be Big...
Who really saw this one coming? Better yet, who in the ACC really cares? There is a select group of Clemson fans who have been jawing since early June that they would be the ones to break up the Atlantic Coast Conference by packing up and heading to the Big XII...or the SEC...or wherever. So what does the ACC do? Just add Norte Dame in every sport sans "full" football membership...
As the news of the Maryland Terrapins, a charter member of the ACC since 1963, announcing to the college world that they will be leaving the Atlantic Coast Conference, unconcerned about the $50 million buyout, to go to the Big 10 I headed to the various UNC web boards to read what the fan base [...]
College football expansion has taken over the hearts and minds of college football junkies everywhere. The sky is falling, rivalries are dead...
The Maryland Terrapins are more focused on North Carolina than the move to the Big Ten.
Maryland will accept the invitation to join the Big 10, and with it Rutgers will have a dance partner into its dream conference. So does this mean for SU's new conference and its old one? None of it is good news on any front for the Orange. Here's why: It hurts the ACC.  The Terps were the very definition of the league. From old Cole Field House, to Len Bias, Joe Smith and...
When the information leaked in the least few days that Maryland and Rutgers could be headed to the Big Ten, it meant different things for the basketball teams at both schools. For Maryland, it is the first of the traditional ACC schools to say, "Thanks, I have had enough." For Rutgers, it may be a coming out party.  The Scarlet Knights have been hidden in the Big East and now...
All Sports News

Delivered to your inbox

You'll also receive Yardbarker's daily Top 10, featuring the best sports stories from around the web. Customize your newsletter to get articles on your favorite sports and teams. And the best part? It's free!
THE HOT 10: Who's Trending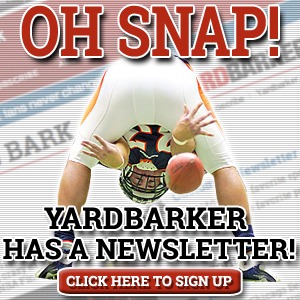 Latest Rumors
Best of Yardbarker

Today's Best Stuff

For Bloggers

Join the Yardbarker Network for more promotion, traffic, and money.

Company Info

Help

What is Yardbarker?

Yardbarker is the largest network of sports blogs and pro athlete blogs on the web. This site is the hub of the Yardbarker Network, where our editors and algorithms curate the best sports content from our network and beyond.