Found March 30, 2013 on Fox Sports North:
MINNEAPOLIS He's doing okay. His knee isn't as strong as the Timberwolves would like. He doesn't move well laterally on defense. He's not exploding when he gets to the rim. That, in a nutshell, was Rick Adelman's pregame spiel on the subject of one Chase Budinger, the same player who went out and played 23 minutes for Minnesota on Friday, scoring 13 points on 4-of-8 shooting. The words described something lackluster, even with the eventual caveat: "But," Adelman said, "we didn't expect that." (That, of course, being strength or lateral movement or explosion.) The numbers, too, don't particularly stand out. The shooting looks effective, but the minutes are limited, the point total pedestrian, especially on a team whose scoring eclipsed the century mark en route to a 101-93 victory over the Thunder. But if you believe any of that, the words or the numbers, you didn't watch Friday's game. You didn't watch the Timberwolves two, three weeks ago, when ball movement was nil and offense slogged and to sink a 3-pointer was to sell a soul to the devil. The difference is striking. The difference is titanic. The difference is between a team that looked like what the standings say it is, a lottery-bound disappointment, and one that handily beat the Thunder 48 hours after a blatant no-call was the biggest reason it lost to the Lakers. The difference plays for little more than 20 minutes a game, for now. The difference makes 884,000 this season. The difference is Chase Budinger. Budinger can't take all the credit, not for Friday's win or for the increased watchability that's gracing the Target Center hardwood, but he can take the lion's share. On Friday, there was Andrei Kirilenko's defense of Kevin Durant, Nikola Pekovic's 22 points, Ricky Rubio's intensity and Dante Cunningham's cheeky grit. Each deserved their due and played a specific, integral role. But basketball is a game that's catching, and players like Budinger can be contagious no matter how small the dose, no matter how stiff the knee, no matter how undervalued or underpaid. "(Defenders) have to honor him," Adelman said of Budinger. "He's going to make shots. It's a luxury that we haven't had all year with him on the court." Budinger may be averaging 10.2 points on 44.9 percent shooting in six games since his return, but the spacing he brings to the court has completely altered the team's approach. There's energy off the bench, to boot, and no matter how much Budinger might be hesitant, he's learning to hide whatever lack of confidence might be lingering in that repaired left meniscus. In the locker room after the game, Cunningham is laughing, smiling. He's gesturing to his left, at some sort of imaginary defender. It's the defender, he says, the one that's no longer lurking on pick-and-rolls now that Budinger is back on the court. "You just feel like there's one less man like one less guy is right here in my general space," Cunningham said. "You can feel that kind of presence, and you know, knowing that he's off in that corner they're not going to come as hard, or even if they are, you just swing it to him and he's going to knock it down." And then there are the baseline cuts, too, along with the 3-point shooting threat that was on its best display yet this season on Friday, when the swingman hit two of three from long range. Budinger is the epitome of a player in Adelman's offense. It's as if his game was tailored to the coach's, which is why the Timberwolves traded for him this offseason, reuniting him with his former coach. Budinger was a bigger piece than most might imagine in the Timberwolves' plans this season, for the options he brings it and the grace he adds to its offense. In fact, before Wednesday's game against the Lakers, Mike D'Antoni said that he doesn't think Adelman has really been able to put his offense in place at all these past two seasons in Minnesota, and he's right. He's right, at least, except for perhaps these final games of the season. They're teases, really, of what could have been, as the Timberwolves on Friday became one of just five teams to beat the Thunder twice this year, looking in a one-game vacuum like a bona fide playoff team. That with Kevin Love in his brown suit on the bench, with Brandon Roy's knees a bone-on-bone nightmare and with Budinger still limited, still at just a fraction of his full strength. But that's not how anyone in the Minnesota locker room wants to think of it not looking back, and not even looking forward. Despite the fact that their season will end on April 17, the Timberwolves are still focused on the present, no matter how torturous wins like Friday's look when put into the painful context of the season. With 1:54 remaining in the third quarter and Minnesota up, 76-71, Kirilenko stole the ball from Durant. Budinger took the pass, and with the Thunder's defense advancing rapidly, he had only one choice as he approached the basket: to dunk. It was Budinger's first since his return on March 21, and if you ask him, it was less by choice than necessity. He had to dunk it, he said, and it was confidence imposed in the most split-second and forceful fashion. That's why Cunningham is laughing at his locker. He's watched his teammate rehabbing for more than four months. He's been out on the court in a stagnant offense, and from the bench Friday, he could tell what was about to happen. He knew it was going to be a dunk, knew it as Budinger began his jump, and as he rose, so did the bench, jumping to their feet to celebrate. Let's not say Chase Budinger is back. That would be to sell him short. But the Chase Budinger effect is seeping into the Timberwolves system, and for now, that's more than enough. Follow Joan Niesen on Twitter.
Original Story:
http://www.foxsportsnorth.com/nba/min...
THE BACKYARD
BEST OF MAXIM
RELATED ARTICLES
MINNEAPOLIS Forward Dante Cunningham left the Timberwolves' Friday game against the Thunder with 3:27 remaining in the second quarter and his team up, 41-39, with a right hand injury. The team has announced that his return to the game is uncertain, and an X-ray came back normal. Before injuring his hand, Cunningham scored four points in 10 minutes of play. He went 2-of-5 from...
MINNEAPOLIS The Timberwolves' medical staff consulted with Kevin Love's doctors in New York Friday, and both parties ultimately decided to delay reevaluating the power forward until next week. Love traveled to New York on March 13, when he hoped to get clearance to return to full contact practices eight weeks after undergoing surgery on his broken right hand. Clearance...
The Minnesota Timberwolves' have expressed their interest in bringing back Kevin Love this season, if only for a week. It looks like they will have to wait a little longer before seeing if he is capable of returning. According to Jerry Zgoda of the Minneapolis Star Tribune, Love was asked in his previous evaluation to return in two to three weeks. The Timberwolves' doctors...
MINNEAPOLIS The Timberwolves will be without Nikola Pekovic on Saturday against the Grizzlies. The center tested his ankle during warmups but will sit due to a left ankle sprain he sustained during Friday night's game. After the win over Oklahoma City, Pekovic said his foot and ankle were feeling all right, but he received treatment that night and then was a late scratch for...
Kevin Love's shooting hand won't be re-evaluated until sometime next week, but Minnesota Timberwolves coach Rick Adelman is still hoping to see him on the court this season.
Stars get the calls, apparently even on the road.
All Sports News

Delivered to your inbox

You'll also receive Yardbarker's daily Top 10, featuring the best sports stories from around the web. Customize your newsletter to get articles on your favorite sports and teams. And the best part? It's free!
THE HOT 10: Who's Trending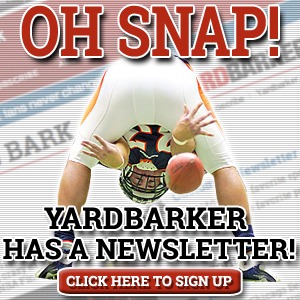 Latest Rumors
The Backyard

Today's Best Stuff

For Bloggers

Join the Yardbarker Network for more promotion, traffic, and money.

Company Info

Help

What is Yardbarker?

Yardbarker is the largest network of sports blogs and pro athlete blogs on the web. This site is the hub of the Yardbarker Network, where our editors and algorithms curate the best sports content from our network and beyond.