Found August 14, 2013 on Bronx Pinstripes:
PLAYERS:
Alfonso Soriano
,
CC Sabathia
,
Mike Trout
,
Mark Trumbo
,
Vernon Wells
,
Collin Cowgill
,
Lyle Overbay
,
Eduardo Nunez
,
Curtis Granderson
,
Jayson Nix
,
Grant Green
,
Chris Iannetta
,
Austin Romine
,
Robinson Cano
,
Alex Rodriguez
,
Joe Blanton
,
Shawn Kelley
,
Dellin Betances
,
Kole Calhoun
,
Joba Chamberlain
,
Jason Vargas
TEAMS:
New York Yankees
,
Los Angeles Angels
Alfonso Soriano hit two home runs en route to a career-high 6 RBI tonight. (Photo by Jim McIsaac/Getty Images) Los Angeles Angels 7 — New York Yankees 14   Alfonso Soriano has a career game in tonight's 12-3 win over the Los Angeles Angels. CC Sabathia started strong but stumbled into a problem area just as quickly. After striking out the first two batters, Mike Trout would walk to bring up slugger Mark Trumbo to the plate with one on. Sabathia would hang a slider to Trumbo and Sabathia would not get that ball back. The two-run home run to left field was the 25th home run CC has allowed this season. During the Mike Trout at-bat, the phenom center fielder hit a foul ball to deep right field where Vernon Wells defended. Right down the line, Wells would overrun the foul ball and it landed behind him, extending the at-bat and the inning. Wells would earn some cheers back in the second inning though. Vernon Wells would hit his first home run since May 15. The solo home run to lead off the second inning was his 11th of the season. In the third inning, the defense didn't do CC any favors. After a lead off walk, Collin Cowgill tried to sacrifice bunt but Nix rushed himself and couldn't handle it down the third base line for the error. Then, after striking out Mike Trout, Lyle Overbay would field a ground ball and attempt to start a double play but Eduardo Nunez would make the catch but erroneously, did not touch second base. The error on Nunez loaded the bases with one out. Former Yankee third baseman, Chris Nelson, would be walked to give the Angels their two-run lead back. Vernon Wells would get his second hit of the game in the fourth inning. Curtis Granderson would get Wells to third with a double and Jayson Nix would ground out productively, bringing in Wells. But the Yankees really got going in the fifth inning. After the first out, Eduardo Nunez would hit a single to center field to get on base in front of Alfonso Soriano. The Yankees left fielder would hit his 21st home run of the season into left field. The Yankees 3-2 deficit became a 4-3 lead with one swing. CC Sabathia created some of his own trouble in the sixth inning. The big left-hander would get one out but walked Chris Nelson, Grant Green and Chris Iannetta in the process. Shortstop Tommy Field would hit a fly ball to left field that Soriano would catch and make a strong throw home to get the lead runner, Chris Nelson, at home. The initial call was that Nelson was safe but the Yankees appealed that Nelson left early. Home plate umpire David Rackley called Nelson out for leaving early. Sabathia and the Yankees seemed to have an incorrect call in their favor as replays showed Nelson did not leave third base early. The Yankees would make sure that this missed call didn't let anyone think they didn't win tonight. Jayson Nix opened the bottom of the sixth with a single to left field. With a new pitcher, Lyle Overbay would get walked. The next new pitcher would face Austin Romine, who made a great sacrifice bunt, advancing the runners. With the infield drawn in, Eduardo Nunez would hit a sharp ground ball that second baseman Grant Green got a glove on but it wasn't hit hard enough to prevent a run from scoring. Alfonso Soriano hit a single to right field to bring home the runner from third and Robinson Cano would walk. Lightning rod third baseman Alex Rodriguez would bring in the cheers when he hit a deep double off the base of the left field wall for two runs. By the end of the sixth inning, the Yankees were ahead 8-3. The Yankees weren't going to stop at 8-3. Against the fifth Angels pitcher, Joe Blanton; Curtis Granderson opened the seventh inning with a single and after Jayson Nix flew out, Lyle Overbay and Austin Romine would load the bases for Eduardo Nunez. The Yankees shortstop would beat out a double play attempt and the ninth run of the game scored. Alfonso Soriano would make one more big play in the game when he hit a Yankee Stadium-assisted home run to right field. The barely clearing three-run home run was the second of the game for Soriano. For Soriano, six runs batted in is a career-high. Shawn Kelley finished off CC Sabathia's seventh inning and got two outs in the eighth before he gave up a two-out single. With the score 14-3, the Yankees felt comfortable letting Dellin Betances make his season debut. Mother Nature, however, felt differently. The 6'8″ product of the Yankees organization would throw a 94 mph fastball for a strike immediately before the clouds broke and the game went to a brief 26-minute rain delay. The game would resume and Betances would throw another 94 mph fastball before dialing up to 97 and finishing off the first batter he faced. Eduardo Nunez would add on some more runs in the eighth inning with a two-run single but after a late-game delay, the Yankees were eager to finish off the game. Dellin Betances returned to the mound and struck out the next batter he faced, touching 99 mph. A throwing error by Eduardo Nunez would open the flood gates, no pun intended. J.B. Shuck hit a single to right field to score one. Kole Calhoun would hit a single to left field to put runners on the corners. Mike Trout would make some late inning impact with a three-run home run into the short porch. This made it a 14-7 game. Mark Trumbo would single and Chris Nelson would walk. Despite the seven-run lead, manager Joe Girardi would go to the bullpen to finish off the remainder of the game. Joba Chamberlain would get a line out and a strike out to finish off the game. The Yankees now have a three-game winning streak. Yes, they actually do.   Win – CC Sabathia (10-10) Loss – Jason Vargas (6-5)   Notables Angels *Mark Trumbo – 2 for 5, R, 2-Run Home Run (26) in the 1st, 2 RBI (75) *Mike Trout – 1 for 4, 2 R, BB, 3-Run Home Run (21) in the 9th, 3 RBI (76) Yankees *Alfonso Soriano – 3 for 6, 3 R, 2 HR (22; 2-Run & 3-Run) in the 5th & 7th, 6 RBI (65) *Eduardo Nunez – 2 for 6, 2 R, 4 RBI (17)   Current Yankees Record: 61-57   Get your Yankees Tickets from our friends at TiqIQ.
Original Story:
http://bronxpinstripes.com/game-day/y...
THE BACKYARD
BEST OF MAXIM
RELATED ARTICLES
Photo credit: (AP Photo/John Minchillo) When the Yankees traded for Alfonso Soriano, they were hoping to add a little right-handed pop to the middle of the lineup. At 37 years old and with his best baseball behind him, Sori was looked at as only a slight upgrade for a struggling Yankee offense. Flash forward three weeks later. He's etched his name in the record books. Soriano homered...
The Yankees have scored 25 runs in its last two games, and one man has driven in 13 of them. Alfonso Soriano has been on an absolute tear for the streaking Bronx Bombers, following up a six-RBI performance on Tuesday by driving in seven runs on two homers and a double Wednesday night as New York routed the Angels by a combined score of 25-10. Soriano has been far from an offensive...
Alfonso Soriano homered twice for the second straight night and drove in a career-high seven runs, giving him 13 RBIs in two games while powering the New York Yankees to an 11-3 victory over the Los Angeles Angels on Wednesday. Soriano hit an early grand slam and became the third player to knock in at least six runs in back-to-back games since RBIs became an official statistic...
Alfonso Soriano is partying in pinstripes like it's 2002.  That being the year he busted out his power stick for the Yankees (for 39 HR) in his first stint with the team.  "The Fons" has been on a home run tear the past 24-hours, highlighted Wednesday with a first inning grand slam against the Los Angeles Angels 3-time All-Star Jered Weaver.  Watch as Weaver reacts to the...
NEW YORK (AP) -- Alfonso Soriano homered twice for the second straight night and drove in a career-high seven runs, giving him a staggering 13 RBIs in two games while powering the suddenly potent New York Yankees to an 11-3 victory over the Los Angeles Angels on Wednesday. Soriano hit an early grand slam and became the third player to knock in at least six runs in back-to-back games...
Alfonso Soriano homered twice for the second straight night and drove in a career-high seven runs, giving him a staggering 13 RBIs in two games while powering the suddenly potent New York Yankees to an 11-3 victory over the Los Angeles Angels on Wednesday.
Locker Room Fantasy Sports takes a look at last night's fantasy baseball news and notes from around Major League Baseball – Twitter style. Normally a 5-for-7, four RBI night would top the fantasy baseball world. Well, move over Joe Mauer because Alfonso Soriano is just plain and simply…feelin' it. I can not begin to comprehend what Alfonso Soriano is doing right now. Another...
NEW YORK (AP) -- Alfonso Soriano homered twice and drove in a career-high six runs, Alex Rodriguez had a two-run double, and the New York Yankees' bats bailed out a wild CC Sabathia for a 14-7 rout of the Los Angeles Angels on Tuesday night. Vernon Wells homered against his former team, and leadoff batter Eduardo Nunez drove in four runs as New York equaled its highest run total...
  CC Sabathia (9-10, 4.73 ERA) hopes to continue to climb out of his recent slump and takes on Jason Vargas (6-4, 3.65 ERA) in game two or four against the Angels. After allowing 27 combined runs over his previous four starts, Sabathia bounced back (somewhat) Wednesday against the White Sox. Although the Yankees lost the game, Sabathia gave up just three runs in 7 1/3 innings...
When the news of the Biogenesis suspensions came down there were no real surprises. A number of players were expected to be suspended for 50 games, Ryan Braun was expected to get a little more, and it was certainly not shocking that the league threw the figurative book at Alex Rodriguez. What is a little surprising 
Yes, it really did happen, folks. The Yankees scored 14 runs last night, on 19 hits.I don't even remember the last time this team put on such a potent display of offense. It was great to see and, after so many tension-filled, low-scoring contests this season, it was nice to be able to relax during a game.The offensive pieces the Yankees have been missing all season long showed...
All Sports News

Delivered to your inbox

You'll also receive Yardbarker's daily Top 10, featuring the best sports stories from around the web. Customize your newsletter to get articles on your favorite sports and teams. And the best part? It's free!
THE HOT 10: Who's Trending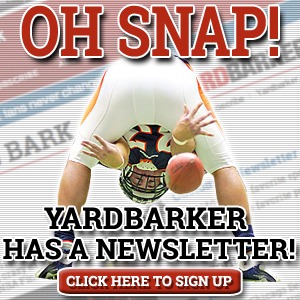 Latest Rumors
The Backyard

Today's Best Stuff

For Bloggers

Join the Yardbarker Network for more promotion, traffic, and money.

Company Info

Help

What is Yardbarker?

Yardbarker is the largest network of sports blogs and pro athlete blogs on the web. This site is the hub of the Yardbarker Network, where our editors and algorithms curate the best sports content from our network and beyond.