Found April 14, 2013 on Bronx Pinstripes:
Kuroda dominates for his fifth career complete game shutout. Baltimore Orioles 0 — New York Yankees 3   Hiroki Kuroda pitched an amazing game in tonight's 3-0 win over the Baltimore Orioles.   The Yankees turned to Hiroki Kuroda in the rubber game with the Baltimore Orioles and the choice could not have been better. In a clear dominant fashion, Kuroda twirled a complete game shutout to give the Yankees tonight's win. Kuroda didn't allow a runner to reach second base until the ninth inning. He produced 18 ground outs and induced two double plays. Of the five hits, three of them were on the ground, just getting through the infield. On 113 pitches, Kuroda allowed no runs with five hits and five strikeouts. Orioles starter, Wei-Yin Chen, began the game matching zeroes with Kuroda but the fifth inning would be his undoing. The Yankees started the inning with a pair of singles. A fly out to right field would move the runner from second base to third and a sacrifice fly by Jayson Nix would bring in the first run of the game. Then, Brett Gardner would flex some muscle and bounce one off of the right field foul pole for a two-run home run. This was Gardner's second home run of the season. With Kuroda absolutely dominant in tonight's game, three runs may have looked insurmountable. Brennan Boesch started in right field, in place of the struggling Ichiro Suzuki (currently hitting .176), and got two hits in three at-bats tonight against a left-handed pitcher.   Win – Hiroki Kuroda (2-1) Loss – Wei-Yin Chen (0-2)   Notables Orioles *J.J. Hardy – 1 for 3 *Matt Wieters – 1 for 3 Yankees *Brett Gardner – 1 for 4, R, 2-Run Home Run (2) in the 5th, 2 RBI (6) *Brennan Boesch – 2 for 3, R   Current Yankees Record: 6-5    
Original Story:
http://bronxpinstripes.com/game-day/y...
THE BACKYARD
BEST OF MAXIM
RELATED ARTICLES
Who else wants to see New York Yankees David Phelps in the starting rotation?  Photograph of Phil Hughes taken on April 29, 2008 at Yankee Stadium. (Photo credit: Wikipedia) After watching Phelps come and stop Phil Hughes from completely embarrassing himself against the Baltimore Orioles, I certainly do. The excuses for Hughes poor performance made by YES Network's Michael Kay...
Andy Pettitte is out until Friday.  He hurt his back getting off the couch.Listen: I don't know goulash about pitching. I've never played in the majors, and I have no answers when it comes to sparing elbows from the curse of Tommy John. But dammit, I do know couches. And if you don't know what you're doing when you climb onto one of those pillowy death traps, well...
Today, baseball can wait. As everyone here in my hometown of New York City thoughts and prayers are with the great city and people of Boston, Massachusetts who are going through a very painful time. It is so hard to comprehend why anyone would want to deliberately hurt others through such acts of violence. So all we can do is pray for the victims, their loved ones, for the entire...
Although I have not done a general survey of reactions to Joe Girardi's decision to have Robinson Cano hit second in eight of the Yankees' first 11 games, I can imagine many saber-friendly fans are excited to see the player who is mostly likely the Yankees' best hitter in the second spot. Ever since the findings The Book's chapter on lineup optimization became popular among...
New York Yankees pitcher CC Sabathia is the star of the latest "This is SportsCenter" commercial from ESPN. And the video may or may not poke fun at the southpaw's hefty size.In the spot, Sabathia teams up with anchors Steve Levy and Scott Van Pelt in what essentially turns into a fashion lesson on how to look thin. The ad begins with Sabathia and Levy talking about...
1929 Yankees (Photo courtesy of Baseball-Fever.com) On this day 84 years ago the Yankees became the first team to make numbers a permanent part of their uniform. Previously numbers had been used intermittently, even appearing on the uniform sleeve at times, but in '29 they would remain. Other teams quickly followed suit and by 1932 uniform numbers were standard across the league...
AL BEast Notebook – April 15 For all the doom and gloom of the preseason and then Opening Week, things have turned pretty well for New York lately. The Yankees have won five of their last six to sit at 6-5, much of the pitching is going well and the offense is finding pleasant surprises. There was cause for concern when CC Sabathia looked lifeless on Opening Day and then Hiroki...
Allowing one earned run over eight brilliant innings, standout southpaw CC Sabathia led New York to a 5-2 victory over Baltimore Orioles on Friday night at Yankee Stadium. Recovered from undergoing arthroscopic surgery to remove a bone spur in his left elbow, the 32-year-old Sabathia (2-1, 2.25 ERA) whiffed nine batters despite only touching 90 mph on the radar gun. Following an...
Fashion 101: Vertical stripes make someone look skinnier. Horizontal stripes make someone look — um, wider. Scott Van Pelt found that out the hard way in the latest of ESPN's "This Is SportsCenter" commercials, where the TV man wears a horizontally striped gray suit that has him looking like a sumo wrestler. CC Sabathia, however, looks nice and trim — thanks, of course...
Alex Rodriguez doesn't have a care in the world.  Paying off the steroid dealers, collecting millions from the Yankees for doing nothing and chilling with his former WWE girlfriend. It must be nice, to be A-Rod these days. Believe it or not, he is still owed over $100 million and has let it be known, he plans to collect every single penny.  Can't be mad at him for that, no...
The Cleveland Indians and New York Yankees will play a traditional doubleheader on May 13 at Progressive Field. The doubleheader, which will begin at 12:05 p.m., became necessary when the April 10-11 games in Cleveland were postponed by rain. The May 13 date is one of the few mutual off-days for the two teams. The Indians play in Detroit on May 12 and begin a series in Philadelphia...
There have been close to 700 triple plays in the history of Major League Baseball dating back to 1876. To put the number into perspective--and so you can really appreciate what a tremendous play it is--just since the MLB season expanded to 162 games back in 1962 there have been over 446,000 outs recorded. That's not including extra innings and the post season! Anyway...the...
All Sports News

Delivered to your inbox

You'll also receive Yardbarker's daily Top 10, featuring the best sports stories from around the web. Customize your newsletter to get articles on your favorite sports and teams. And the best part? It's free!
THE HOT 10: Who's Trending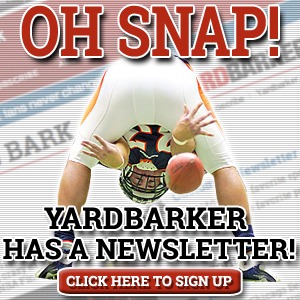 Latest Rumors
Best of Yardbarker

Today's Best Stuff

For Bloggers

Join the Yardbarker Network for more promotion, traffic, and money.

Company Info

Help

What is Yardbarker?

Yardbarker is the largest network of sports blogs and pro athlete blogs on the web. This site is the hub of the Yardbarker Network, where our editors and algorithms curate the best sports content from our network and beyond.