((HT: WRALSportsfan.com)) So, we now know what Butch Davis is up to... He is keeping up his end of the bargain with the University of North Carolina as a "consultant" with the Tamps Bay Bucs and their new head coach Greg Schiano... That way, he keeps up with his buy-out clause and everything is cool... He understands why the university made him the fall guy...
The records for Butch Davis's personal cell phone, long the great white whale of the North Carolina sports media were released on Friday, after a judge issued an order to that effect back in August. The results, as you might expect, are entirely uninteresting. To be honest, I've long forgotten what people expected to find in them. Panicked calls to various participants on...
Yesterday, a Superior Court judge signed an order that requires former UNC football coach Butch Davis to turn over work-related phone records from his personal cell phone that featured a Cleveland area code.  Davis had previously sought to keep the records private, as they contain personal contact information of family and friends.  Davis had been [...]
A judge has ordered former University of North Carolina football coach Butch Davis to hand over records of calls made on his personal cellphone related to his job duties. Superior Court Judge Howard E. Manning Jr. signed an order Wednesday for Davis to provide his phone bills, which had been requested as public records by media organizations including The Associated Press. Those...
The fact that Drew Davis, the son of former head coach Butch Davis at UNC, is enrolled at North Carolina and will be playing football, as he was offered a prefered walk on status for head coach Larry Fedora's squad has been out for about two weeks. I have waited for a while to talk about this cause I wanted to be fully unbias and find something positive about this story. Well,...
Former North Carolina Tarheel coach Butch Davis' son is now a walk-on for the Tarheels. Drew Davis was a 3 star pro-style quarterback out of East Chapel Hill (Rivals). Drew had planned on attending UNC and playing under his dad, but after Butch was fired, he wasn't sure if Carolina was going to be right for him. "He wanted us all to be OK with it," Butch Davis added...
New pieces of evidence have surfaced suggesting academic fraud was committed by North Carolina while Butch Davis was head coach. The NCAA's investigation into improper benefits for UNC football players, which started two years ago and resulted in the firing of Davis, was largely over when information about the academic fraud came to light. UNC offered a summer class,  AFAM 280...
The Tampa Bay Buccaneers have hired former North Carolina head coach Butch Davis as a ''special assistant'' to new head coach Greg Schiano. The team announced the hire Monday, saying Davis would ''advise Schiano in a wide range of football aspects.'' In a statement, Schiano called Davis a friend and mentor going back to the time when Schiano worked...
Butch Davis raised the bar on the bizarre with the release of his own YouTube video addressing the situation that got him fired as football coach at North Carolina. Davis is no fool. Making a statement in this way was strategic and calculating, characteristic of a man who is a master at organization and implementation. That's what makes his comments during the nine-minute...
Former North Carolina coach Butch Davis has posted a video on YouTube defending himself from allegations stemming from an NCAA investigation into the UNC football program. In the video, Davis says he is ''absolutely committed to a clean program'' and that his coaching philosophy has been to succeed academically and on the field. In addition, Davis says he didn'...
MORE STORIES >>
All Sports News

Delivered to your inbox

You'll also receive Yardbarker's daily Top 10, featuring the best sports stories from around the web. Customize your newsletter to get articles on your favorite sports and teams. And the best part? It's free!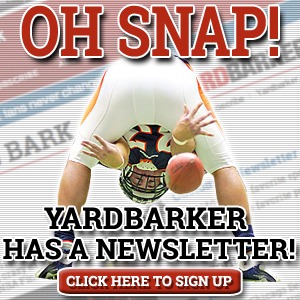 THE HOT 10: Who's Trending