MUCH ADO ABOUT NOTHING
The interwebs seem to be buzzing about this incident in the Thunder's 100-85 win over the Lakers Thursday night, so it's only fair that we share it with our audience. Here's the scenario: Kobe Bryant and the Lakers were having a difficult time scoring while James Harden and the Thunder took control of the game [...]
TURNED MY WORLD TO BLACK
Jimmy Fallon was never the most popular cast member on Saturday Night Live, and Fever Pitch remains a blasphemous blemish on the Boston Red Sox World Series victory in 2004. Oh, and have you guys seen Taxi with Queen Latifah? It was like someone farted on 120 pieces of paper and crammed three brass fasteners into it. But he's made great strides as the host of Late Night, so much...
BLOOPER REEL
TIGER STYLE
THAT'LL LEARN 'EM
Maybe it's just me, but I kind of like these backpacks. Children's-themed backpacks seem to have emerged as one of the favorite forms of hazing across sports. The latest victims — if you want to call them that — are the Denver Nuggets rookies. As you can see from the photos above and below, the Nuggets forced their rookies to carry around Dora the Explorer and Hello Kitty...
MICKEY ROURKE IS PING PONG
OSCAR AT THE BAT?
With the Academy Awards this Sunday and "Moneyball" up for six statues…you're going to hear and read a ton about how poorly baseball movies (or sports movies in general) have fared when it comes to Oscar night.And, well, those would be pretty fair statements.I mean, let's be honest, only three sports-related films ("Rocky", "Chariots of Fire" and "Million Dollar...
DON'T SLEEP ON 'EM
The most underrated players entering March Madness each have been immense assets to their respective NCAA basketball teams throughout the 2011-12 college basketball season but most have done it quietly. From point guards to small forwards, these underrated college basketball players all hope to not only enter the NCAA Men's Basketball Tournament but lead their team to greatness...
OOH-OOH THAT SMELL...
Do not get stuck behind Josh Harrellson in an elevator because he is the current title holder of the "smelliest" New York Knick. Watch as the Knickerbocker kid reporters Ryan and Jaylah interview members of the basketball team and find out some very useful information. In a unanimous decision, rookie Josh Harrellson gets voted the smelliest teammate and we find out that Jeremy...
TAKE IT AWAY
Kevin Durant continues to be amazing this year and against the Los Angeles Lakers he may have had his most impressive sequence of the season. The above video shows one of the most heady plays of the year by anyone in the NBA. After teammate and Oklahoma City Thunder point guard Russell Westbrook hit a three-pointer with just 0.8 seconds to go in the first half, Durant didn't lazily...
WHAT A FRONT-RUNNER
One thing that bothers me more than anything are fans that lay claim to teams despite having no real reason for doing so. This is the bandwagon fan. Also known as the fair weather fan, these are guys who start rooting for teams only when they get good. Some even stop rooting for teams during the bad years, only to come out of the wood work when things get better. Needless to say...
SINGING HIS PRAISES
Sadly, "Jeremy Lin: The Musical" isn't a real thing but that didn't stop comedian Kevin Yee for putting together one of the greatest videos to hit the Interweb.Watch as Yee puts his own musical flair to the Jeremy Lin story:
All Sports News

Delivered to your inbox

You'll also receive Yardbarker's daily Top 10, featuring the best sports stories from around the web. Customize your newsletter to get articles on your favorite sports and teams. And the best part? It's free!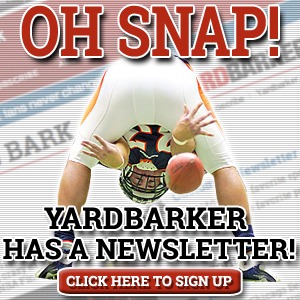 THE HOT 10: Who's Trending
Latest Rumors
Best of Yardbarker

Today's Best Stuff

For Bloggers

Join the Yardbarker Network for more promotion, traffic, and money.

Company Info

Help

What is Yardbarker?

Yardbarker is the largest network of sports blogs and pro athlete blogs on the web. This site is the hub of the Yardbarker Network, where our editors and algorithms curate the best sports content from our network and beyond.