Posted November 07, 2012 on AP on Fox
Carmen Basilio, a genial onion farmer's son who wrested the world middleweight boxing crown from Sugar Ray Robinson in 1957 and lost an equally epic, razor-edge rematch six months later, died on Wednesday at age 85. Edward Brophy, executive director of the Boxing Hall of Fame in upstate New York, said Basilio died at a Rochester hospital where he was being treated for pneumonia. Basilio was among the first class of Hall of Fame inductees in 1990, a group that includes Robinson, Muhammad Ali, Rocky Marciano, Joe Louis and Jake LaMotta. Basilio's ferocious battles with the likes of Billy Graham and Kid Gavilan riveted the U.S. during the age of black-and-white television. Hindered on his ascent by a reluctance to deal with mobsters, he took the welterweight title from Tony DeMarco in 1955 and added the middleweight belt near the close of a 13-year career. In his later years, Basilio still could conjure up dates of championship fights, the size of a purse, the name of a referee he loathed. But his mental agility had eroded, and his recollection of the round-by-round combat he waged in his climb to the top was mostly blank. Basilio's wife, Josie, traced his decline to heart-bypass surgery in 1992. An MRI scan revealed no brain damage from his prizefighting days, which Basilio acknowledged went on too long. With his crouching style, the 5-foot-6 1/2 (1.69-meter) slugger bored relentlessly into opponents, wearing them down with body blows. He had a straight-up, knuckle-rimmed uppercut, a vicious hook and an ability to withstand terrible punishment. He rarely stepped backward. ''I gave them action; they loved to see action. I moved in on fighters all the time,'' he told The Associated Press in 2007, still filled with delight at earning The Ring magazine's ''Fight of the Year'' designation five years in a row. The two savage, seesaw 15-rounders against Robinson formed the capstone of his fame. But in the early 1950s, Basilio endured a bitter wait for a breakthrough in a sport then dominated by organized crime. Outside the ring, Basilio was well-spoken, a farmer's son whose droll humor could light up a town. His paeans to family and churchgoing earned him a ''people's champion'' tag. Above all, he loved winding people up. The late trainer Angelo Dundee remembered a cold day in Chicago waiting for Basilio, the first of his 15 world champions, to finish a morning run when a cop drove up and threatened to book him for loitering. As he turned to go, Dundee realized Basilio was watching from the back of the patrol car and cracking up. Basilio's storybook journey began on an onion farm in Canastota in central New York as one of 10 children of Italian immigrants. From age 5, he worked the rich black soil in all weathers, and the constant bending developed powerful thigh and stomach muscles. After a stint in the Marines, Basilio turned pro in 1948. His early career was littered with setbacks: Broken bones in his hand, mononucleosis, cuts to his craggy eyebrows. He took a factory job in Syracuse, adopted two nephews and, despite his fill of losses, told anyone who'd listen he would someday be No. 1. Finally honing his physical prowess, he drew his first title shot in 1953 against Gavilan. He floored the Cuban great for the first time in his career, only to lose on a split decision. A rematch never came. Basilio ran into two years of gangland roadblocks. The Fifties were a golden age for U.S. boxing when thrice-weekly ''fight nights'' helped sell TV sets. But it also was a dark diversion directed by mob bosses. Basilio said he refused to cooperate with them and, despite his growing supremacy as a welterweight, was repeatedly passed over. Helped by a political outcry, his second chance finally arrived against the newly enthroned DeMarco in 1955 - and more than just childhood dreams were at stake. When he stopped DeMarco in the 12th round, Basilio knelt in his corner, repeating ''I did it! I did it! I did it!'' His real measure emerged in their next duel. A left hook from DeMarco almost lifted Basilio off his feet. He pirouetted, his legs buckled but somehow he stayed up. He KO'd DeMarco in the 12th. Basilio stepped up to the 160-pound (73-kilogram) middleweight class against Robinson on Sept. 23, 1957. Four years earlier, after wresting the state welterweight title from Graham, Basilio was walking down Broadway in New York when he spotted Robinson with his entourage and introduced himself. ''He gave me a brushoff, and I lost my respect for him right then and there,'' he recalled. ''People come up to speak to you, you have to be happy because it's people that make you what you are. He was an arrogant guy.'' He carried that grudge into their encounter in Yankee Stadium. During the referee's instructions, Basilio was startled when Robinson leaned in snarling, baring his teeth like a wildcat. Basilio went back to his corner and burst out laughing, and it loosened him up. ''You're talking about the finest boxer of all time,'' Dundee told the AP before his death this year, ''and Carmen outboxed the guy. He beat him soundly.'' In the 11th round, Basilio clobbered Robinson with 34 straight punches, pinning him against the ropes. ''I don't know what kept Robinson up because Carmen nailed him some real good shots,'' Dundee said. Robinson rallied in the 12th but was hanging on at the end, and Basilio won on a 2-1 vote by the judges. Only one other modern-era welterweight champ had ever hoisted the middleweight belt - Robinson in 1951. In the rematch in March 1958, Robinson regained the title on another razor-edge decision. A rupture above Basilio's eye swelled to the size of a baking potato. ''I had to change my stance a little bit so I could see him, but I thought I won the fight that night,'' he insisted. The most serious moment came at around 3 the next morning. After hours of icing, Dundee noticed blood seeping from the corner of Basilio's eye and rushed him to the hospital. ''Thank God we saved the eye,'' he said. While his determination was bottomless, Basilio's susceptibility to cuts proved a recurring nightmare. ''Carmen says he made me the greatest cut man on Earth because he used to bleed for me,'' Dundee said. ''He bled at press conferences.'' To be a champion, though, ''you got to cross that fine line, and Carmen crossed that line many times,'' Dundee added. ''He belongs in any era, any time. I would have to put him as one of the best.'' Robinson's refusal to fight a third time undermined Basilio's drive, and his career (56-16-7 with 27 knockouts) petered out in 1961 after three unsuccessful title shots against Gene Fullmer and Paul Pendor. He moved on to teach physical education at Syracuse's Le Moyne College for 21 years and marketed beer for Rochester's Genesee Brewing Co. His gift as a raconteur won him legions of new fans at charity banquets, and even old foes came to revere him. When DeMarco's son died in a car crash in 1975, Basilio showed up for the funeral in Boston. ''You don't forget things like that,'' DeMarco said in 2007. Their first bout, considered by many one of the century's finest, ''made us closer,'' DeMarco said. ''I lost my championship and the guy I lost to happens to be not only a great fighter but a great human being.''
Original Story:
http://msn.foxsports.com/boxing/story...
THE BACKYARD
BEST OF MAXIM
RELATED ARTICLES
Carmen Basilio, a genial onion farmer's son with a malevolent left hook who wrested the world middleweight boxing crown from Sugar Ray Robinson in 1957, has died. He was 85. Edward Brophy, executive director of the Boxing Hall of Fame in upstate New York, says Basilio died early Wednesday morning in a Rochester hospital where he was being treated for pneumonia. Basilio lived...
Boxing News

Delivered to your inbox

You'll also receive Yardbarker's daily Top 10, featuring the best sports stories from around the web. Customize your newsletter to get articles on your favorite sports and teams. And the best part? It's free!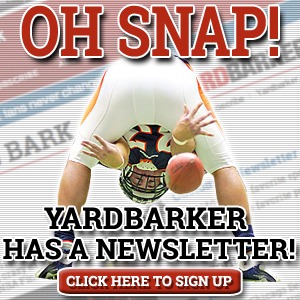 Latest Rumors
The Backyard

Today's Best Stuff

For Bloggers

Join the Yardbarker Network for more promotion, traffic, and money.

Company Info

Help

What is Yardbarker?

Yardbarker is the largest network of sports blogs and pro athlete blogs on the web. This site is the hub of the Yardbarker Network, where our editors and algorithms curate the best sports content from our network and beyond.