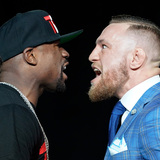 Floyd Mayweather Jr.'s victory over with MMA champion — and boxing rookie — Conor McGregor captivated audiences due to its novelty, gambling, trash-talking and relentless hype. While boxing promoters are the masters of over-hype, here's a look at some of the most over-hyped events in sports history. Hyped events that lived up to the billing are excluded — this is for the events that...
In September 1968, Jimmy Ellis retained the World Heavyweight title with a controversial fifteen-round decision over Floyd Patterson at the Råsunda Football Stadium in Stockholm. 48 years later, big-time boxing returns to the Swedish capital when the Nordic Fight Night hits the Hovet on April 23. ''This is going to be the biggest boxing event in Stockholm for almost fifty-years,...
Boxing has a lot of punches but here are the five that were so great the punches deserved their own nicknames. The post Boxing's 5 Best Punch Nicknames appeared first on The Sports Fan Journal.
In today's sports environment, fans and athletes have a warped sense of what it means to be hated. It seems all too often that even the rough and tumble characters that enlist in the most aggressive sports out there, like football, boxing, or mixed martial arts are crying victim after a few hard questions from the […] The post Floyd Patterson And Sonny Liston: The Good Negro Vs....
The first father-son combination of Floyd Patterson and Tracy Harris Patterson highlight the announcement of the Class of 2014 inductees heading into the third-year New York State Boxing Hall of Fame (NYSBHOF). The third annual NYSBHOF induction dinner will be held Sunday afternoon (12:30-5:30 p.m. ET), March 30, at Russo's On The Bay in Howard Beach, New York. The NYSBHOF is sponsored...
It's traditional for boxers to stay away from women while they train for a fight. (Former champion Floyd Patterson said having sex leading up to a bout would weaken his knees.) So you could understand why heavyweight Tony Thompson was eager to be with his wife after his knockout victory over David Price on Saturday. How he expressed this passion, however, left a lot to be desired...
Rocky Marciano retired 49-0 in April 1956, the only heavyweight champion to hang up the gloves with both the title around his waist and a perfect record. In the decades that followed, many revisionist critics would deride Marciano as a crude slugger who fought only old guys and little guys. The latter point ignores the undeniable fact that Marciano himself never tipped the scales...
Unbeaten Irish super featherweight prospect Patrick "The Punisher" Hyland (25-0, 11 KOs) wants to get where his trainer, two-time world champion Tracy Harris Patterson, has already been. Patterson, who lives in nearby New Paltz, was trained by his father, the late Floyd Patterson, two-time world heavyweight champion and 1952 Olympic gold medal winner.  Tracy (63-8-2, 43 KOs) was...
"There is so much hate, so much contempt inside people," Floyd Patterson once said, "that they hire prizefighters to do their hating for them." What occasioned these remarks was a merciless and hateful beating at the hands of Muhammad Ali, whom Patterson had made a point of calling Cassius Clay. "What's my name?" asked Ali, who exceeded Patterson by at least 15 pounds on the scales...
MORE STORIES >>
Boxing News

Delivered to your inbox

You'll also receive Yardbarker's daily Top 10, featuring the best sports stories from around the web. Customize your newsletter to get articles on your favorite sports and teams. And the best part? It's free!