Found April 04, 2013 on Gamedayr:
Via Gamedayr:
For those of you who missed the College Baskeball Slam Dunk Contest, well, we don't feel bad for you, but we're worried about your health.
Everyone should be spoon-fed a dose of Doug Anderson highlight tapes on a nightly basis. The Detroit star was in Atlanta, the site of the 2013 Final Four, on Thursday night for the dunk contest festivities.
And he absolutely stole the show.
Anderson rocked a 360, through-the-legs slam on his very first attempt en route to winning the whole thing.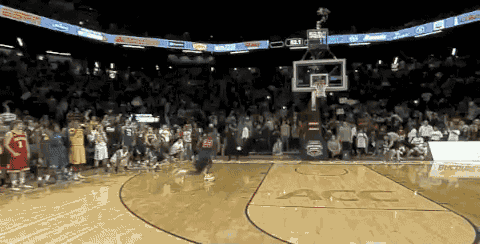 If you aren't impressed yet, here are all four of his dunks that won him the title belt. Simply put, Anderson has got some mad hops.
Top video via Big Lead Sports, GIF via Bleacher Report, Bottom video via ESPN YouTube
Read More:
http://gamedayr.com/gamedayr/video-of...
THE BACKYARD
RELATED ARTICLES
If you missed him on Sportscenter's Top 10 throughout the year, Detroit's Doug Anderson has some harsh feelings towards basketball rims. They stole his lunch money. They picked on him through his awkward years. They would yell "Kool-Aid!" when his momma walked by wearing red. And now he takes out his anger on each and every rim he comes across. Poor, poor rims. Four tremendous...
If you don't like the NBA Slam Dunk contest, you probably appreciated the college slam dunk contest where Detroit-Mercy Titan's Doug Anderson put on a show. It would be difficult to argue against him as being better than everyone else in the NBA with what he calls 'in game dunks.' Check out his final dunk that gave him the title: Unreal. You can checkout the rest of his dunks...
There are some people who can dunk, and then there are dunkers. Doug Anderson is a real man who came to the 2013 State Farm College Slam Dunk Contest with some simple intentions. I'm gonna dunk this basketball, real real hard. I'm gonna jump real real high. I'm going to do dunks that I could do [...]The post Detroit's Doug Anderson Put One Of The Better Slam Dunk Performances...
Doug Anderson of Detroit Mercy introduced himself to the world Thursday night during the College Dunk Contest in Atlanta. Anderson scored perfect scores on each of his attempts and capped it all off with this impressive 360-degree, between the legs dunk that brought home the crown.The post Doug Anderson went with a 360-degree, between the legs dunk to win the College Dunk Contest...
University of Detroit guard Doug Anderson wowed the crowd (and now the World Wide Web) with the insane dunk in the video below to win the College Slam Dunk Competition, one of the events in Atlanta leading up to this weekend's Final Four. After watching this what the NBA needs to do is clear. Take the million that Magic has offered and whatever anyone else want to throw in...
University of Detroit Mercy's Doug Anderson, Mott CC alum, knows how to dunk a basketball. That's to put it as boringly as possible. Because his dunks were not boring.  Here's his 4th dunk of the college slam dunk competition, which won him the competition quite easily:  For a look at his other three dunks, all perfect scores, head over to It's Always...
Detroit's Doug Anderson puts on a show during the College Slam Dunk competition en route to a runaway win. Shaming the NBA All-Star weekend single-handedly. **Follow us on Twitter or Facebook.... Full story at Bob's Blitz ~ http://www.bobsblitz.com
University of Detroit Mercy high-riser Doug Anderson wrecked the competition with four dunks on his way to winning the College Slam Dunk contest.  He received perfect 40′s straight through the competition and  - most impressively – only needed one try for each of his dunks. ESPN's Jimmy Dykes called him a "1-seed" going up against all "16-seeds" in comparison to his...
Doug Anderson played for the University of Detroit this season. You probably didn't know him before, but I bet you know him now.  Has this dunk ever been done before? Anderson has a reputation with hard-core college basketball fans, as one of the best dunkers in college and he surely didn't disappoint with this dunk. FYI, Dick Vitale use to be the head coach at the University of Detroit.
University of Detroit's Doug Anderson pulled off an amazing dunk at the college dunk contest this year:   [youtube]u6SUgFfiAA[/youtube]   Big up: Gamedayr
Titans News

Delivered to your inbox

You'll also receive Yardbarker's daily Top 10, featuring the best sports stories from around the web. Customize your newsletter to get articles on your favorite sports and teams. And the best part? It's free!
RUMORS & GOSSIP
The Kansas City Royals are sitting atop the American League Central and, barring a collapse, are poised to make the playoffs for the first time since the won the World Series in 1985. Yet, for some reason, manager Ned Yost is not happy. "I know there's different things you can do. But there's a real need for our fans to be a part of this. We had a great crowd last night, and...
Jim Rogash/Getty ImagesWe've seen this story before.Patriots players were, according to Ben Volin of The Boston Globe, "pissed" about the Logan Mankins trade.  A league source connected to several Patriots players used a "p" word that rhymes with "missed" to describe the mood in the locker room Tuesday. Many players still felt that Mankins was the best lineman...
Already with an ugly history of academic fraud, illegal benefits, and NCAA sanctions, the University of North Carolina is being investigated again. According to a report from Yahoo! Sports the Tar Heels football team is currently being investigated for an alleged hazing incident. Yahoo! Sports: During the first week of August, redshirt freshman walk-on wide […]
Clint Trickett's full quote, context and all. Romeo and Juliet scene gonna play out Saturday in Atlanta. #WVU pic.twitter.com/S6aDXlcWlR — Stephen...
With time winding down on the season and the New York Yankees' hopes of making the postseason dwindling, relief pitcher Shawn Kelley may have inadvertently stumbled upon the team's good luck charm while perusing Amazon. Kelley last week debuted a particularly disturbing-looking horse head mask during pregame stretches and since then, the Yankees have not […] The post Yankees'...
It's time to talk about NHL expansion again. The topic which most of us have exhausted ourselves discussing is back and this time it comes from a report seen in The Providence. According to Tony Gallagher, an NHL team in Vegas is going to be a reality in the very near future. From the article: "Sources close to the situation have indicated Las Vegas is a done deal, the only thing...
Now that Kevin Love is officially a Cleveland Cavalier, it's open season for his former employer and/or teammates to take shots at him on his way out the door. That's exactly what Minnesota Timberwolves owner Glen Taylor has done. Would you […]
Josh Shaw's name was mentioned in a burglary report taken nearby the USC campus in downtown Los Angeles, according to a report from TMZ. Shaw suffered two sprained ankles on Saturday night and told USC the injuries occurred when he jumped off a second-floor balcony to save a 7-year-old nephew who was drowning in a […]
Chris Mortensen of ESPN reports that the Seahawks and HC Pete Carroll have been fined over $300,000 for violation of the offseason non-contact rules. According to the report, Carroll's fine is "at least" $100,000 and the Seahawks received a fine "in excess of $200,000." Mortensen adds that Seattle will be docked two 2015 minicamp practices after their June 16th OTA...
Photo by Scott Sargent / WFNY Adam Schefter is reporting that the Josh Gordon appeal decision has been made. Apparently the only thing left to decide is when to issue that judgement. Schefter just said on SC that he's heard Gordon decision has been made and Henderson just needs to decide when to issue it. #takeyourtime — Chris Fillar (@ItsFillar) August 26, 2014 It's all...
Latest Rumors
Best of Yardbarker

Today's Best Stuff

For Bloggers

Join the Yardbarker Network for more promotion, traffic, and money.

Company Info

Help

What is Yardbarker?

Yardbarker is the largest network of sports blogs and pro athlete blogs on the web. This site is the hub of the Yardbarker Network, where our editors and algorithms curate the best sports content from our network and beyond.