Pittsburgh-Tennessee Preview
Associated Press | Last updated December 02, 2011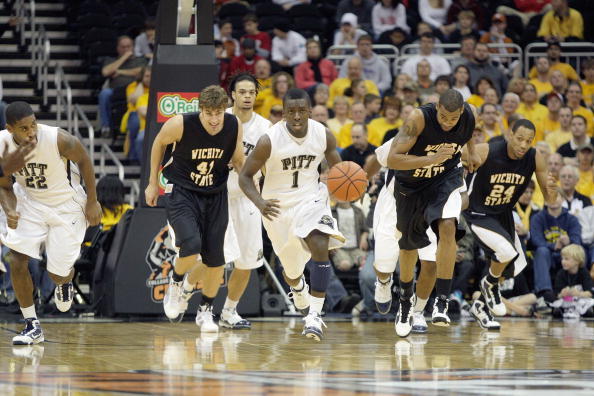 KANSAS CITY, MO - NOVEMBER 23: Travon Woodall #1 of the Pittsburgh Panthers dribbles the ball downcourt against the Wichita State Shockers during the CBE Classic semifinal game on November 23, 2009 at Sprint Center in Kansas City, Missouri. (Photo by: Jamie Squire/Getty Images)
Tennessee coach Cuonzo Martin knows his team will likely be tested in Saturday's matchup against visiting Pittsburgh. While the 17th-ranked Panthers certainly appear to be a formidable opponent, it remains to be seen how they'll respond to point guard Travon Woodall's absence. Pittsburgh (6-1) is expected to be without Woodall for at least a month after he strained his groin and suffered an abdominal tear during Wednesday's 80-69 victory over Duquesne. The redshirt junior ranks among the top five in the country with an average of 8.3 assists. Woodall also has more than doubled his scoring average from last season, with his 14.1 points per game ranking second on the team to Ashton Gibbs (19.1). While the Panthers have won four straight since a surprising 86-76 loss to Long Beach State on Nov. 16, Tennessee (3-3) is looking to avoid its fourth defeat in five games. However, the Volunteers already have faced two ranked teams while Pitt has yet to play one - or even an opponent from a major conference. "(Pittsburgh is a) physical team, tough team. The guys have been around the blocks; they have been together for a long time," Martin said. "They understand what it takes to compete, especially to play on the road. They will grind you out on both ends of the floor." The Vols lost to then-No. 6 Duke and then-No. 8 Memphis in last week's Maui Invitational before routing Chaminade in their final game of that tournament, then returned from Hawaii to lose 89-81 at Oakland on Monday. While sophomore Jordan McRae scored a career-best 25 points for the second time in as many games Monday, Trae Golden, who leads the team with 17.0 points per game, was held to a season-low 12 on 4-of-11 shooting. Golden also failed to get going against Duke and Memphis, scoring a combined 27 points and shooting 25.9 percent - including 1 for 9 from 3-point range. Martin, however, believes his star point guard will only continue to improve as the competition gets tougher. "When you are trying to be the best, you go against the best and that's how you size yourself up as a player," Martin said. "But it's not necessarily one-on-one competition, it's more or less running your team and doing the things that is necessary for your team to win ball games. But I will take Trae any day of the week." Besides trying to contain Gibbs, Tennessee could have a hard time slowing down Dante Taylor. The junior forward, who started the first four games before missing a pair due to lingering migraine headaches, posted a career-high 15 points and a season-best 11 rebounds off the bench in his return Wednesday. "It definitely was a confidence-builder, just piggybacking off the last game I played before the two I missed," he said. "I was able to come out and play with energy." With Woodall sidelined, the Panthers likely need another big game from Taylor if they hope to avoid a fourth consecutive defeat in this series. The Vols most recently upset then-No. 3 Pittsburgh 83-76 on Dec. 11 last season, limiting Gibbs to 15 points on 4-of-13 shooting. Tennessee has dropped seven of eight versus ranked opponents. Vols reserve forward Dwight Miller, who spent two seasons at Pitt before ultimately transferring to Tennessee, is looking forward to facing his former team. "I texted (Gibbs) the other day," Miller said. "After they lost to (Long Beach State), I told him to keep his head up but when he comes to Tennessee it's going to be another loss."
MORE FROM YARDBARKER:
The Worst - NFL Week 3: Steve Smith, Odell Beckham & of course the Browns
MORE FROM YARDBARKER
College Basketball News

Delivered to your inbox

You'll also receive Yardbarker's daily Top 10, featuring the best sports stories from around the web. Customize your newsletter to get articles on your favorite sports and teams. And the best part? It's free!