How will KYRIE IRVING advance his game w Brad Stevens & CELTICS? Thursday Breakdown: CelticsBlog writer Alex Kungu has reviewed the film on Kyrie Irving. Evan Valenti and Lucky's Pipe sit down with him to find out what he's discovered. 1:30 How will Al Horford help out Kyrie Irving? 4:00 How is the Celtics offense different from the Cavaliers? 14:00 Kyrie Irving's scoring...
Tuesday Tirades: Zaire returns to join Evan Valenti to preview the Celtics upcoming season with all the roster changes. 1:30 Brad Stevens is a genius 7:00 Celtics will contend sooner rather than later 11:30 What is the Celtics biggest weakness? 14:45 Will Jaylen Brown finish games? BRAD STEVENS master plan to make the CELTICS tops in NBA Follow us on Twitter: @CLNSRoundtable...
The CelticsBlog players preview series continues with Jeff Clark. Does Gordon Hayward have a new gear? Will Brad Stevens put Jayson Tatum in his comfort area or adapt him to the Celtics system? What's Aron Baynes' role now? Will Abdel Nader and Semi Ojeleye have a chance to play? Plus Terry Rozier survived the summer of sendoffs, how important is it that he takes another leap? All...
With the trade finally finalized, Kyrie Irving has spoken. Boston's newest acquisition thoroughly thanked the Cleveland fans, but appears very excited to be coming to play for the Celtics. The LA Lakers were fined by the NBA for tampering with Paul George after Magic Johnson was warned in the spring.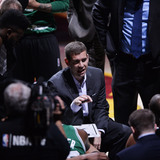 In the last ten months, I wrote two pieces for RealGM concerning the Boston Celtics and the decisions that they might face as it related to the construction of their roster and the opportunities ahead. A reader with the time and energy could have fairly accused me of being a bit too future-focused and pointlessly discussing the theoretical choices of hypothetical dilemmas.Those readers...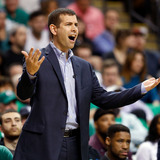 A teeny-tiny little NBA trade went down this week, if you haven't heard. The Celtics and Cavaliers, the East's two best teams, flipped their starting point guards.Yes, Isaiah Thomas and Kyrie Irving are changing homes. In the deal, Boston received Irving and Cleveland received Thomas, Jae Crowder, Ante Zizic, and the 2018 Brooklyn Nets first-rounder.The loss of Thomas was particularly...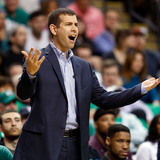 Boston Celtics coach Brad Stevens had to know the tough questions would come over the team's decision to trade Isaiah Thomas, but he may not have expected them to come from a kid.That's what happened Wednesday, though, as Stevens had to field such a question at a Q&A at the Basketball Hall of Fame in Springfield, Mass.As part of the Q&A, a young man boldly asked Stevens...
The Boston Celtics' big offseason makes it somewhat easy to forget that there are questions about Isaiah Thomas' status.Thomas missed half of the Celtics' playoff series against the Cleveland Cavaliers after aggravating a hip injury. He saw multiple specialists and decided not to undergo hip surgery this offseason, but he's still resting and recovering.Boston head coach Brad...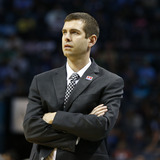 Brad Stevens is one of the youngest head coaches in the NBA, and it definitely shows in at least some regards.In a feature by Andy Brown of the Indianapolis Star that was published over the weekend, the Boston Celtics head coach revealed that part of his daily routine is playing the classic arcade game "Ms. Pac-Man.""I play 'Ms. Pac-Man' for 10 to 15 games as a break between...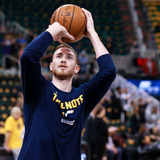 The morning after the Golden State Warriors' Finals-clinching victory over the Cleveland Cavaliers, the NBA offseason began with Isaiah Thomas recruiting a top free agent to the Boston Celtics, or so it seems.Thomas, who was heavily involved in Boston's free-agent recruiting process last summer, followed Gordon Hayward on Instagram Tuesday, which might indicate that Thomas is...
MORE STORIES >>
Celtics News

Delivered to your inbox

You'll also receive Yardbarker's daily Top 10, featuring the best sports stories from around the web. Customize your newsletter to get articles on your favorite sports and teams. And the best part? It's free!