Posted to Fighting IlliniRecently suspended Sophomore, Darius Paul has left the Illini program and will join Lamar State Junior College this upcoming season.com 10 total views, 10 views today The post Darius Paul Leaves Illinois and Will Attend appeared first on Chicago Fan Board.
Champaign, IL – It is not very often that a college player is suspend for a whole season, let alone in May months after the season has concluded. Due to "multiple transgressions" with Paul, head coach John Groce announced that Darius will be suspended for the entire 2014-2015 season. Darius was arrested on April 21st and charged with underage drinking and resisting arrest....
Citing "multiple transgressions," Illinois basketball coach John Groce suspended Darius Paul for the 2014-15 season. Paul, 20, was arrested on April 21 for underage drinking and resisting a police officer after he ran from an officer who attempted to question him as he walked through a parking lot shortly before 3 a.m. "After a thorough review of Darius' year, which includes...
Darius Paul will have no impact on making the Illini basketball team better. At least not next season. Darius Paul, the little brother of former Illini great Brandon Paul has been suspended from the team for the entire season. This of course due to his arrest back on April 21st, and the charges of resisting a police officer and underage drinking. Darius Paul, 20, ran from a university...
Photo: Western Michigan Athletics Illinois forward Darius Paul was arrested Tuesday morning, the Champaign-Urbana News-Gazette reported. He was arrested for underage drinking and resisting a police officer. Paul, 20, admitted to "drinking a large amount of alcohol" in his apartment, according to the News-Gazette's report. The report also said Paul's offenses are Class A...
Fighting Illini Basketball – Illini forward, Darius Paul, was arrested early Tuesday morning for resisting a police officer and for underage drinking. Paul, the 20-year old sophomore, was arrested around 3:20 in the morning by University of Illinois police after they say he ran from them. The Chase An officer pursued Paul on foot and after catching up, tackled him outside his apartment...
It's time for the 2014-15 Illinois basketball season preview. Last year I did this piece in late March/early April. This year I'm doing it before the NCAA Tournament even ends. Once that brutal 1-9 stretch occurred in midseason, I shifted to next year's Illini team. Then they won a few games down the stretch and made the 2013-14 season rather respectable. So we put off looking...
Darius Paul Sophomore Gurnee, Illinois Warren High School 6'8″ 220lbs. Power Forward High School Career Darius Paul averaged 18.0 PPG and 9.7 RPG as a senior leading Warren to a 23-4 record. Darius was selected to First Team All-State by the Chicago Sun-Times, Champaign News-Gazette and Illinois Basketball Coaches Association. Darius averaged 11.2 PPG and 7.2 RPG as a junior...
As one Brandon Paul (pictured above. Yes I know that you know that, but I have to do this other wise some meathead will comment that's not Darius Paul, that's Brandon Paul) leaves the Illini, his younger brother Darius Paul joins the Illini. Brandon Paul graduates and heads for the NBA Combine while Darius Paul comes to Champaign. Darius Paul left the Western Michigan University...
Darius Paul scored 11 points, grabbed nine rebounds and dished out four assists to lead Western Michigan past Eastern Michigan 63-59 on Wednesday night. Western Michigan (11-7, 3-2 Mid-American) shot 46.7 percent from the field and was 16 of 21 from the free-throw line. The Broncos have won three straight contests. With Western Michigan trailing 47-46, David Brown's 3-pointer...
MORE STORIES >>
College Basketball News

Delivered to your inbox

You'll also receive Yardbarker's daily Top 10, featuring the best sports stories from around the web. Customize your newsletter to get articles on your favorite sports and teams. And the best part? It's free!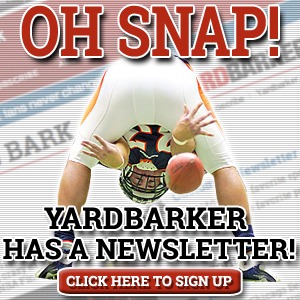 THE COLLEGE BASKETBALL HOT 10