Let's start with the things we already know: Mike Krzyzewski is the head coach of the Duke Blue Devils men's basketball team. Mike Krzyzewski is the head coach is the head of the USA Basketball team. Recently, there have been questions about whether or not Krzyzewski is using Team USA as a showcase for himself and the Duke program. Krzyzewski thinks that it's utterly ridiculous...
On Monday, Yahoo!'s Adrian Wojnarowski pulled no punches when discussed who he believed was really gaining anything from USA Basketball. Wojnarowski argued that the NBA should've already pulled its NBA stars from international competition and only Mike Krzyzewski and the Duke program are benefiting from having NBA stars win Gold in every tournament. Of course, this was the topic...
Duke coach Mike Krzyzewski said the notion that coaching USA Basketball gives him a recruiting advantage is "utterly ridiculous." In his first news conference since leading the U.S. men's national team to gold in the FIBA Basketball World Cup, Krzyzewski pushed back against points raised by a Yahoo! Sports column published Monday. As the head coach of the national...
Mike Krzyzewski, perhaps the greatest coach in the history of college basketball, has also been a major reason why Team USA has regained its stronghold on the international basketball circuit, helping lead the Americans to three consecutive world championships.  Following Team USA's most recent FIBA World Cup title, though, Krzyzewski, thanks mostly to a scathing column written...
While you were knee deep in NFL football games on Sunday, the US team won the gold in the FIBA World Cup. The players involved celebrated the win, but many of us did not care to watch any of it. So that prompted Yahoo!'s Adrian Wojnarowski to ask a very interesting question: who is truly benefiting from NBA players risking injury to play for the US team? In Wojnarowski's mind...
It certainly wasn't a defense and not even an explanation, but in an interview with a North Carolina newspaper, Mike Krzyzewski talks about why he chose his former center for Team USA ... and how USA Basketball only decided at the last minute to choose a select team to practice against the senior team. "We weren't even sure we were going to have a Select team for the...
Coach K says he'd trade for Kevin Love right now Like seemingly everyone these days, Duke coach Mike Krzyzewski was asked his opinion on Kevin Love and whether he would trade for him. During an interview with John Feinstein of CBS Sports radio, Coach K gave possibly the best response yet. Krzyzewski said that he would make the trade right away without any hesitation. Via CBS Sports...
Coach K is all class. While his players probably didn't like this, the Duke basketball coach went to the Mercer locker room after his team lost on Friday afternoon, praising the Bears for a great game. This is pretty weird, as he seemed kind of happy that his young team lost. Losing early in the tournament is starting to become a trend for the Blue Devils, as the team has lost...
BATTLE OF WORDS
Notre Dame coach Mike Brey responded to Coach K, who made some comments about the Irish joining the ACC only in certain sports.
When Duke head coach Mike Krzyzewski announced he would return as the head coach of Team USA last week, he had just a few moments between the press conference and a teleconference beginning just minutes later. But he still took time to answer questions about what will be a new-look ACC next year, and he was excited.So excited, in fact, that he said that the ACC was going to be the...
MORE STORIES >>
College Basketball News

Delivered to your inbox

You'll also receive Yardbarker's daily Top 10, featuring the best sports stories from around the web. Customize your newsletter to get articles on your favorite sports and teams. And the best part? It's free!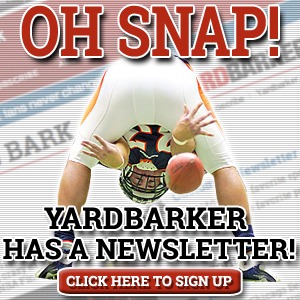 THE COLLEGE BASKETBALL HOT 10