Alabama Men's Basketball Coach Anthony Grant announced the addition of two veteran players to the Crimson Tide roster next season. Guard Ricky Tarrant, a two-time all-conference performer from Tulane University, and junior college standout Algie Key have signed with UA to continue their careers at The Capstone.
Facing the impending departure of his two best players and six transfers overall, Tulane men's basketball coach Ed Conroy said Friday the Green Wave would recover from the mass exodus despite what he called the disappointing and unexpected loss of 2011-12 Conference USA freshman of the year Ricky Tarrant. Tarrant, a point guard who averaged 15.7 points and 3.6 assists, is one...
Six Tulane basketball players are transferring and men's coach Ed Conroy says he is disappointed that 2011-12 Conference USA freshman of the year Ricky Tarrant is part of the mass exodus. He said Friday that Tarrant's departure is unexpected but the other transfers are not surprising. Tulane is coming off its first 20-win season and postseason tournament since 2000. It...
Ricky Tarrant Jr., a sophomore 6-2, 190 pound Tulane point guard, has requested and received a transfer release from the Green Wave. The Pleasant Grove High School (AL) product was named the 2011-12 Conference USA Freshman of the Year and an All-Conference USA first team selection after leading the team in scoring (14.9 ppg), assists (102), steals (52), free throws made (131) and attempted (167).
Tulane sophomore guard Ricky Tarrant pulled a fast one on the Southern Methodist Mustangs on Saturday.With the Green Wave leading late in the second half, Tarrant bounced an inbounds pass off the back of an SMU player and back to himself to score a bucket. His heads up play helped lift Tulane to a 78-67 victory in the Conference USA clash.Tarrant finished with a game-high 25 points...
Ricky Tarrant scored 21 points and Josh Davis recorded a double-double as Tulane dominated Chicago State 79-51 Sunday in a nonconference game. Davis scored 18 points, grabbed 10 rebounds and made 10 of Tulane's 23 free throws. Tarrant, who recorded a game-high four steals, knocked down 3 of 4 3-pointers. His trey with 7:52 left in the first half gave Tulane a 19-17 lead and...
Ricky Tarrant scored 33 points and Tulane exploded in the second half for 63 points to beat SMU 80-74 Wednesday night in Conference USA action. Tarrant broke the school record for points by a freshman, set by Anthony Reed with 32 in 1989. Tulane's 63 points in the second half was more than the Green Wave's total in nine games this season. Trailing 25-17 at halftime and...
Ricky Tarrant, a guard for the Tulane men's basketball team, was named the Conference USA Freshman of the Week, it was announced by the conference office on Monday.
Ricky Tarrant's 22 points led the Tulane men's basketball team in an 89-59 victory over MacMurray Saturday night in game three of the Skip Prosser Tournament hosted by the Green Wave in Fogelman Arena.
Ricky Tarrant highlighted a 24-point outing with six 3-pointers and a pair of clutch free throws with 25 seconds left, and Tulane improved to 9-0 for the first time in two decades with a 57-52 victory over Georgia Tech on Saturday.
MORE STORIES >>
College Basketball News

Delivered to your inbox

You'll also receive Yardbarker's daily Top 10, featuring the best sports stories from around the web. Customize your newsletter to get articles on your favorite sports and teams. And the best part? It's free!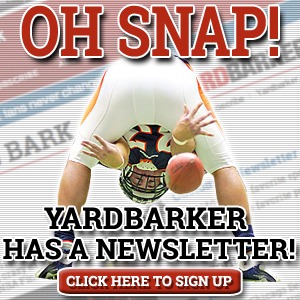 THE COLLEGE BASKETBALL HOT 10