The Davidson Wildcats are back in the NCAA tournament. Now the question those filling out brackets want to know is are they capable of making another Cinderella run like they did in 2008? The Wildcats may not have a marquee shooter like Stephen Curry or any players with NCAA tournament experience on the current roster, but they certainly don't lack for confidence. The 13th...
Davidson is back on top in the Southern Conference, four years after Stephen Curry put the program on the national map. The Wildcats (15-5, 9-1) boast the best record in the conference and a win over nationally-ranked Kansas on their resume. They may even be a deeper and better balanced team than the Curry-led squad that made a surprising run to the NCAA regional finals in 2008...
by David Cassilo / @dcassilo Davidson got its biggest win Monday night since Stephen Curry was hooping it up for the Wildcats, as it knocked off No. 11 Kansas 80-74 in Kansas City. It was Kansas who knocked off Davidson in the Elite Eight three years ago, but the Wildcats got some revenge on Monday. This year's version of Curry was Nik Cochran, a 6-3 junior who tallied 21 points...
Game #8-206: Vanderbilt Commodores at Davidson WildcatsDecember 7, 2011 7:00 pmBelk ArenaBBState Stats/RecapIt rained all day Wednesday throughout North Carolina. I have to admit, the only reason I ended up making the drive from Greensboro to Davidson, N.C. was because I had purchased my tickets ahead of time. The dreary weather had provided resistance, but I decided to make the...
It was just like old times for Davidson. Stephen Curry was in the house, the 3-pointers were falling and another upset seemed to be brewing. When the Wildcats eventually went cold, Curry could only watch helplessly from the stands. Davidson gave No. 6 Duke - and Stephen's younger brother, Seth - fits for a little over a half Friday night before the Blue Devils used a huge run...
With college basketball season finally tipping off, we're running a number of previously published print features that documented a current NBA player during his NCAA come-up. Below you can read a Stephen Curry piece—originally from SLAM 125—penned while the combo guard was tearing it up at Davidson, and you can find links to the other articles we've ran in this series...
MORE STORIES >>
College Basketball News

Delivered to your inbox

You'll also receive Yardbarker's daily Top 10, featuring the best sports stories from around the web. Customize your newsletter to get articles on your favorite sports and teams. And the best part? It's free!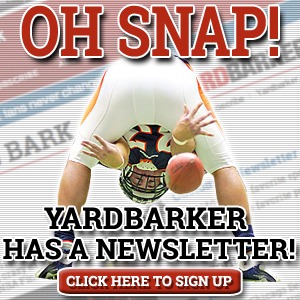 THE COLLEGE BASKETBALL HOT 10