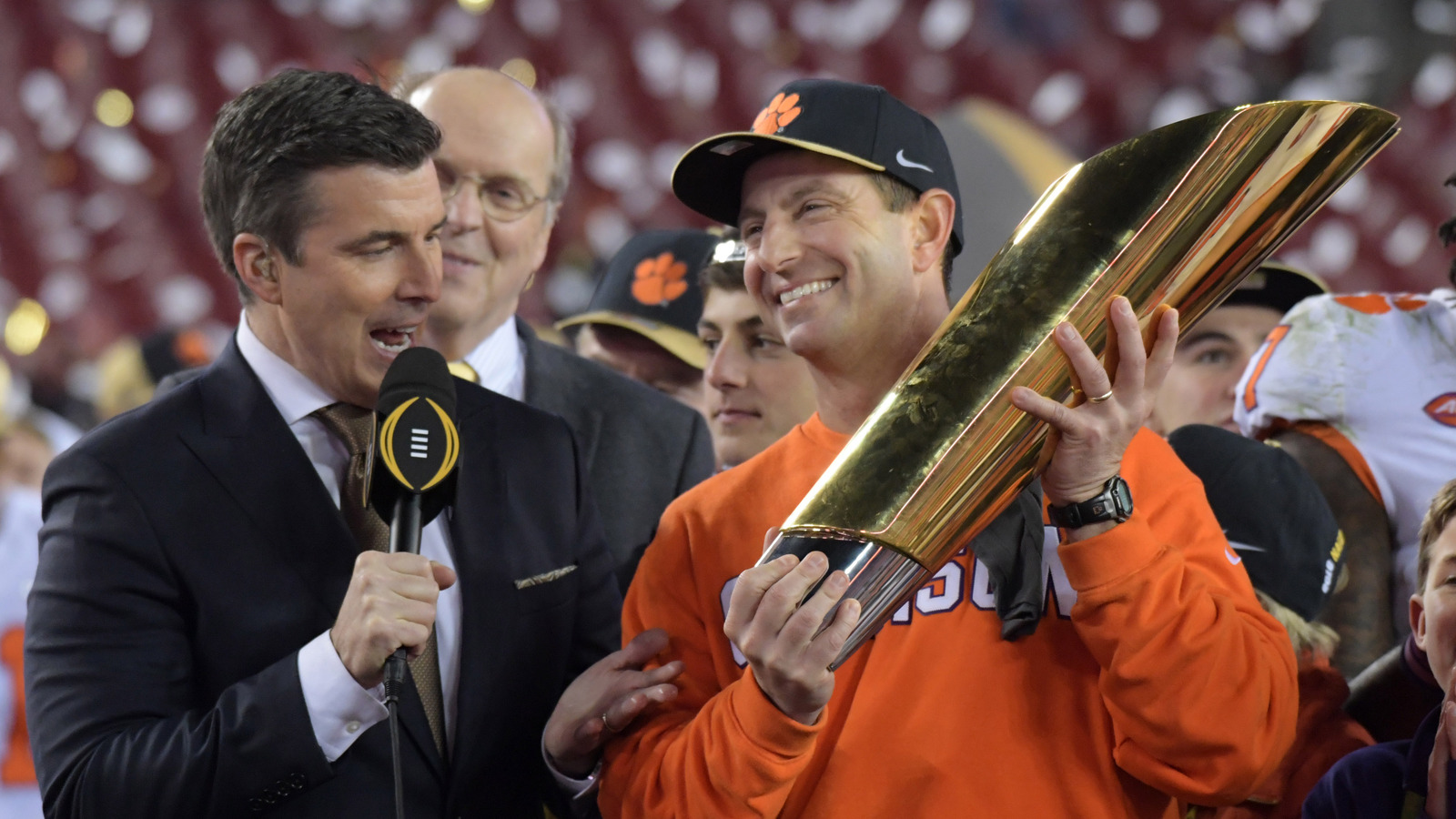 Dabo Swinney is among the elite coaches in college football today.
Kirby Lee-USA TODAY Sports
Who are the truly elite coaches in college football? Many coaches have an argument that they should be considered elite. Many have been successful in their careers, but a few go above and beyond, winning consistently no matter where they go. We have identified just who those coaches are.
With the 2017 season getting closer and closer, here is a list of the 10 best coaches in college football.
10) Tom Herman, Texas
One might argue that it's too soon for Herman to appear on a list like this. After all, he has just two seasons as a head coach to his name, but he's 22-4 in those two seasons, including a 13-1 inaugural season with the Houston Cougars. They slipped to 9-3 a season later, but even that year featured victories over two top-five teams at the time in Oklahoma and Louisville.
Though Houston lost a few surprising games during his tenure, Herman had them ready for the big ones. Herman's Cougars never lost to an AP Top 25 opponent or a Power-5 foe, going 6-0 and 5-0 respectively. He parlayed his success into a move to Texas, where, by his own admission, he has his work cut out for him.
It may take time, but it's hard to imagine him not being a success there.
9) Mark Dantonio, Michigan State
Dantonio's star has indisputably fallen after a miserable 3-9 season in 2016 plagued by issues on and off the field, but one bad year doesn't erase what he had accomplished at Michigan State before that.
When he took over the Spartans' program in 2007, they were a middling group not on the national radar, being dubbed "little brother" by in-state rival Michigan. Despite no top-tier recruiting classes, Dantonio had the Spartans in the top 15 within four years, ultimately winning the school's first Rose Bowl in 26 years back in 2014. In spite of losing numerous pieces from that team to the NFL, he followed up the Rose Bowl season with Michigan State's first appearance in the College Football Playoff two years later.
Dantonio boasts a 90-42 career record at Michigan State and three Big Ten titles. It's fair to say that he'll have the Spartans bouncing back from their terrible 2016 sooner rather than later.
8) Bob Stoops, Oklahoma
Sooner fans aren't always happy with Stoops, but he gives the Oklahoma program remarkable consistency and a chance to compete for a championship virtually every season. Stoops has a remarkable ten Big 12 titles to his name in 18 years at the school and has never once missed out on a bowl game. In 11 of his 18 years, his Sooners have finished in the top ten, appeared in four BCS Championship games, and he's the only BCS-era coach to have won all four of the traditional "BCS bowls" — the Rose, Sugar, Orange, and Fiesta.
Stoops's detractors do have some valid criticisms.
Despite being in regular contention, he has only won one national championship, and that was back in 2000. He's just 9-9 in bowl games, with a sub-.500 record in BCS/College Football Playoff appearances. Still, there's something to be said for consistency, and Stoops has never had an outright bad season. Oklahoma is pretty much guaranteed to be a factor nationally under him.
7) Jimbo Fisher, Florida State
Jimbo has been nothing but a success since succeeding Bobby Bowden as Florida State coach. He once led the team to 29 consecutive victories across three seasons, including a national title in 2013. The departure of quarterback Jameis Winston for the NFL only proved a temporary stumbling block; Fisher led the teams after his departure to consecutive 10-win seasons, including an Orange Bowl win in 2016.
In seven seasons at Florida State, Fisher has gone 78-17, posted a 5-2 mark in bowl games, and never finished a season ranked outside of the top 25. He was given the extremely difficult task of succeeding an iconic coach, and he has done so with distinction. Moreover, he's committed to Florida State, having dismissed interest from a top SEC school twice.
6) Chris Petersen, Washington
Petersen rose to national prominence on January 1, 2007, when his remarkably gutsy playcalling — who could forget the Statue of Liberty play? — led the unheralded Boise State Broncos to a Fiesta Bowl win over Oklahoma, completing a 13-0 season. Peterson ended up going 92-12 at Boise, adding another BCS bowl win along the way, before finally being tempted away by Washington.
It took Petersen two seasons to get the Huskies into their stride, but they did so in 2016, romping through Pac-12 play on the way to a College Football Playoff appearance. It marked his third BCS/CFP appearance in 11 seasons as a head coach, none of them coming at traditional power programs. He's one of the brightest offensive minds in the nation, and he has the Washington program trending toward sustained national prominence.
5) Gary Patterson, TCU
When Patterson took over the Horned Frogs job in 2000, the school was in the Western Athletic Conference, on the verge of a move to Conference USA. The TCU program has grown in a major way in the decade and a half since, and Patterson has masterminded every step of it. Their rise from one of college football's "mid-major" programs to Big 12 contender under Patterson is no coincidence.
A brilliant defensive coach, Patterson has a number of signature achievements.
TCU's time in the Mountain West established them as a national power, with Patterson taking the school to two BCS bowls, including a 13-0 season in 2010 capped with a Rose Bowl win and a No. 2 end-of-season rank in both the AP and Coaches Poll. Some feared that a move to the Big 12 might be too much for the school, but Patterson proved the doubters wrong with a 12-1 season in 2014 and an 11-2 follow-up the next year, both seasons ending with top-ten rankings. He's succeeded with TCU at pretty much every level of competition.
4) Dabo Swinney, Clemson
Swinney's time at Clemson has essentially made "Clemsoning" a thing of the past, with the program becoming one of college football's consistent best. After Tommy Bowden failed to post double-digit wins in any of his years at Clemson, Swinney did it in his third full season of 2011 and has done it every year since. Clemson has won six of their last seven bowl appearances under him, with the only loss coming in 2016's National Championship Game.
The numbers say it all for Swinney: an 89-28 career record and consecutive title game appearances, with the second resulting in a national championship. Plus, the guy seems like an absolute blast to play for.
He could move even higher on lists like this if his success continues.
3) Jim Harbaugh, Michigan
Love him or hate him, there is no denying that Harbaugh is a serial winner. He turned the University of San Diego into an FCS power, made Stanford a top-five team in just four seasons, and promptly jumped to the NFL, where he went 44-19 with the San Francisco 49ers, with an NFC championship in 2013. Frankly, nobody would bat an eye if he went back to the NFL; he's proven he can win there.
That said, Harbaugh seems perfectly happy at his alma mater of Michigan.
True to his reputation, he returned them to credibility the instant he set foot on campus in 2015, and quickly restored them to national power status on the field as well. He beat expectations with a 10-3 season in 2015, and had the Wolverines in College Football Playoff contention for virtually the entire 2016 season. He's a gifted recruiter who loves to do unconventional but really cool things with his players, and Michigan will be a national power as long as he's at the helm.
2) Urban Meyer, Ohio State
A three-time national champion at two different schools, Meyer's resume speaks for itself. He won at Bowling Green; he moved to Utah and promptly posted an undefeated season in year two; he jumped to Florida and posted one of the most successful stretches in college football history. One of two coaches with multiple titles, he took his magic to Columbus, where he grabbed a program struggling after the Jim Tressel-era scandals and promptly won 61 of his first 67 games at Ohio State and won the national championship in his third season there. It took until his fourth season with the Buckeyes for him to lose a regular season conference tilt.
Meyer's impact has been felt throughout college football, with his acclaimed spread offense sparking a revolution. He's a top-level recruiter who has replenished Ohio State with bags of talent every season no matter who leaves for the NFL. The same will be true in 2017.
1) Nick Saban, Alabama
There can be only one, and Saban remains at the top of the coaching mountain.
He's a five-time national champion, including three in four seasons between 2009 and 2012. He has made Alabama the unquestioned top program in college football, going 114-19 under his tenure — not counting five vacated wins due to violations committed under predecessor Mike Shula. In fact, six of Saban's 19 career Alabama losses came in his first season there — he's lost just 13 games in the last nine years.
Saban's Alabama teams churn out tons of NFL talent, perpetually finish in the top ten, and always contend for the national title. His standards are ridiculously high, but are vital in pushing his ridiculously talented teams to the next level. The guy has been talked about in the same sentence as Bear Bryant and even floated as the best collegiate coach ever. There can be no disputing his spot on this list.
MORE FROM YARDBARKER
College Football News

Delivered to your inbox

You'll also receive Yardbarker's daily Top 10, featuring the best sports stories from around the web. Customize your newsletter to get articles on your favorite sports and teams. And the best part? It's free!