COLUMBIA, SC - OCTOBER 30: Tyler Bray of the Tennessee Volunteers throws a pass against the South Carolina Gamecocks during their game at Williams-Brice Stadium on October 30, 2010 in Columbia, South Carolina. (Photo by Streeter Lecka/Getty Images)
The NFL Combine always grows more interesting when the skills players step on the field in day four. The quarterbacks were one of the groups everyone wanted to see and that's because there are numerous questions surrounding each one this year. With the Bills interested in a young quarterback, let's take a look at which quarterback prospects stood out after day four of the NFL Combine. Tyler Bray Bray may have made the biggest strides after the quarterbacks finished their work at the Combine. He showed off his arm and made many deep throws throughout the day that forced many to take notice. Some scouts believe his arm and release may be the best out of the entire draft class. His height (6'6″, 232 lbs) intrigues the scouts as well. Bray has had 24 pounds of weight since his final game at Tennessee which can help him be more durable in the NFL. There are a few issues with Bray though. First, he had some off the field issues that teams need to learn more about. Second, he had accuracy issues and with two solid wide receivers in Cordarrelle Patterson and Justin Hunter, that can lead to teams questioning his skills. Finally, he has had a history of bad plays that leave scouts questioning whether or not he has the makeup of a starting NFL quarterback. While Bray ran a 5.05 40-yard dash, it won't hurt him that much since he is mainly a pocket passer. Ian Kenyon from Bleacher Report had some high praise for Bray: I'd rather take Tyler Bray in the 2nd/3rd than any of these other guys (save: Geno Smith) in the first round. — Ian Kenyon (@IanKenyonNFL) February 24, 2013 The Bills could target Bray in the second or third round if they choose to select defense or a wide receiver at No. 8. Bray has an arm that can cut right through the windy weather that Ralph Wilson Stadium endures during the cold winter months and he could be a goof fit for Buffalo. The Bills have a solid offensive and could be powerful offensively if they add another threat at wide receiver. EJ Manuel Another prospect that stood out on Sunday was EJ Manuel from Florida State. Manuel ran a 4.62 40-yard dash which was good for second overall in the quarterback class. Manuel is a guy who is well built (6'4″, 237 lbs) and could be someone a team looking for an option quarterback may select Manuel also measured in with the largest hands in the class (10 3/8 inches). While throwing in the down field drills, Manuel looked very smooth and had flashed some power in his out routes. Overall, Manuel showed the scouts he can make all the throws in the NFL, but it doesn't say much since there was no pressure or coverage for his wide receivers to deal with. The Bills could target Manuel in day two of the draft. With his decent arm and ability to pull the ball down and run, Manuel will not slip through into day three. Manuel could be a second day selection along with a linebacker and a wide receiver for the Bills. Surrounding him with more weapons offensively could bring out even more potential for Manuel. Geno Smith Finally, Smith stepped up and and surprised some teams Sunday. Smith ran the best 40-yard dash at the position, with a 4.59. This can only help him attract new teams that are looking for a mobile quarterback. Teams seeing he can roll out of the pocket and make plays down field will raise his draft stock. While throwing, Smith made all the throws and did well, especially with the throws down field. He didn't do anything extraordinary though to separate himself from the rest of the field. His accuracy throughout last season will always be a question, until he proves that isn't a problem. The Bills may have the opportunity to draft Smith at No. 8 overall if he slips by the Eagles and Cardinals. The big question for the Bills is do they believe Smith is better than the rest of the other quarterback options and is it worth passing on an elite wide receiver or linebacker to grab him? With Matt Barkley not working out, only Tyler Wilson, Mike Glennon and Ryan Nassib seem to be the other Bills options at quarterback. Wilson ran a slow 40-yard dash but based on his big frame, that was expected. He looked good throwing down field with his big arm but was average the rest of the day. As for Glennon, he continued his inconsistency, which is the biggest question for teams. When he starts getting some confidence, he is tough to stop but otherwise, he is an average guy. Last is Nassib who didn't do much to stand out either. Nassib made most of the throws Sunday and looked poised but that is easy when there is no defense to defend the throw. Nassib can be seen having issues with touch on the ball when the defense is present. The post 2013 NFL Combine: Quarterbacks appeared first on Queen City Sports.
Original Story:
http://queencitysports.net/top-storie...
MORE FROM YARDBARKER
College Football News

Delivered to your inbox

You'll also receive Yardbarker's daily Top 10, featuring the best sports stories from around the web. Customize your newsletter to get articles on your favorite sports and teams. And the best part? It's free!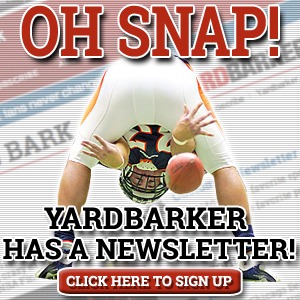 Latest Rumors
Best of Yardbarker

Today's Best Stuff

For Bloggers

Join the Yardbarker Network for more promotion, traffic, and money.

Company Info

Help

What is Yardbarker?

Yardbarker is the largest network of sports blogs and pro athlete blogs on the web. This site is the hub of the Yardbarker Network, where our editors and algorithms curate the best sports content from our network and beyond.