Found March 25, 2013 on NFL Trade Rumors:
Peter King of Sports Illustrated believes USC QB Matt Barkley could make his way into the top half of the first-round with a "strong workout" at his pro day on Wednesday. King adds that Barkley informed him at the Scouting Combine that he intends to "throw better and harder" following an intense rehab process that is designed to strengthen his right shoulder. NFL scouts have voiced major concerns regarding Barkley's arm strength. It seems as though the consensus has Barkley as an earlier second-round pick right now, but there were some reports following the Combine that suggested Barkley's intangibles could push him into the first-round. We have Barkley going to the Jaguars at No. 33 overall in the second-round of our 2013 NFL Mock Draft.   The post A "Strong Workout" Could Put Matt Barkley In The Top Half Of The First Round? appeared first on NFL Trade Rumors -.
Original Story:
http://nfltraderumors.co/a-strong-wor...
THE BACKYARD
BEST OF MAXIM
RELATED ARTICLES
USC quarterback Matt Barkley will put his arm back on display Wednesday when the Trojans host their pro-day. Find out who else will be in auditioning on Marc 27 for a spot in the NFL...
Playing at one of the best universities in this country in terms of football tradition and program prestige, the starting quarterback job at University of Southern California brings many things to those who bear the title: Elite talents abound on both sides of the ball. Some of the best coaches in the country. Treatment as though you suit up for an NFL team. Heisman trophy...
Peter King of SI.com, mentioned in his weekly Monday Morning Quarterback column that the Jacksonville Jaguars are interested in drafting former West Virginia quarterback Geno Smith with the second overall pick in next month's draft. First of all, I can't remember the last time King wrote something and was even close to being right.  Second, the Jags have way more pressing needs...
According to Peter King of SI.com, the Jaguars are "preliminarily" interested in taking West Virginia QB Geno Smith at No. 2 overall. Jaguars head coach Gus Bradley recently mentioned that they came away very impressed with Smith following his pro day workout. ESPN's Chris Mortensen has tossed out the Raiders as a potential landing spot for Smith multiple times now and...
Peter King thinks the hawk could take the eagle on a neutral field in Wichita, but this ain't that. Hawk brought the fight to the eagle's nest. What follows is several minutes of humiliation and getting fed on. That's all right. Some animals are just a tough draw on the road. It takes a true killer to be able to go into other creature's home and eke out a W. The post Kill...
Peter King of Sports Illustrated writes today that the top CB in the draft, Alabama's Dee Milliner could be available when the Browns are on the clock at number six, which most experts thought was highly unlikely a month ago- "I think with the first round of the draft one month from tonight, I am hearing doubts on Alabama cornerback Dee Milliner (could drop out of the top five...
Sorry if you were googling "my anus" and found your way here, I'm guessing this isn't what you were looking for. Anyway, RFA fighter Danny Mainus' last name is "Mainus," and when you have an accent and say his name excitedly a bunch of times, dangerous things happen. If this isn't viral by noon, you've disappointed me, Internet. (via Mentality Mag)- Follow us...
When last we left Kinglandia web baron, Peter King, he was cheering on trolling bosom buddy Mike Florio as he got over his fear of flying. No longer is Floors confined to places within reach of his mobile meth lab. He can now fly the trolly skies. He also cheered the new pope for paying lip service to poor people. PK knows poor people. They're the ones he strolls past on his way...
When the news came out that Sports Illustrated is planning a new website edited by Peter King, comparisons to Bill Simmons' Grantland were inevitable. Further details that have emerged on King's venture aren't going to diminish those. There are plenty of difference between King and Simmons... and SI and ESPN. For starters, King's website will be football...
The Main Event- Should the Sabres buy or sell? 5 more games… That is all the Sabres have left to decide if they are buyers or sellers at this year's April 3rd NHL trade deadline. Common sense dictates that the Sabres embrace the role of sellers, parting with veterans that can help true contenders make a run for the Cup. This allows the Sabres to take on draft picks while freeing...
Trojans News

Delivered to your inbox

You'll also receive Yardbarker's daily Top 10, featuring the best sports stories from around the web. Customize your newsletter to get articles on your favorite sports and teams. And the best part? It's free!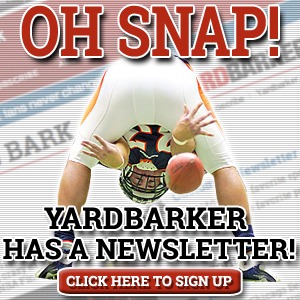 Latest Rumors
The Backyard

Today's Best Stuff

For Bloggers

Join the Yardbarker Network for more promotion, traffic, and money.

Company Info

Help

What is Yardbarker?

Yardbarker is the largest network of sports blogs and pro athlete blogs on the web. This site is the hub of the Yardbarker Network, where our editors and algorithms curate the best sports content from our network and beyond.