Found April 14, 2013 on Banks Of The Red Cedar:
I asked a couple of questions to sophomore MSU long snapper (and possibly my favorite player) Taybor Pepper. Here's how it went. ——————————- When did you start playing football? What position did you start your football career at? I started in 2nd grade as a quarterback all the way through 7th grade. How did you get your start at long snapper? In 6th grade we started punting and my dad taught me the basics, I thought it was cool, but I didn't take it very seriously then. When did you realize that you were actually a really good long snapper? 10th grade was when I realized I could go to college for it. So then, I guess. I bet it came as a shock when you started being recruited at long snapper. Did you ever think you could get a scholarship out of this? Yeah that was always the hope, but I had a really good feeling going into my senior year. You originally committed to Michigan as a preferred walk-on. Walk us through what it was like when you got an offer from Michigan State. It was a no-brainer to go to state. State was my first choice through the whole recruiting process. Easy choice. Did you think you'd end up going to State even though you were committed to Michigan? No. I would've stayed given the circumstances. It's just an awesome coincidence that state offered me. Yeah, I'd imagine. Last season you saved the special teams after long snapper Steve Moore was injured. What was it like being thrown right into the action from day one? It was fun. I knew I could handle the pressure. Mentally I was ready to start from my first day on campus. On that note, you seem like a mentally player for being such a young starter. You made a few pretty good plays downfield tackles last year on special teams. You don't see many long snappers do that. What makes you that way? I'm hungry! I don't know, I guess I'm quicker than some other long snappers so it's an advantage. You are pretty athletic for a long snapper. Do you foresee any other duties in your future at Michigan Sate? I highly doubt it. It's not even a thought at this point. It's fun to think about though. One can always hope. What are your thoughts on the importance of long snapper? It's a must have on any team. That's what makes Coach Dantonio so awesome. He realizes it, it's not something he overlooks. More and more long snappers are beginning to get scholarship offers as opposed to being an afterthought of recruiting. Should this be happening? Of course! This is your first year of spring ball. How is it different from fall practices? It's a lot of fun to watch everyone compete for jobs. Also, I can tweak different things about my form without worry. I can't do that during the season, well I can, but you're not supposed to. Maybe you can pull a Draymond Green and lobby coach Dantonio to let you play tight end this spring. How does that sound? I forgot about that! I'll let my boys Evan [Jones] and Josiah [Price] take over at that spot. Probably for the best. For sure. Thanks for doing this, Taybor. Anything else you'd like to add for Spartan Nation? Go green and hug your closest Long Snapper today.
Original Story:
http://www.banksoftheredcedar.com/a-t...
THE BACKYARD
BEST OF MAXIM
RELATED ARTICLES
EAST LANSING — Even in the spring the Michigan State Spartans football team can't help but have a close game, as junior running back Nick Hill scored with a 7-yard touchdown run with over a minute left to play to give the offense a 28-26 victory in the Spartans second "situational" scrimmage. The offense needed more than 26 points in the two-hour, 123 play scrimmage to come...
msuspartans.com It's the time of year when we all start talking about the upcoming football season. With spring practice underway, everyone is wondering who the starting quarterback for Michigan State is going to be.  Many people were disappointed with the way the Spartans football season went last year and per usual, it was the quarterback, Andrew Maxwell, who was the scapegoat...
The comments of Michigan State head coach Mark Dantonio following Saturday's second scrimmage of the spring.
Michigan State just got a big slap in the face. This morning, one of the nation's top wide receiver recruits, Drake Harris, announced he has committed to the University of Michigan after previously committing and then de-committing from Michigan State. Just officially committed to The University Of Michigan! — Drake Harris™ (@drizzygetbusy01) April 14, 2013 It was just a...
In typical Mark Dantonio fashion, Michigan State's second spring scrimmage was taken by the loser of the first scrimmage as the offense squeaked out a 28-26 win over the defense.
Who says coaches can't have a little fun? Although Michigan State did not make it to the Final Four, Tom Izzo still went down to Atlanta and even took a photo with 2 Chainz. The Atlanta- based rapper posted the photo on his Instagram account. 2 Chainz played division one basketball for Alabama State in 1996-1997, which would have made it Tom Izzo's second year as Michigan State's...
One of Michigan State's top in-state targets, Southfield High four-star defensive end Lawrence Marshall was on campus today for the Spartans' scrimmage, and spoke to Scout afterwards.
New Michigan State co-offensive coordinator Dave Warner had the following to say after his offense came back to win the second jersey scrimmage of the spring 28-26.
Spartans News

Delivered to your inbox

You'll also receive Yardbarker's daily Top 10, featuring the best sports stories from around the web. Customize your newsletter to get articles on your favorite sports and teams. And the best part? It's free!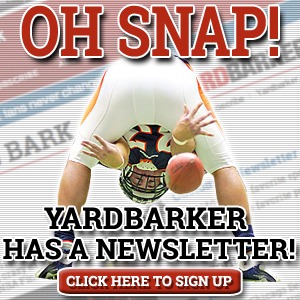 Latest Rumors
Best of Yardbarker

Today's Best Stuff

For Bloggers

Join the Yardbarker Network for more promotion, traffic, and money.

Company Info

Help

What is Yardbarker?

Yardbarker is the largest network of sports blogs and pro athlete blogs on the web. This site is the hub of the Yardbarker Network, where our editors and algorithms curate the best sports content from our network and beyond.