Through two pre-season games, that have meant absolutely nothing in the win-loss column, are you, the faithful season ticket toting, or the couch sitting fan, happy with what you see on the grass at the Linc?  Take everything into consideration, new coach, new players, new systems, and injuries, among other things.  You must bear in mind that in pre-season, teams do not open the playbook fully.  The games cannot get any more basic than what you are accustomed to already.  Remember it's the pre-season and you want to try out some new things.  Maybe some work, maybe some do not.  Either way the team wants to remain as healthy as it can, while getting back into shape to play a full season.  Remember this is pre-season, not a regular game, pre-season. This humbled writer did not understand what the big brew ha-ha was when the team was trying to sign Chip Kelly.  He was a college coach, who performed well, but had zero NFL experience.  Kelly was a hot commodity among teams who needed a head coach.  After originally telling the Eagles, thanks, but no thanks, Kelly accepted the position.  His about face turn around may have been somewhat sparked due to impending sanctions about to levied against the University of Oregon's football program.   There were a number of fans and maybe even some players, who were ready to move in a different direction.  This fan was one of them, yet I wasn't ready to hand the keys to the house over so quickly.  As the draft came and went, mini camps passed by, Coach Kelly kept saying all the right things.  Pre-season is half over now and listening to Kelly speak to the fans through the media, he seems to really have control of his team.  Furthermore, his players respect him.  They want to play well and do what he asks of them.  They come in each day ready and wanting more.  We cannot say that was how it was for Coach Reid in his last season in Philadelphia.  Players seemed to lose focus easily.  Almost as if Reid's message went in one ear and out the other. This year's Eagles team might not win the Super Bowl, but stranger things have happened.  Only time will tell if Jeffrey Laurie and company made a wise coaching decision. Heading into week three of the pre-season, we have to like what we are seeing on the field.  There are position battles all over this roster.  Yes, some of these battles have been brought on by injuries, and some are just because there are good quality players on the team fighting against each other for a roster spot.  We saw a pretty poor showing in the first game against New England.  There were some highlights from the offense, but the D let us down pretty big.  Not that it matters if you win in the pre-season, but you want to perform well.  Week 2 was a total change.  Could it have been because they were playing a lesser team?  Well maybe, but I am not buying into that.  It looked like the team as a whole was angry about the performance the week before and was going to do something to change that.  Boy did they ever.  The Defense looked much better, and the offense was working like a well oiled machine at times.  The coaching staff has to want that the most, even if the team is not winning, which is a real possibility in the first season under a new head coach.  Getting better week to week and building off any confidence is a must.   Cut down days are in the future for some two dozen players.  Of those players some could be signed to the practice squad.  This is why over the next couple of weeks you should pay close attention to the small details of football that will take place in South Philadelphia.  Whether or not, the City of Brotherly Love is ready to hand the keys to Kelly now, it doesn't really matter as he is the coach.  If the team plays hard and he doesn't make boneheaded time management or challenge mistakes, Kelly will be loved by the working class Philadelphia fan.  One last point this week, Coach Kelly has not even coached a regular season game yet, but he is the second longest tenured coach of the four major sports teams in Philly.      The post A Team is Beginning to Mold appeared first on Eagles Faithful.
Original Story:
http://eaglesfaithful.com/a-team-is-b...
MORE FROM YARDBARKER
Ducks News

Delivered to your inbox

You'll also receive Yardbarker's daily Top 10, featuring the best sports stories from around the web. Customize your newsletter to get articles on your favorite sports and teams. And the best part? It's free!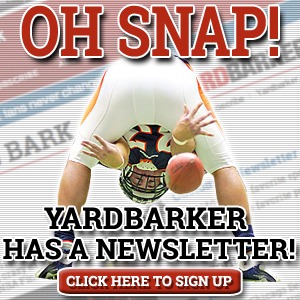 Latest Rumors
Best of Yardbarker

Today's Best Stuff

For Bloggers

Join the Yardbarker Network for more promotion, traffic, and money.

Company Info

Help

What is Yardbarker?

Yardbarker is the largest network of sports blogs and pro athlete blogs on the web. This site is the hub of the Yardbarker Network, where our editors and algorithms curate the best sports content from our network and beyond.