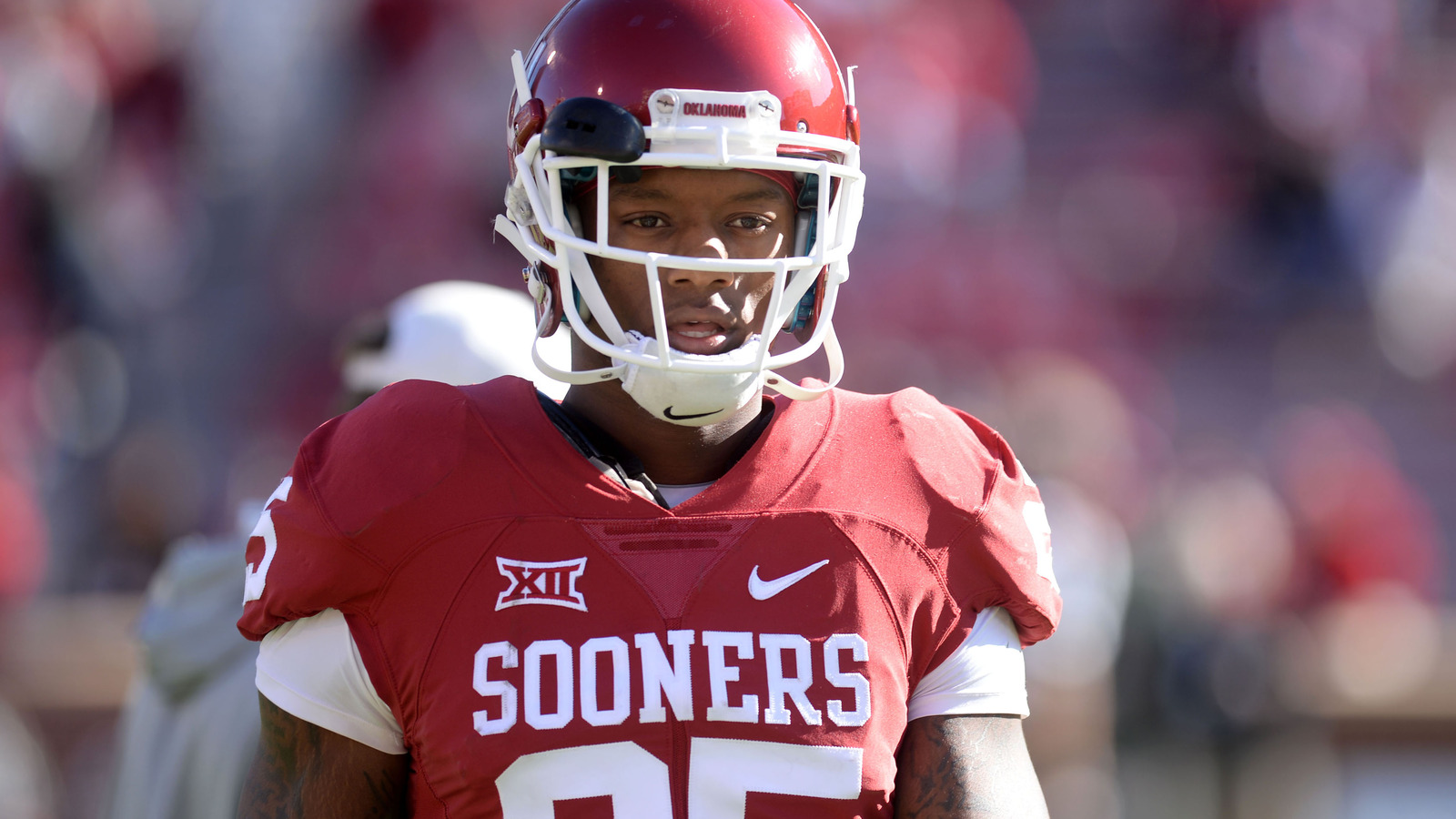 An allegation that Joe Mixon hit a girl in high school reportedly was recanted.
Allegation that Joe Mixon hit girl in high school was recanted
Yet another alleged incident involving former Oklahoma running back Joe Mixon has given NFL teams reason to be concerned leading up to the NFL Draft.
In an appearance on PFT Live Wednesday morning, longtime talent evaluator Gil Brandt revealed that NFL teams have been inquiring about an incident in high school in which Mixon was accused of punching a fellow student who was a female. The student's father, Anthony Hernandez, said at the time that he was certain Mixon assaulted his daughter.
"I know for a fact he threw my daughter to the ground and hit her," Hernandez said. "I went to the school and … they hid him in the office. He got no punishment. The police even came. I was escorted off the campus as if I did something wrong. These are simply the facts, he's a woman beater."
Hernandez's comments were brought to light by the lawyer for Amelia Molitor, who is the woman Mixon punched in the face at an eatery near the Oklahoma campus back in 2014.
However, the high school incident involving Mixon was apparently resolved when Hernandez recanted his accusation. Late last month, Hernandez issued a clarification to Mixon's lawyer Blake Johnson, and Johnson shared the clarification with Mike Florio of Pro Football Talk on Wednesday.
"I have recently learned that a comment I made about Joe Mixon on social media a few years ago is now receiving a lot of attention. I want to explain that comment and clarify that I do not believe Joe ever did anything to hurt my daughter," Hernandez wrote.

"My daughter went to Freedom High School with Joe, and they have been friends for much of their lives. Once, when they were in school together, my daughter had a minor disagreement with some of her classmates that got blown out of proportion. Like any father would, I reacted emotionally. Unfortunately, I did so before I had all the facts. Now, having talked to my daughter and investigated the whole story, I realize that I was mistaken about Joe's involvement. I definitely overreacted, and I regret that my words might have given some people the wrong impression about Joe. I know that Joe did not hurt my daughter, did not intend to, and would not do so.

"Joe and my daughter are still good friends. Joe is a great kid with a bright future in front of him, and he is welcome in my home anytime.

"My family and I value our privacy. I hope that my statement puts this matter to rest. We will not respond to further media inquiries about this."

Blake Johnson also told PFT that he "spoke to multiple administrative officials at Freedom High School who assured me that no such incident ever took place there," and that Mixon's disciplinary record from high school reveals no such incident.
Whether NFL teams choose to believe the initial statement made by Hernandez or the clarification he later issued is up to them. Either way, there are more red flags surrounding Mixon — like this incident with a parking lot attendant — than just the infamous punch he threw at Oklahoma. Those will likely be enough to scare numerous teams away.
MORE FROM YARDBARKER
Sooners News

Delivered to your inbox

You'll also receive Yardbarker's daily Top 10, featuring the best sports stories from around the web. Customize your newsletter to get articles on your favorite sports and teams. And the best part? It's free!