Found August 09, 2012 on Crystal Ball Run:
Man, college football is a truly sublime sport sometimes. There are days and weeks and moments where you hear a piece of news, and simply can't believe it's real. Sometimes the truth really does seem stranger than fiction.
A perfect example of this phenomenon popped up yesterday, when a disgraced former coach took a disgraced administrative position at Arkansas. Basically, it was a match made in disgrace heaven.
The job is believed (though not confirmed) to be the role of "On Campus recruiting coordinator" a position which was last held by a former Arkansas volleyball player named Jessica Dorrell. By now you know that Dorrell was also the mistress of Razorbacks football coach Bobby Petrino, and got the job in large part because of her, ahem, "interpersonal relationship" with him. When it was revealed that Dorrell was with Petrino on the epic motorcycle accident that eventually cost him his job, she too left the university also.   
Well, apparently Dorrell's position has been finally filled, and filled in the most unintentionally funny way possible. Why's that? Well, because according to Northwest Arkansas Online, the new On-Campus Recruiting Coordinator at Arkansas is…
…drumroll, please…
Nick Holt!
For those of you scoring at home, yes, we're talking about that Nick Holt. The same Nick Holt who was fired after his defense allowed 453 yards (106th nationally) and 35.9 points per game (108th nationally) during the 2011 season. And the same Nick Holt whose defense had one of the worst performances in major college football history in last year's Alamo Bowl, allowing Robert Griffin and Baylor to put up 777 yards of total offense in a 67-56 Bears victory.
Again, you cannot make this stuff.
Here's a little from the NWAOnline.com report:
Nick Holt, who spent the last three seasons as defensive coordinator at Washington, has been hired to an administrative position within Arkansas' football program, according to a source.
A report on the Seattle Times website also states Holt is now working with the Razorbacks.
The job is believed to the same one held by Jessica Dorrell, who agreed to a mutual separation with the university in April for her role in a series of events that led to the firing of Bobby Petrino as the Razorbacks' head coach.
Arkansas began searching for a replacement to the position of "on-campus recruiting coordinator" in May and has yet to publicly fill the position.  
Now again, no one has officially confirmed that the job Holt was hired for was the one Dorrell left, but if you read the tea leaves it kind of makes sense. There are only so many administrative positions that Arkansas can conceivably have, and as best as we can tell, this one has gone unfilled since the Dorrell-Petrino controversy in early May.
It also makes sense from a logistical standpoint too. Holt has worked for new Arkansas head coach John L. Smith before, in stops at Idaho and Louisville and as bad as things ended for him at Washington, this would still be a home run hire for the Razorbacks. After all the public embarrassment that came when the facts of the Dorrell hiring came out, the school had to take their time, and ensure that they filled the position with the best possible candidate available. It's hard to argue that filling an administrative position that paid Dorrell a little over $55,000 last year with a former major college defensive coordinator was about as good as Arkansas could've possibly envisioned.
As for Holt, the question remains: Could Washington's Alamo Bowl meltdown really have cost him this much? I mean, yes it was bad, and yes he deserved to be fired, which is exactly what happened on December 31. Still, the firing happened early enough on where it's hard to believe that someone with his resume (defensive coordinator at Washington, time spent on Pete Carroll's staff at USC) couldn't have done better than an administrative gig. Even if he wasn't hired as a defensive coordinator, was he really that toxic that he couldn't get a position job somewhere? You mean to tell that at the very least he couldn't have been an asset to a school in the MAC, WAC or Conference USA? Really!?!?!
Then again, after what happened in San Antonio last December, maybe it's best that Holt stays away from actual on the field coaching for awhile. Things really couldn't have ended much worse.
Still, this story almost seems too good to be true. Only it is.
Welcome to the sublime world of college football.
For all his opinion, analysis and insight on college football and beyond, be sure to follow Aaron on Twitter @Aaron_Torres.
Original Story:
http://www.bloguin.com/crystalballrun...
THE BACKYARD
BEST OF MAXIM
RELATED ARTICLES
MEA CULPA
In his first interview since he was fired, former Arkansas head football coach Bobby Petrino expressed remorse for his questionable actions.
We all knew this was coming, right? At some point former Arkansas coach was going to sit down and bear his soul in an Oprah-on-the-couch type interview. He was going to talk about how apologetic he was, and how disappointed he was in himself that he hurt his family. He was going to talk about how everything that happened in the past six months- his affair, his firing, his familial...
Speaking for the first time since he was fired as head coach of the Arkansas Razorbacks football team, Bobby Petrino admitted to ESPN columnist Joe Schad that he is responsible for what happened when he decided to have an affair to former Arkansas athletic department employee Jessica Dorrell, who herself was engaged. The relationship came [...]
Yesterday, Bobby Petrino of losing to Ohio State in the Sugar Bowl fame, gave an interview to ESPN in which he discussed his downfall at Arkansas, his regret, and blah blah blah blah.  Whatever.  While Petrino may actually have emotions other than the rage and disgust we all know, even feeling sorrow for the people he hurt, particularly his wife, this move reeks of NOT DAMAGED...
Former Arkansas coach Bobby Petrino expresses regret for the affair that led to his April firing, and says he hopes to coach again. Petrino, speaking publicly for the first time since his firing in an interview with ESPN, admits to the affair with former football staffer Jessica Dorrell and says he is in counseling with this wife, Becky. The former Atlanta Falcons and Louisville...
FAYETTEVILLE, Ark. (AP) -- Former Arkansas coach Bobby Petrino expresses regret for the affair that led to his April firing, and says he hopes to coach again. Petrino, speaking publicly for the first time since his firing in an interview with ESPN, admits to the affair with former football staffer Jessica Dorrell and says he is in counseling with this wife, Becky. The former Atlanta...
(Covering Dixie Like Mildew is the SWRT roundup of SEC news, with the occasional pesky Southern school from another conference.) I'm sorry, so sorry.  Former Arkansas head football coach Bobby Petrino expressed regret for the actions that lead to his firing in an interview with ESPN.  Dancing on the Celing.  According to first-year Alabama offensive coordinator...
Travis Swanson wasn't sure what to expect from John L. Smith. The Arkansas center sat in the Broyles Center meeting room on April 23 with the rest of his teammates, already aware that Smith had been hired to replace Bobby Petrino as head coach. Swanson had seen Smith, who had served as an assistant coach for the past three seasons before leaving four months earlier to become...
College Football News

Delivered to your inbox

You'll also receive Yardbarker's daily Top 10, featuring the best sports stories from around the web. Customize your newsletter to get articles on your favorite sports and teams. And the best part? It's free!
THE COLLEGE FOOTBALL HOT 10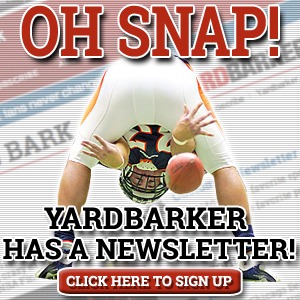 Latest Rumors
Best of Yardbarker

Today's Best Stuff

For Bloggers

Join the Yardbarker Network for more promotion, traffic, and money.

Company Info

Help

What is Yardbarker?

Yardbarker is the largest network of sports blogs and pro athlete blogs on the web. This site is the hub of the Yardbarker Network, where our editors and algorithms curate the best sports content from our network and beyond.