Found October 06, 2013 on Fox Sports:
This needed to be a signature moment for Ohio State. It needed to be impressive, and to feel good. And if the Buckeyes wanted to be in the national championship race, they needed Northwestern to look like a national power, not the little guy playing over his head. Ohio State had a Saturday night national TV audience, a ranked opponent, a road game. And it won 40-30 after scoring a touchdown on defense on the final goofy play. But here's the truth: This isn't going to be enough. It never quite felt like the moment it could have been. The Big Ten looks like a second-rung league, and Ohio State? It looks like the Louisville of the Big Ten. If there was a hero of the night, it was running back Carlos Hyde and even he left you with mixed feelings. His tears afterward were just so hard to interpret. He is trying to redeem himself following a three-game suspension. "That suspension, it really hurt,'' he said. "Not being out there with my brothers cause of the mistake I made. . . "I kept with my faith. I prayed every night He would be there for me.'' Sitting there not 10 feet from Hyde, who was openly weeping when he said that, I'm not sure, honestly, that I felt for the young man struggling with what he had done. You don't want to forget the YouTube video in a club, where he and a woman were arguing, and she swung at him, and he stepped back in and slapped her. He ran for 168 yards and three touchdowns Saturday night, and Ohio State fans -- men and women -- were high-fiving him as he left the field. Cheering him. That shouldn't matter to the national title race, but here was a guy beloved again already in public. If the woman hadn't dropped the charges, he probably wouldn't have even been playing. Meanwhile, quarterback Braxton Miller, who told me before the season that he wanted to win the Heisman Trophy, looked mediocre. In the first half, he was carrying the ball loosely and fumbled. He missed an open receiver in the end zone by at least 10 feet. And there was Ohio State coach Urban Meyer oddly calling a fake punt in the second quarter. "The head coach and the offense put the defense in some bad positions,'' Meyer said. "That was an error by me.'' In the second half, Ohio State finally realized how much bigger and stronger it was than Northwestern. So it rammed the ball up the middle, and while Miller fumbled again when he was about to score, it didn't matter. Northwestern's defense wore down. Northwestern looked like a No. 16 seed in the NCAA Tournament playing valiantly. "There is a perception of Northwestern that they're well-coached and don't make mistakes,'' Meyer said. "That's correct.'' He also said the Wildcats have some players who are nearly great. That didn't help Ohio State's case. The Buckeyes have won 18 games in a row now, but they likely are going to be squeezed out of the race. Look, Meyer has the national name to keep the Buckeyes in the national picture. He has recruited at Ohio State as if he's trying to win the BCS title, not the Big Ten. So there is speed, and his smarts, and Ohio State's traditional name. Those things are all worth points in a ranking system that includes votes. They are the only perennial power left in the Midwest. But it's impossible to judge how good they really are. The Big Ten just doesn't look like the major leagues. Maybe that's not fair to Meyer. It's not his fault that the Big Ten doesn't have a signature opponent for him to beat. But it just looks like, at No. 4, Ohio State is overrated. And it has no chance to prove otherwise. If Louisville -- which has its slight chance at a signature moment Thursday night against Rutgers -- isn't going to get a shot at the BCS title game because it's playing in the American Athletic Conference (quick: name three teams in the league. I already gave you Rutgers), then Ohio State might be headed the same way. The Buckeyes had hoped for a signature win against Wisconsin, but the Badgers are still playing the Neanderthal Big Ten smashmouth. And there is barely a speedbump left for Ohio State. Michigan, because of the rivalry factor, might be an issue, but hasn't been special. This game had the good-guy, bad-guy setup. Northwestern coach Pat Fitzgerald, whose name should pop up for any coaching job available this year, is the guy people want to like. He has built a Big Ten contender at the most unlikely place. And now Northwestern is trying to raise money for big-time facilities, too. This win would have been historic here. Ohio State has everything Northwestern is dreaming about. But Meyer is the guy people love to hate. On Saturday, the bully kept rolling. The tears were flowing. It just wasn't enough.
Original Story:
http://msn.foxsports.com/cfb/story/oh...
THE BACKYARD
BEST OF MAXIM
RELATED ARTICLES
Northwestern brought their A-game when they hosted the Ohio State Football team in Evanston on Saturday night, and it looked like Ohio State brought their C-game.  The Buckeyes escaped with a 40-30 victory, handing the Wildcats their first loss of the season. I took a few days to let the game sink in, and here's my take on the game. No. 34 Carlos Hyde leaps into the end zone,...
Carlos Hyde had a huge game at Northwestern last night- three touchdowns and over 160 yards. On a night when Ohio State really needed Carlos Hyde. Jordan Hall did not dress and has a knee issue that they need to take care of according to Urban Meyer. So Hyde was MVP for the Buckeyes. NU has had issues stopping star tailbacks in games when they host ESPN College Gameday. Mikel Leshoure...
Ohio State took Northwestern's best shot on a wet and raucous night at Ryan Field and Carlos Hyde and the Buckeyes are still perfect. Hyde ran for a career-high 168 yards and three touchdowns, and No. 4 Ohio State rallied to beat No. 16 Northwestern 40-30 Saturday night and extend the nation's longest win streak to 18 games. The Buckeyes (6-0, 2-0 Big Ten) remained undefeated...
Week Six record: 3-2.  Overall my record stands at 48-7 or 87%.  My best pick last week was the Ohio State over Northwestern game..I said OSU would win 45-17…they won 40-30.  My worst pick was Penn State beating Indiana 38-24….when the Hoosiers actually won 44-24. Indiana-44  Penn State-24….MISS Bobby Richardson (Photo Credit: Pat Lovell-USA TODAY Sports) Congrats to the...
It was a rainy night in Evanston, but it wasn't enough to stop Ohio State running back Carlos Hyde. Hyde ran for 168 yards and 3 TD's, leading the Buckeye's to a 40-30 comeback win against Northwestern. It wasn't always pretty, but the win moved tOSU to 6-0 on the season and cemented them as a BCS contender despite the overall lackluster state of Big 10 football...
Senior running back Carlos Hyde rushed for 168 yards on 26 carriers and three touchdowns as No. 4/3 Ohio State defeated Northwestern, 40-30, in a Big Ten contest at Ryan Field in Evanston, Saturday night. […]
The Ohio State Buckeyes showed a large amount testicular fortitude in gutting and scrapping their way to a 40-30 victory over Northwestern Saturday night in Evanston. The Buckeye nation showed itself to be lacking in testicular fortitude as the message boards filled up with whining, crying Bucks fans certain that everything we wanted for this team was lost after Northwestern 'hit...
Earlier today from the Big Ten offices in Rosemont, Ill., the conference announced that three Ohio State football players garnered weekly awards. Senior running back Carlos Hyde was named the Big Ten's Co-Offensive Player of […]
Northwestern looked like it might be on its way to that signature win, the kind that would show the Wildcats can beat the best in the Big Ten. Ohio State simply refused to sign off on it. So the Wildcats settled for a close loss, knowing they gave the Buckeyes their best shot on a wet and wild night at Ryan Field and it still wasn't enough. Carlos Hyde ran for a career-high...
It's almost that time of year: where I switch from Big Ten football power rankings to Big Ten basketball power rankings. Because in a a week or so, the hoops rankings will be a lot more fun to do than gridiron. Also, I'm an Illinois alum, did my MBA at Michigan State. So I'm Big Ten through and through; and of course, those two schools are a weeeeee bit better at college basketball...
"While We're Waiting" serves as the early morning gathering of WFNY-esque information for your viewing pleasure. Have something you think we should see? Send it to our tips email attips@waitingfornextyear.com. First things first. Boom. [NFL.com] —- "In a rambling answer to a question about what happened, Kosar didn't say whether or not he was drunk when he was driving...
Just some day off news. Polls - Ohio State still holding at number 4. It is going to take some help I think to move back up to  that number two spot. I think it will come but we just have to be patient and wait. We are in control of what happens from here til that meeting in November. More on the polls later this week Other news – 2 Georgia players are out for the season...
Buckeyes News

Delivered to your inbox

You'll also receive Yardbarker's daily Top 10, featuring the best sports stories from around the web. Customize your newsletter to get articles on your favorite sports and teams. And the best part? It's free!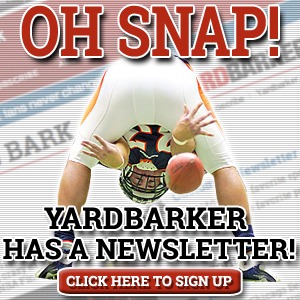 Latest Rumors
The Backyard

Today's Best Stuff

For Bloggers

Join the Yardbarker Network for more promotion, traffic, and money.

Company Info

Help

What is Yardbarker?

Yardbarker is the largest network of sports blogs and pro athlete blogs on the web. This site is the hub of the Yardbarker Network, where our editors and algorithms curate the best sports content from our network and beyond.